After a stellar presentation from EA on what to expect with Battlefield 1, PS4 and Xbox One disc versions have finally been priced on Amazon India. And much like the superlative Overwatch on the Xbox One which cost Rs. 5,000 digitally, expect to pay a similar price for a physical copy of Battlefield 1.
According to a listing on Amazon India, a physical copy of Battlefield 1 will set you back by Rs. 5,199 on the PS4 and Xbox One. This makes it the most expensive standard edition game at retail in India. In the past EA were known to price its games on par with first-party titles from Sony and Microsoft.
Now the price hike seems to match what you could expect to pay for a game in the UK or Europe what with a quick check on Amazon's UK website confirming this parity once you account for taxes and duties.
(Also see: Halo 5, Forza 6, Rise of the Tomb Raider Are the Most Expensive Xbox One Games on Pre-Order)
The listing on Amazon India also implies that EA is continuing its partnership with Amazon, something that was verified by others in the supply chain. Some of whom have their own theories on the high price for the game.
"It's probably just a placeholder price to judge response," a sub distributor revealed to Gadgets 360. "After EA sees few pre-orders, theres'a chance it could be available for a lower rate."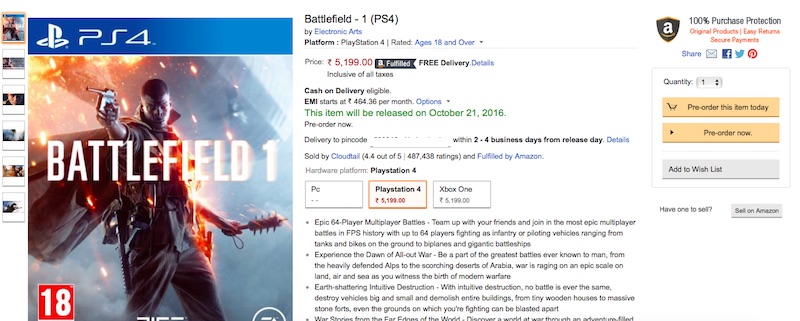 We hope this is the case. Other EA games like Battlefield Hardline occupied 40 to 50GB on the PS4 and Xbox One and around 60GB on the PC. The sheer size combined with poor bandwidth makes buying the game digitally a non-starter for many. Furthermore, this could see FIFA 17, Mass Effect Andromeda, and whatever else EA has in store available at a higher price.

Comparatively, Battlefield 1 will cost you a lot less digitally. It's Rs. 3,500 for the Standard Edition on the Xbox One while the Early Enlister Deluxe Edition will cost you Rs. 4,240. And if you're on the PS4, the Standard Edition is Rs. 3,375 while the Early Enlister Deluxe Edition is for Rs. 3,999. Both PS4 versions come with a theme that can be obtained when downloading the game.
If you're looking to play Battlefield 1 on PC, you'll have to shell out at least Rs. 3,499 for the game. Pre-ordering nets you access to the Hellfighter pack, containing themed items inspired by the Harlem Hellfighter infantry regiment. It also includes seven days early access to a free multiplayer map released later in 2016. There's the Early Enlister Deluxe Edition which costs Rs. 4,999. It comes with early access, allowing you to play three days prior to release. In addition to this are weapons and items inspired by Lawrence of Arabia, the Red Baron, as well as five Battlepacks which grant you access to guns, gear, and weapon upgrades.
Inspite of EA's marketing tie-up with Microsoft, it's notable that the game is still the cheapest on the PS4 unless you prefer it on PC, then you could buy it via EA Origin for Mexico which is known to have the cheapest price. Though this may change, what with EA revoking payment options that used to work via this loophole.
Affiliate links may be automatically generated - see our ethics statement for details.