Ubisoft has announced the release of Assassin's Creed: Rogue, the 12th instalment of the popular Assassin's Creed franchise, on November 11. The game will be available for PS3 and Xbox 360, and continues the storyline from Assassin's Creed IV: Black Flag. The news first broke with a leaked trailer, following which the company made the game official on its website, along with the official trailer.
Notably, the Assassin's Creed: Rogue Collector Edition and Standard Edition are up for pre-order on the Ubisoft website, for $69.99 (roughly Rs. 4,300) and $59.99 (roughly Rs. 3,700) respectively. The Collector Edition includes a collector's box, 3 lithographs, an artbook, the official soundtrack, and exclusive single-player missions (The Armor of Sir Gunn Quest, The Siege of Fort de Sable).
Assassin's Creed: Rogue is set in 18th century North America during the French and Indian war. The player will play the role of Shay Patrick Cormac, an assassin who eventually turns his back on his fellow assassins after a tragic mission. Cast aside by his brothers, Shay then goes on a mission to kill all other assassins in his brotherhood, becoming an 'assassin hunter'. The website also adds that Assassin's Creed: Rogue will be the first instalment that lets gamers see from the perspective of a Templar.
"Assassin's Creed Rogue completes the North American saga started with Assassin's Creed III and Assassin's Creed IV Black Flag and gives previous-generation console owners an exclusive opportunity to experience fan-requested features, such as playing as a Templar," stated Martin Capel, game director at Ubisoft Sofia at a press event.
Ubisoft has also introduced some new weapons besides the Master Assassin skills what Cormac possess in the game. Weapons like air rifle for short and long range combats, specialised bullets and grenades, and other ammunition to distract and eliminate the enemies have been included. Players playing the Assassin-turned-Templar, Cormac, would also have to protect themselves from other assassins hidden in shadows, rooftops and crowds.
The Assassin's Creed: Rogue will also include improved naval gameplay, and users will be able to sail through the North Atlantic via the Morrigan, the ship assigned to Shay. Players will face enemies with the help of new weapons like burning oil, puckle gun and others. Another venue for naval gameplay introduced is the River Valley.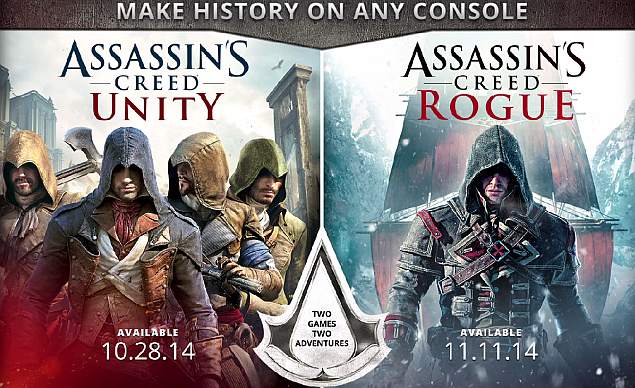 With Assassin's Creed: Rogue, Ubisoft will be introducing two instalments by the end of this year - including Assassin's Creed: Unity, which is also set to hit shelves on October 28.
It is worth noting that while the Assassin's Creed: Rogue is available for Sony PlayStation 3 (PS3) and Microsoft Xbox 360 consoles, the Assassin's Creed: Unity will be available for PC, PS4 and Xbox One.
Polygon notes that Assassin's Creed: Rogue is headed by Ubisoft Sofia, along with Ubisoft's Singapore, Montreal, Quebec, Chengdu, Milan and Bucharest studios.