AMD used its Future of Compute event in Singapore as a platform for announcements from its partners and clients in support of its own technology and ecosystem-building efforts. Samsung, which currently holds 60 percent of the global market for 4K UHD monitors, announced broad support of the FreeSync standard in all products starting in 2015. The Korean giant introduced five new UHD monitors: the UE 590 series will come in 23.6-inch and 28-inch models, while the UE 850 series will come in 23.6-inch, 27-inch and 31.5-inch models.
AMD
also announced that the world's three biggest manufacturers of UHD monitor scalers would be building in support for FreeSync.
The standard brings about smoother gameplay without frame tearing and stuttering by synchronizing a monitor's refresh rate with the stream of frames being fed into it. FreeSync has already been adopted by VESA and will be part of the DisplayPort 1.2a specification. Richard Huddy, Chief Gaming Scientist at AMD referred to Nvidia's competing GSync standard, calling it inferior because of its dependence on proprietary hardware and the fact that Nvidia charges partners a license fee.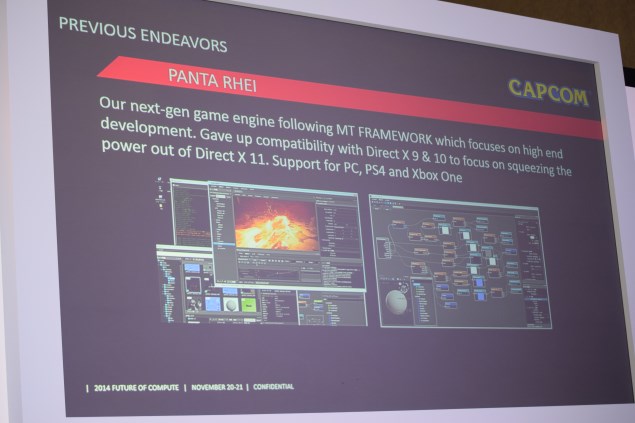 Square Enix's Yosuke Saito took the stage earlier in the day to announce an exclusive partnership in Japan, in which the company's popular MMORPG Dragon Quest X will be bundled with AMD-powered computers. AMD already sells an exclusive GPU in the Japan region; the Radeon R7-250XE. Masaru Ijuin, Technology Director at Capcom, also talked about broad support for AMD's low-level Mantle API in its Panta Rhei game development engine. Panta Rhei supports only the PC, Xbox One and PS4 platforms and drops compatibility with DirectX 9 and 10 in favour of DirectX 12 in order to simplify workflows and enable the development of games that take full advantage of current-gen hardware. Capcom also showed off a demo of its upcoming title, Resident Evil Revelations 2, which benefits from AMD's Mantle API.
Mantle has been broadly adopted in the game industry, according to AMD, with support from four major engines - Frostbite 3, Cry Engine, Nitrous and Asura - as well as over 20 major recent titles including Battlefield 4, Civilzation: Beyond Earth, Thief and Dragon Age Inquisition.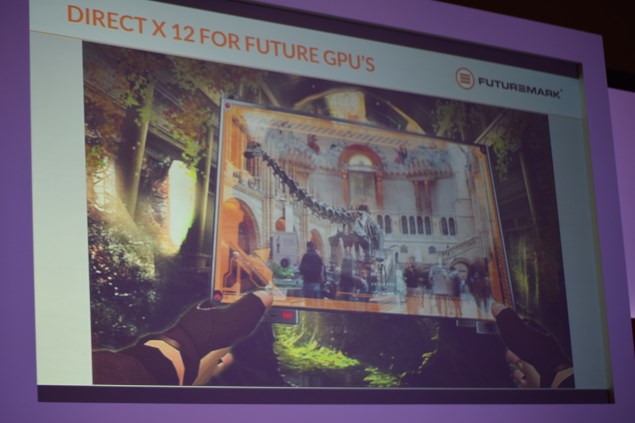 Futuremark President Oliver Baltuch gave the audience a preview of upcoming editions of PCMark and 3DMark, which will show the advantages of new APIs including Mantle and DirectX 12. A new "augmented reality" scene will take users through an abandoned museum while revealing what sections of it used to look like as an overlay. A new feature test will render as many as 50,000 objects on screen at a time, in intricate patterns. Following the recent acquisition of Futuremark by industry advisory firm Underwriters Laboratories, Baltuch also offered a glimpse at the future of benchmarking, which will involve detailed diagnostics of a company's device deployments capable of providing granular information about usage and capabilities, which in turn will allow IT managers to more carefully target upgrade and improvement expenditures.
Disclosure: AMD sponsored the correspondent's flights and hotel for the event in Singapore.
For the latest tech news and reviews, follow Gadgets 360 on Twitter, Facebook, and Google News. For the latest videos on gadgets and tech, subscribe to our YouTube channel.
Related Stories