From an all in one entertainment system that required the Kinect to work, to a console that simply plays games, the Xbox One has evolved a fair bit in its short three-year lifespan. But one thing that it could never be termed as is an attractive device - unless of course you're the sort who prefers bulky 1980s VCR aesthetics with vents galore. This however will change from Tuesday, when the Xbox One S is finally available in select markets.
Announced at E3 2016, the Xbox One S is a slimmer Xbox One that's easy on the eyes. Since the days of the original PlayStation, companies have released toned down iterations of their consoles. Usually this is just shrinking down the internals and slapping on a new shell. But with the Xbox One S, there's more that is changing. Here's everything that you need to know.
Xbox One S new features vs Xbox One

It's 40 percent smaller than the Xbox One and is available only in white, for now. The first exception to that will be the Gears of War 4 special edition console out in November.
The Xbox One S can be used vertically with an optional stand.
Gone is the touch sensitive power button from the Xbox One. In its place is a physical power button. It could definitely be useful in preventing any accidental switching on and off of the console.
Instead of the controller pairing button being on the left side as was the case with the Xbox One, the Xbox One S has it in front, along with one of its three USB ports.
Also in front is an infrared blaster similar to that on the Kinect. This lets you turn on TVs and set top boxes without remotes.
The controller sports a textured grip and a Bluetooth connection, making it easier to use with a PC.
Xbox One S comes with 4K video support for Blu-rays.
(Also see: As Microsoft's Xbox One Turns 1 in India, Is It a Good Time to Buy?)
What's missing from the Xbox One S vs the Xbox One

No Kinect port. You can still use the motion sensing camera but a separate adapter will be needed.
The external power brick. It's now integrated into the Xbox One S.
Xbox One S variants
Xbox One S comes with 500GB, 1TB, and 2TB storage options versus 500GB and 1TB on the Xbox One.
Xbox One S price
The Xbox One S is available in the US at $399 (around Rs. 27,000) for the 2TB version, while 1TB will set you back by $349 (approximately Rs. 23,500). There's a 500GB version that will be $299 (roughly Rs. 20,000).
Xbox One S release date
You can buy the 2TB version from August 2 while 1TB and 500GB editions have an August 23 release date.
Xbox One S launch countries
The countries slated to receive the Xbox One S at launch are Australia, Austria, Belgium, Canada, Czech Republic, Denmark, Finland, France, Germany, Greece, Hungary, Ireland, Italy, Netherlands, New Zealand, Norway, Poland, Portugal, Slovakia, Spain, Sweden, Switzerland, Turkey, the UK, and the United States.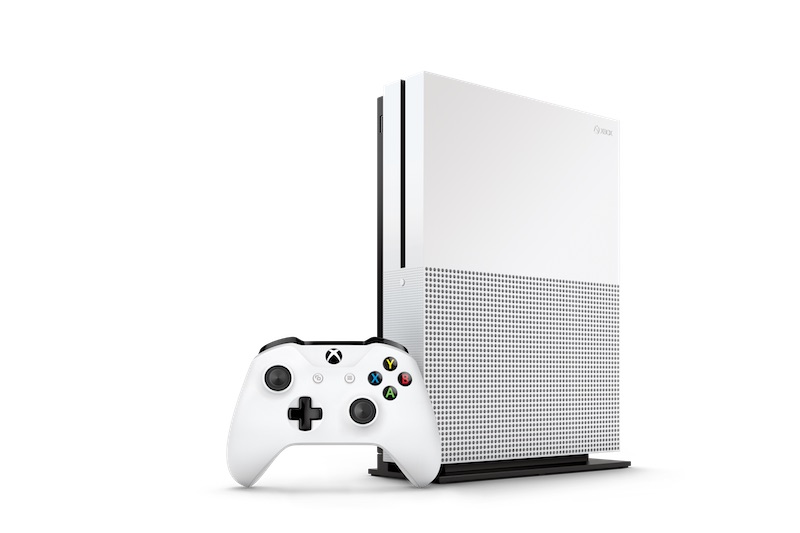 What is the Xbox One S India release date?
Microsoft India has no plans to launch the Xbox One S at the moment. One might assume that this is due to BIS regulations, an obstacle Sony faced too when bringing in special edition consoles.
It may also have to do with the sheer number of Xbox Ones that haven't been sold yet - so much so that Microsoft's own distributors have been quietly supplying brick and mortar stores across the country with Xbox Ones despite Microsoft India affirming the console is exclusive to online stores and Microsoft Stores.
Xbox One S performance
While Xbox boss Phil Spencer has claimed it isn't more powerful than the Xbox One, the Gears of War 4 developer stated that you can expect better frame rate and visuals on the Xbox One S.
This also depends on whether you own an HDTV that supports high dynamic range (HDR) - tech which promises greater contrast and a larger number of colours. That's unlikely as it has so far been restricted to the latest 4K TVs.
Should you upgrade to an Xbox One S?
If you have a TV that's a few years old, you won't be able to take advantage of the purported improvement in visual fidelity. Furthermore, the first game to take advantage of HDR on the Xbox One S will be Forza Horizon 3, out at the end of September so the jury is still out on how large the difference will really be. So unless your Xbox One is on its last legs or you're getting a brand new 4K TV, you're better off sticking to your existing console.
Xbox One S games
Forza Horizon 3 and Gears of War 4 would work on a regular Xbox One as they would on an Xbox One S but they will take advantage of the Xbox One S' HDR capabilities. While no other titles have been announced with HDR support, this should change in the months to come.
What about price drops on the Xbox One?
In US the Xbox One now starts at $249, making it cheaper than the Wii U. For India though, the price has remained the same. Rs. 34,990 nets you the 500GB Xbox One with one game, while Rs. 39,990 gets you a 1TB Xbox One with a game. There have been some deals available offline but unless you shop from the grey market or import an Xbox One or One S - which means you lose out on warranty - there's very little to choose from. If you're in India, you might want to wait to around Diwali for a better deal on the Xbox One.