Last week Microsoft's Head of Xbox Phil Spencer
teased some big announcements for gaming
at the company's Windows 10 event on Wednesday. While the event saw some
its share of big announcements
, gaming news was pretty limited, except for one cool standout development.
So what all did Microsoft actually talk about on Wednesday?
The first announcement was that of the Xbox app for Windows 10. Every Windows 10 PC and tablet will have the Xbox app. What this means is, aside from being able to check out your Xbox One games and gaming history on other Windows 10 devices, you can also voice chat or text friends who are also on Xbox or Windows 10 devices. This is not all, the Xbox app features the Xbox One's Game DVR feature so you can record your gaming moments with ease. And since some of them are unexpected, you'll be able to record the last 30 seconds of gameplay with the press of a button, much like you could with the Xbox One and share it with as much of ease.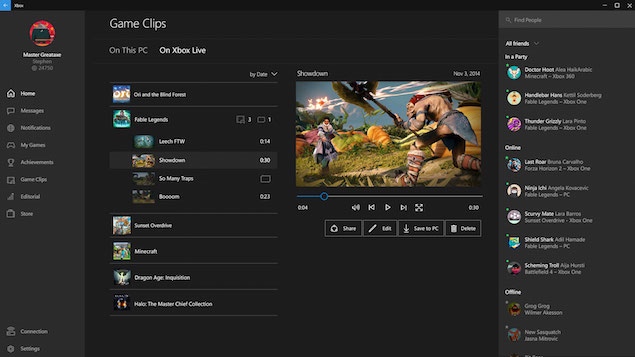 It's an interesting addition but by no means groundbreaking. Apps such as FRAPS and Nvidia Shadowplay have already offered these features to PC gamers. Microsoft is hoping that connecting this to the 50 million strong social network of Xbox Live will give it a more compelling product than the apps that have come before. It's worth pointing out though that Microsoft's earlier attempts to bring gamers together through the Games for Windows Live service didn't end well either.
Aside from this, Spencer showed off cross platform play between PC and Xbox One games. We saw how people playing the upcoming role-playing game Fable Legends on the Xbox One will be able to play the game with their friends who are playing on a PC. For the most part, multiplayer in games has been specific to platforms, so while a game like Call of Duty might be available on consoles and PCs both, players on an Xbox could only connect to other players on Xbox consoles. Adding cross platform support between the PC and the Xbox One is a cool move, but again, this is something that has already been done in the past.
Microsoft had showcased this same feature with the game Shadowrun, allowing people to cross-play between the Xbox 360 and the PC. Apparently Microsoft tested the feature with other games as such as Unreal Tournament 3 and Gears of War but decided that it put the players with controllers at a great disadvantage, and so the idea was scrapped.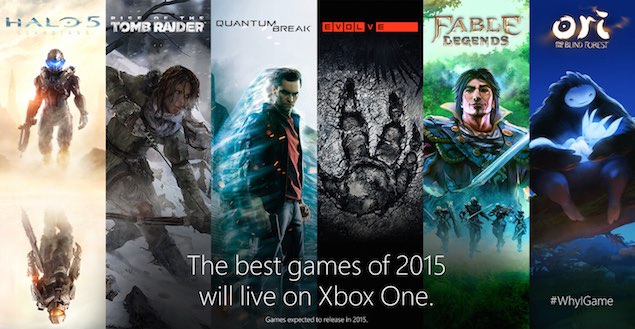 Will other Xbox One games exploit Microsoft's game streaming and cross platform support? Only time will tell.
With this in mind, will game developers support this feature, or will it go the way of the Kinect - as a cool idea that many lauded, but one that eventually didn't find any real use in games? The details of how it works out now, if at all, and to what extent it would be supported remains to be seen.
The third thing that Spencer showed off was the ability to stream Xbox One games to any Windows 10 device, both PCs and tablets. In a PC-dominated market like India that's not a big plus - if you want to experience the new Halo on your PC, then you will still have to spend Rs. 39,990 for an Xbox One and Rs. 4,299 for the game to well, stream it to PC. What Microsoft is offering isn't completely fresh either - Nvidia and Razer offer similar services with the use of Android devices, and Steam lets you stream PC games to low powered non-Windows laptops.
But if you happen to already own an Xbox One, then this feature could be very appealing. PlayStation Vita owners are already able to play PlayStation 4 games on the smaller handheld, and with Windows 10, you won't need a separate piece of dedicated gaming hardware to get the same experience. This may not seem like a big deal if you're single and don't need to worry about other people wanting to watch the television at night, but if you're married or have kids, then the ability to play the latest, most high-end games in bed will be very appealing.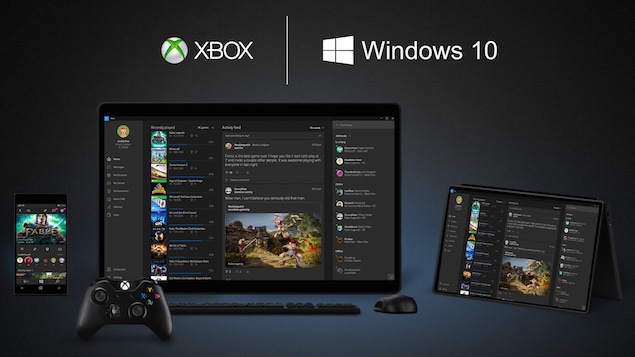 The single announcement that could have a beneficial impact on gamers the world over is that of Unity adopting DirectX 12. Unity is one of the most prevalent game engines around, favoured by developers, especially on mobile, for its ease of use and versatility. DirectX 12 is the latest variant of Microsoft's popular graphics application program interface (API) which is also on mobile. With DirectX 12 consuming half the power of its predecessor, you'll be able to game on your Lumia longer. There's a distinct possibility of improved "closer to console" experiences on mobile in terms of sheer graphical output. Or at the very least, ports of iOS and Android hits coming sooner.

Finally, there was an awesome demo for Microsoft HoloLens that could see some fantastic implications for gaming but it needs to graduate from the current conceptual state its in into something more meaningful than say, IllumiRoom. The road to retail is still uncertain. With the Game Developer Conference in March, we'll probably see a lot more from Spencer and his team. However if you're a dyed in wool PC gamer, it would be best to keep your expectations in check.