The announcement by Facebook on Tuesday that it is acquiring Oculus, the makers of the Rift virtual reality headset, comes as a bit of a surprise. The social network is paying $400 million in cash, and also handing over shares for a total payout of over $2 billion to acquire Oculus. That's small compared to the recent
acquisition of Whatsapp for $19 billion
, but with hardware production and development costs, the Oculus Rift could still end up being an expensive proposition.
In the announcement, Facebook CEO Mark Zuckerberg said that virtual reality could become the next social and communicatons platform. However, it's an unproven bet, and while the developer hardware which was sold through a Kickstarter round of funding that raised $2.5 million has built a strong cult following, Oculus is yet to release a single consumer product.
The VR space has seen a lot of changes happening in recent times as well. Aside from the Rift, which first raised funding two years ago, we now have Sony's Project Morpheus, which will work with the PS4. While the price of the Morpheus has not been announced, as a game company which wants to push its overall ecosystem, Sony was always in a position to sell it at an aritifically low price, a luxury that Oculus doesn't enjoy.
Markus Presson, the developer of Minecraft, wished the companies well on Twitter, but also cancelled Minecraft for the Rift, saying that Facebook creeps him out. He added that this wasn't what he'd invested $10,000 in the company's Kickstarter. While there has been a lot of widespread scepticism and criticism of the deal on Twitter, some industry veterans - like the creator of the Gears of War series Cliff Bleszinski - were much more supportive, and pointed out that deals like this are business necessities.
The biggest asset for Oculus has been fervent developer support. So far, many more seem frightened off than supportive - Facebook will need to run things with a gentle touch, or face some difficulties.
Palmer Luckey, the founder of Oculus, has been answering people's questions for the last several hours on Reddit, and you can read them on his profile page. On the page, Luckey has also been dealing with lots of fans and developers who feel betrayed by the acquisition. Luckey was in his first post careful to position the move as a partnership and not an acquisition, and he's also made it clear that using or developing for the Rift won't require any Facebook account, and added that there won't be any mandatory ads or linkages that developers for Rift will have to include in their software.
Luckey also noted that the deal specifically allows them to place large orders for custom hardware instead of having to rely on mobile components. This means that for the customers, the consumer version of the Rift could be cheaper and better than it would be without the Facebook acquisition.
For Oculus, Luckey pointed out, limited resources meant that supporting independent developers was a dfficult proposition, and with the added resources, the team will also be able to build out a content pipeline, solving one of the biggest concerns with the Rift - that there be a simple software solution to let you play all your games by just buying the headset and plugging it into the computer.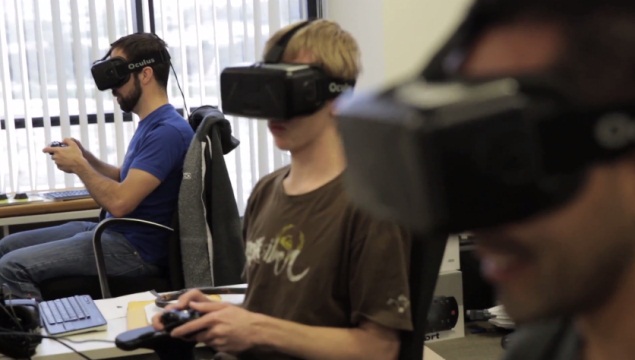 Aside from Oculus and Sony, there are also a number of other players in the VR space, with different solutions that look highly promising. The Avegnant Glyph doesn't use a screen, and instead "projects" the image directly onto your eyes. This allows the device to operate at a much higher resolution than the competition. Technical Illusions is another Kickstarter funded project by two former Valve employees, which released a headset called CastAR, which is supposed to blend VR and AR in a physical space. Products like the Omni Virtuix and the Cyberith Virtualizer are building up third-party devices for the Rift, which let you walk and run in the virtual world.
Oculus has been building up a team of the top talent, from gaming, optics and other related industries, and the acquisition with Facebook allows them to bring their plans to fruition. On Twitter, Oculus CEO Brendan Iribe compared the acquisition to Google acquiring Android in 2005. That's actually a very pertinent comparison to make, because earlier, John Romero - the co-founder of id Software, who is now the CTO of Oculus, had mentioned a possible mobile future for Oculus.
With an Android-powered headset, the possibilities open up far beyond the current iteration which is still tethered to your computer. The Rift has been shown in a lot of non-gaming situations - interactive movies you can watch from multiple vantage points, non-interactive 3D cinema halls you can sit in, roller coaster rides and medical training - there have been a lot of unusual uses for the Rift already.
Facebook is betting that the company will be able to make a big dent in the mobile space - one area where the social network still lags. With any luck, the company is going to remain hands off, and allow Oculus to develop its ideas freely. If that happens, it could help mass market adoption of the Rift, and move VR gaming one step closer to reality than ever before.