We all know that popular fighting game franchise Street Fighter has featured India in the past. We've seen the series play host to characters like fire-wielding yogi Dhalsim and the lesser known Darun Mister (inspired by pre-Independence India wrestler The Great Gama) from the non-canonical Street Fighter EX series.
This aside, there have been Indian-themed levels as well, most famously, Dhalsim's stage in Street Fighter II. The stage resembles the Thrissur Pooram Festival in Kerela, with elephants decked up in pageantry on either side. Super Street Fighter IV had a more modern depiction of India with busy city street scene complete with vendors, a rickshaw, authentic signs in Hindi for a tailor and a breakfast, though of course it retained elephants on either side.
(Also see: How Capcom Is Making Street Fighter V for Newbies and Hardcore Fans Alike)
And while Street Fighter V dispenses with most of the elephants (there's only one on the far right in the background), its India-themed level has the stereotypical "Indian" imagery you'd expect from a foreign development team making a video game. There's the usual busy crowds trying to hop onto a train right in the centre, a dhaba of sorts on the right, and a couple of yogis on the left (one standing on his hands, and another levitating but not visible due to Zangief's bulky frame).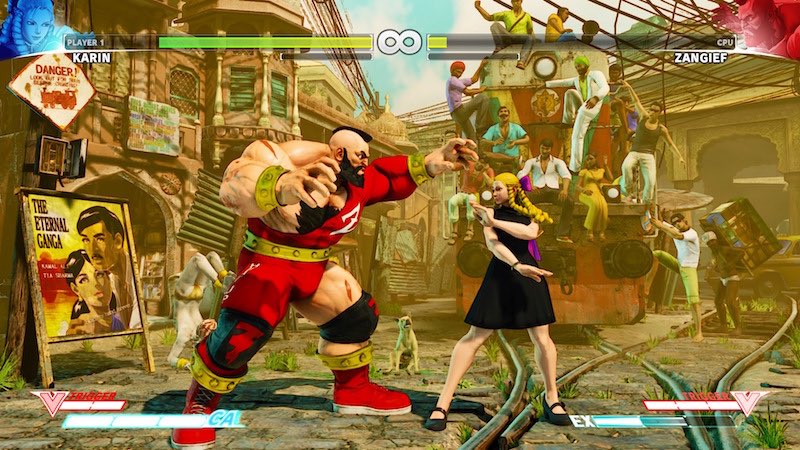 But there's one single easter egg the developers for Street Fighter V managed to sneak in that makes us think they might know more about India than they let on. On the far left is a poster for what appears to be a Bollywood movie. It's called 'The Eternal Ganga' with top billing for two fictional actors Kamal Ali and Tia Sharma. There's a tagline below it that says "Hold my hand forever..."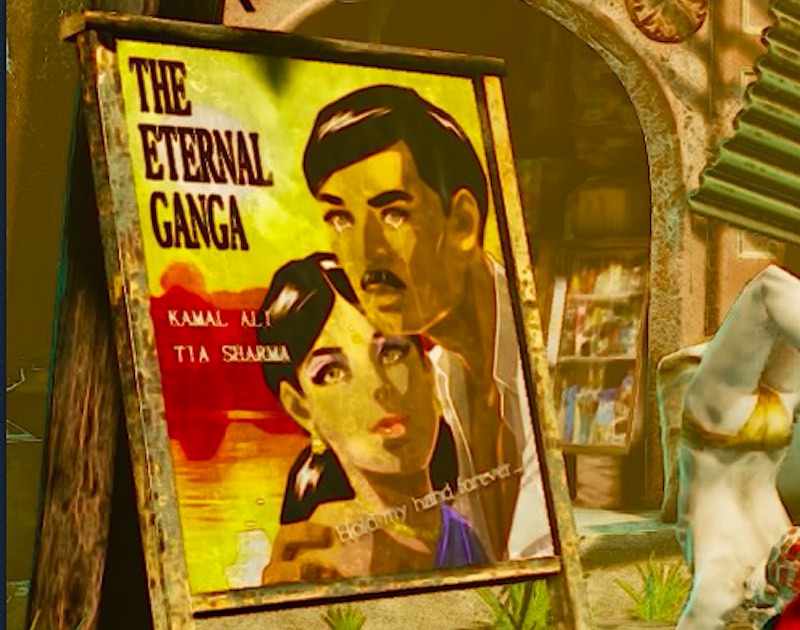 (Also see: Street Fighter V Review)
While our Bollywood trivia skills are less than average, we couldn't help but feel it resembled something we've seen before. A quick search harkens similarities in its art style to old movies of the 1960s and 70s and its male actor's resemblance to Raj Kapoor in the 1960 classic, Jis Desh Mein Ganga Behti Hai.
Why would such an old movie be referenced in an easter egg for a game as new as this? Chances as it probably has to do with it being shown in Japan during the India Film Festival and Indian Film Festival in 1998 and 2007 respectively.
(Also see: Ten Celebrity Doppelgangers Spotted in Popular Video Games)
Considering that Dhalsim was named after an Indian restaurant in Osaka near Capcom's office, it could go either way. We could probably be reading too much into this and it's simply a piece of kitschy art meant to instil a sense of pop-culture fuelled realism to India. Still, it's nice to see the level of detail crammed into each stage that ensures there's always something new to discover even when you've played the game exhaustively.
What do you think of Capcom's Bollywood Easter Egg? Let us know via the comments.