With over 54 million copies sold, Minecraft represents the biggest niche audience since gaming itself. News that
Microsoft has acquired Minecraft maker Mojang for $2.5 billion
should have gotten your attention, so let's take a look at what Minecraft is. The game itself was released nearly five years ago, so this isn't an in-depth explanation - just a quick guide to get non-gamers up to date with what the hype is about.
1. Minecraft is a video game
This should be obvious, but Minecraft is a video game that was first released in an "alpha" state in 2009. You might be familiar with the concept of a beta, where software is released but continues to be developed to remove bugs. An alpha is what comes before the beta - where you're not just testing for bugs but still developing the key features, and creating art, sound and other assets in case of video games.
Minecraft was originally released as a PC game, but over the years as its popularity grew, it was ported to more platforms. Today, you can get Minecraft for Windows, OS X, Linux, Android, iOS, Xbox 360, Xbox One, PlayStation 3, PlayStation 4, and PlayStation Vita.
2. Minecraft isn't really a video game
While Minecraft has many game-like elements, it's really much more like digital Lego. The game itself doesn't really have a goal - you can explore the world, and build what you want. In Survival mode - which is the closest Minecraft gets to a game, you have a health bar which can be depleted by attacks from monsters, starvation, suffocation and more events.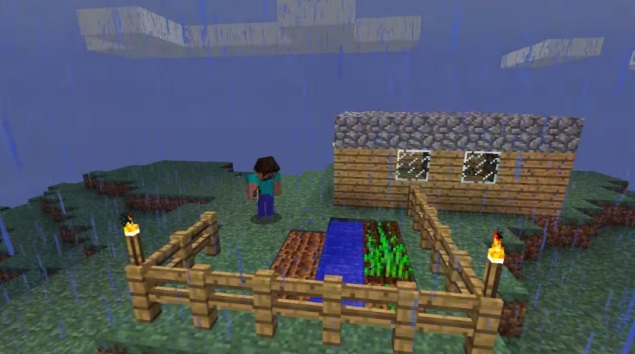 You can make armour and weapons, and build defences, breed animals and more. Then there's Creative mode, where you have access to most of the resources through a menu, and you can fly around the world. You're free to build large projects, and just have fun.
3. Minecraft has sold over 54 million copies
Whether you think that Minecraft is a game or not, there's no denying that it is a success. Taking into account all platforms, Minecraft has sold over 54 million copies. You can play Minecraft by yourself and create things on your own, and if you want, you can connect to this huge community in multiplayer worlds, where you can work together to build things.
4. It looks like first-person Lego
Minecraft has a unique visual style that has inspired quite a few imitators by now. Everything is made up of blocks - including your character, and even the water looks blocky. This is a deliberate stylistic choice, although some players use mods to change the way Minecraft looks. Funnily enough, while Minecraft has been described as digital Lego at least partly for this reason, there are now official Lego Minecraft sets you can buy.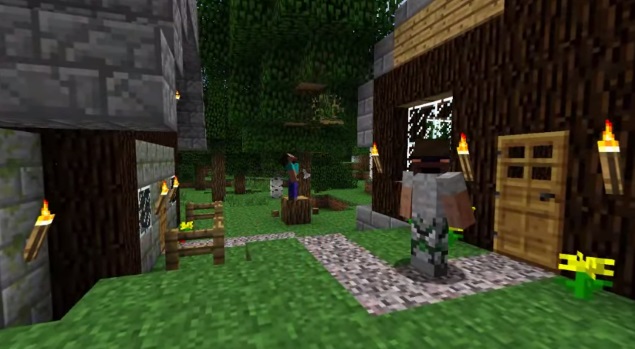 5. There is mining, and crafting
In survival mode, you start the game empty-handed and need to hit blocks to collect them. So you can hit a tree, and get some wood, for example. That's the most basic thing you can do though. The next step is to use the crafting grid to turn those blocks of wood into planks. From there, you can turn the planks into a crafting table, where you can make more complex items - such as a wooden axe, with which you can get wood faster. Keep crafting and your mining becomes better.
The more you mine, the more materials and combinations become possible, and after that, you can start to build highly complex structures. People have made reproductions of Hogwarts and real world locations like the Eiffel Tower, giant Mario's bestriding the blocky tiles, and even simple towers to protect themselves. Using special "redstone" blocks that can have more than one state, people have built calculators and even computers, investing a huge amount of time and effort to work it all out and then put them together.
6. You can play Minecraft inside Minecraft
You know how we mentioned that using redstone blocks you can create binary switches and make computers? Setting up several thousand of these blocks, some people have even made a very basic 2D Minecraft that you can play - inside Minecraft. The scale of the work required to do this honestly boggles the mind, and that's just putting it all together.

First, someone had to figure out how to make this whole system of tens of thousands of bricks to work together.
7. The world of Minecraft is 9 million times the size of Earth
The world of Minecraft is theoretically infinite - the areas are made up of chunks that are loaded as required. There are some technical limitations to the total space possible, and therefore, the total surface area is 4.7 quadrillion kilometres squared. The Earth is "just" 510 million kilometres squared, making Minecraft effectively over 9 times bigger.
8. Minecraft helped popularise the "early access" model
Today, paying for a game that is still a work in progress isn't a big deal. There's Kickstarter of course, where you might pay for something that's barely an idea. And then there's something like Steam Early Access, where you can pay for games that are still being made.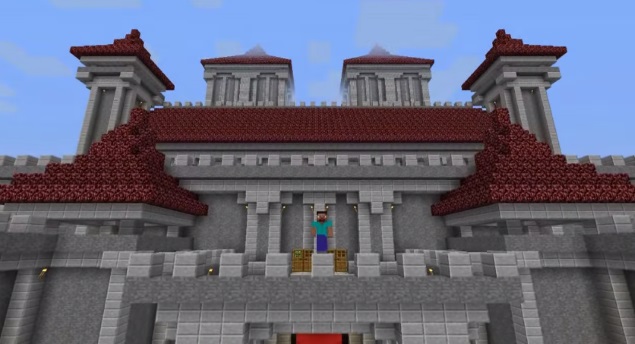 Minecraft is probably the most famous example of the trend - players could buy the game in the initial development stages, the alpha and later the beta, all the way up to the final release. At each stage, the cost of the game went up, but if you bought an older version of the game, you were assured a copy of the final game at no additional cost, along with other benefits. Games like DayZ would come along later and cement the model, but Minecraft is certainly one of the games that set the early trend.
9. Minecraft has a huge fanbase, with merchandise and meetups
There are Minecraft conventions, including the official one - MineCon, which has taken place in locations like Washington, Las Vegas, Disneyland Paris and Orlando, Florida. These events were heavily attended and show how involved the community is. On the Minecraft website, you can buy a lot of merchandise as well, ranging from soft toys to vinyl figures, foam swords, blocky torches, mugs, posters and clothes.

Minecraft might have started as a digital distraction, but it is very much present in the real world today.
10. Minecraft has applications well beyond Minecraft
Minecraft has been discussed as a teaching tool for Computer Aided Design, and for other educational tasks. It can be used to build virtual designs for 3D printers, for example. This year, the Danish Geodata Agency recreated all of Denmark at a 1:1 scale in Minecraft, a virtual world anyone can visit. Minecraft has also been introduced in several schools to teach subjects such as history and science. For example, teachers have taken advantage of the popularity of the game to build multiplayer servers where they can recreate the pyramids, and other monuments, together in Minecraft.