In the span of half an hour, we managed to go across two skyscrapers using an unsteady plank, then jumped off in a hang glider flying with the wind in our face. From there, we took a quick ride in a helicopter, manning a machine gun to knock out waves of enemies. On landing, we tried to stop a professional footballer from scoring goals, and when that didn't work out, we cheered ourselves up with a ride on a rollercoaster that we'd designed ourselves. All this was made possible thanks to the magic of the Oculus Rift virtual reality headset, with a little help from Smaaash, an arcade in Gurgaon.
The Oculus Rift is still a work in progress, as no clear date has been announced yet for the launch of the consumer version. But that hasn't stopped developers from putting in a lot of work with the preview headsets that have been released till date. Smaaash, whose headquarters are in Mumbai, is one of these developers. But unlike most others, it's not making games to release to PC gamers.
Instead, it's trying to make games that blend virtual reality with the kind of machines and experiences you'll find in an arcade. Experiences such as the virtual rollercoaster and goalkeeping set you back by Rs. 150. And around 2,500 people come by everyday, according to the company. We went to the arcade twice, once with the company's representatives, and once on our own, and saw the crowds firsthand.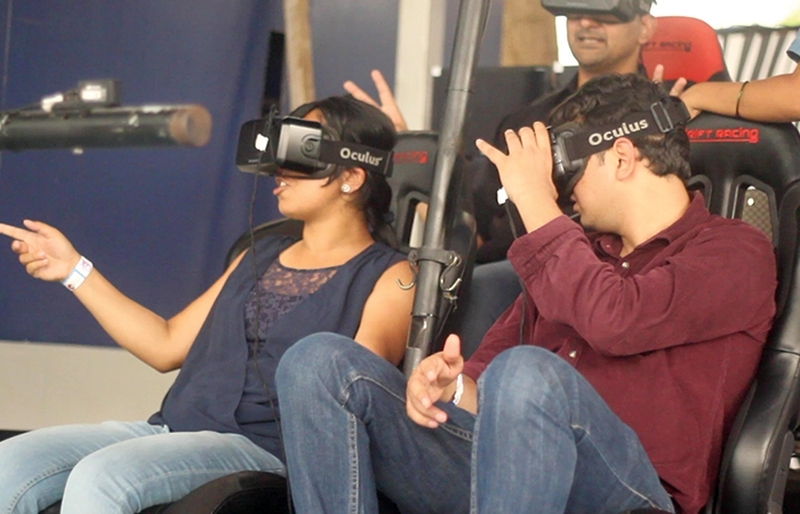 In our preview of the Oculus Rift Dev Kit 2 headset, we noted that despite the screen-door effect, and problems with controllers in a virtual environment, there was still a tremendous sense of presence. HTC's Vive took things further by creating an experience that was practically Star Trek's Holodeck.
Smaaash is working with the Dev Kit 1, which lags behind the newer hardware in a number of critical ways. For one thing, the Dev Kit 1 runs at a much lower resolution, at 1280x800 pixels as against 1920x1080 pixels. It also has more latency, but the biggest difference between the two is that the Dev Kit 1 doesn't have positional tracking.
What does this mean? In both versions of the Rift Dev Kit, you can look around, look up and down and see what's behind you. But you can't "move" in space, so while you can turn your head to look at something underfoot, you can't - for example - lean down and take a closer look. Smaaash compensates for this through a lot of extra tools such as hydraulics, mist-machines, fans, and bone rattling audio equipment.
The company got its start in 2012, in Mumbai, and this year it has opened new outlets in Delhi and Hyderabad, with plans to get a total of eight outlets by October 2015. The arcade includes a mix of different diversions - a bowling alley and classic arcade games, along with a mix of virtual experiences, such as a football penalty scoring game, where you face off against a robotic goalkeeper.
The flagship experience, Smaaash Cricket, pits you, the batsman, against a machine that can bowl spin as well as pace, while a virtual audience projected on all sides is cheering you on. Sripal Morakhia, the founder of Smaaash, VR tells NDTV Gadgets that his goal has always been to create experiences people would normally not get to try first hand, and the Oculus helps takes this further.
"I wanted people to try extreme experiences, in a manner that was still safe," says Morakhia. "Cricket was a start, but with the Oculus Rift, we can make the experiences extreme. Imagine trying to stop a ball being kicked at 160 miles per hour by Lionel Messi. It's a unique experience."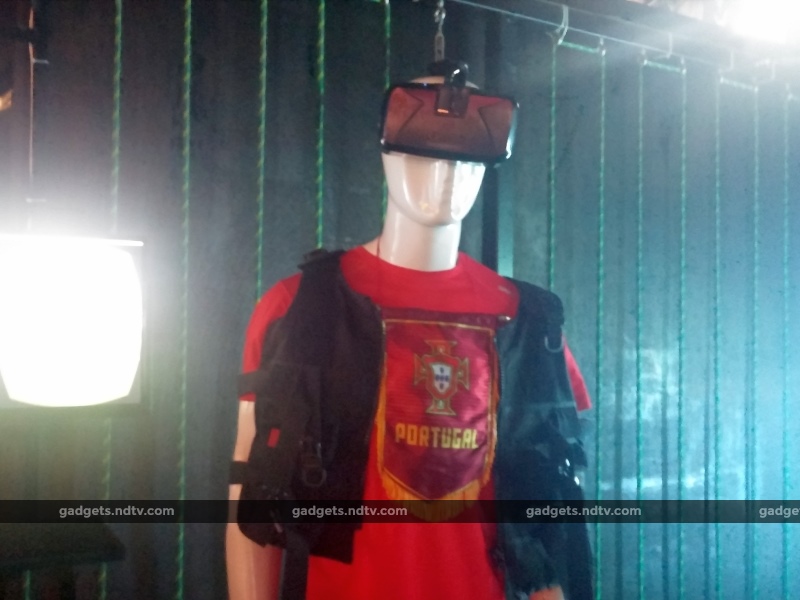 In Delhi, at the Smaaash outlet, we can see the football experience in action. The Rift puts you at the centre of the action, but the experience developed by Smaaash's programmers goes a step further. A Kinect like sensor tracks your movements, and you'll wear a special vest and gloves, with vibrating motors. The football flies at you and you try and stop it - get you hands up in time and you'll feel the impact. Miss, and you might still block it with your body, and feel the impact on your chest. Or, you'll turn ruefully behind you, to see the football sitting comfortably inside the goal. Saurabh Sawhney, Training Manager at Smaaash in Delhi, tells us that this is one of the most popular new attractions at the arcade.
But the big winner, Sawhney tells us, is the "finger coaster". The name sounds weird, but the concept is actually really fun. It's also a great example of Morakhia's philosophy for VR. "We are still in the first phase of virtual reality right now, with large and complex headsets. It is still expensive, and there isn't much software readily available," says Morakhia. "For the next few years, VR will not be for gaming. It will be for unique, short experiences. A half hour game leaves you feeling nauseous, but a two-three minute experience will stay with you and be something you'll enjoy a lot."
Because of this, Morakhia says, the goal is to mix together virtual reality and mechanical devices to create something you won't be able to experience. In Delhi, Sawhney walked us through how the finger coaster works. The coaster is a set of four seats, each with its own Oculus headset. Before you sit down though, you are given a tablet to draw on. You can draw twists and turns and sharp loops, slow rises and sudden drops. The lines you draw are the tracks your coaster will "roll" over. We sat down on our chair, and were made to buckle in. That seemed excessive, but after we put on the Oculus, it became apparent that this wasn't just done for effect.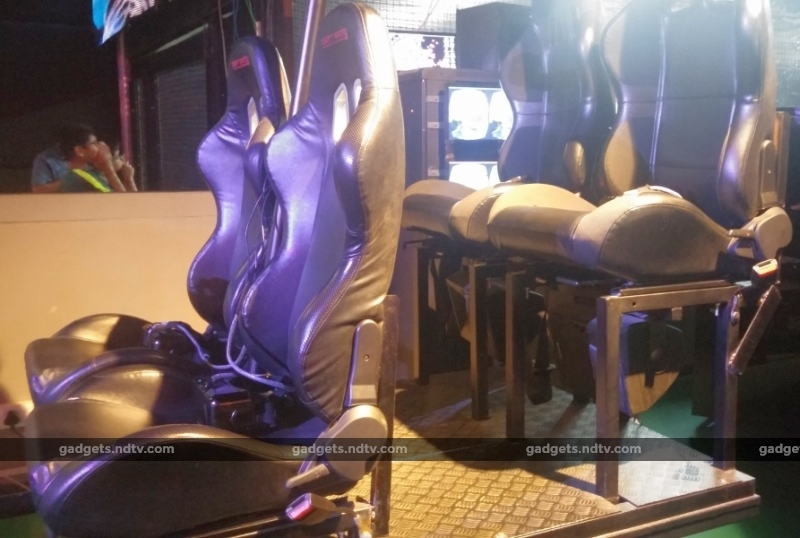 The chair lifts off the ground and our feet start to dangle. Suddenly, we're off, and as the speed picks up, a breeze blows across our face, courtesy of a fan. The clanging sounds of metal on metal start to play and then we are thrown from side to side as we hurtle through the ride. We've experienced a rollercoaster on the Rift in the past, but this is something else. There's real terror, and a real sinking feeling in our stomach as we lurch up and down.
There are other experiences like these - five in total for the Gurgaon-based arcade. Morakhia tells us that Smaaash is working on building more of these experiences, and because they are relatively simple - the real challenge comes from the hydraulics and other mechanical parts of the experience - he wants to release one new experience every three months.
As a take on VR, Smaaash is fairly unique, and the company has done a great job in creating unique experiences. The way it has blended the Oculus with the kind of hydraulics you will see in a '4D' cinema made our two visits there memorable. What the company is doing is a far cry from the kind of examples Oculus and others have shown, but it's a take we enjoyed a lot.