Few games can claim to be as successful as Grand Theft Auto V and Metal Gear Solid V: The Phantom Pain. After all, those are two big budget blockbuster titles created by teams of considerable experience. Nonetheless, little known developer Studio Wildcard managed to accomplish just that with a survival game that is still in Early Access on Steam, called Ark: Survival Evolved. It's already one of the most played games on Steam, and consistently bests both GTA V and MGS V in terms of the number of people playing.
The concept behind Ark: Survival Evolved is so weird that it's easy to see why the game has been a hit. Ark: Survival Evolved places you on an isolated island, and has you taming, breeding, and riding dinosaurs, crafting a host of items, and surviving in a large game world facing hostile conditions. The game is already a smash hit on Steam, and the team is now working on PS4 and Xbox One releases.
Gadgets 360 spoke to Jesse Rapczak, the co-founder and co-creative director at Studio Wildcard, to find out how Ark managed to be one of the breakout hits of the year, and what console gamers can expect from the game.
Surviving Steam Early Access
With Ark being one of the few successes on Steam Early Access - which provides gamers a chance to play games that are still work in progress for a price - we had to ask Rapczak what was the secret behind the game's performance in a program that's notorious for unfinished games and poor communication with consumers.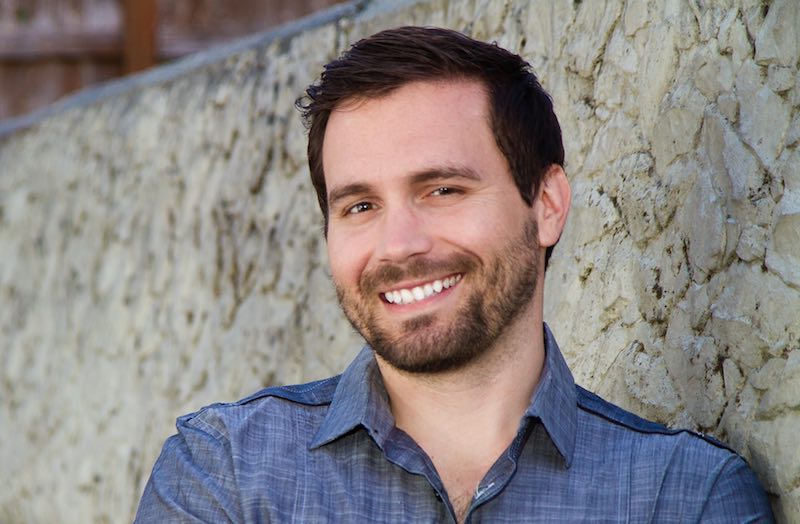 "Early Access can be a blessing and a curse. It is very important for developers to be clear about their roadmap for moving through Early Access to a final release, because consumers will be putting their trust in the team to finish the game and listen to their feedback," he explains. "Secondly, it is important to over-communicate, and always be 100 percent transparent with fans, and show them that their feedback is being taken seriously."
"Finally, even though the game is in an incomplete state, all steps should be taken to treat it as a live game to keep the quality of life high for users," Rapczak adds. "Don't wipe their progress or force breaking changes on them unless absolutely necessary."
(Also see: Elite: Dangerous Review - Lost in Space)
While it might sound preachy, Rapczak believes the company's proactive approach is the single reason for the games continued success. With a clean communication plan to end users in place, the next step was ensuring visibility. It's a massive problem facing most developers, whether indie or big studios, especially in a crowded marketplace like Steam. How did Studio Wildcard sidestep this hurdle to be a game that's been played more than GTA V and MGS V?
"Partnering with streamers, the media, getting the word out to players through lots of updates, and a rapid development schedule are all factors that helped us," says Rapczak. "The game is changing and evolving and players love this - they can see the change happening before their eyes and the game is always at the top of peoples' minds. Ark was the fourth biggest game on YouTube in 2015 due in no small part to user created content and all our updates," he adds.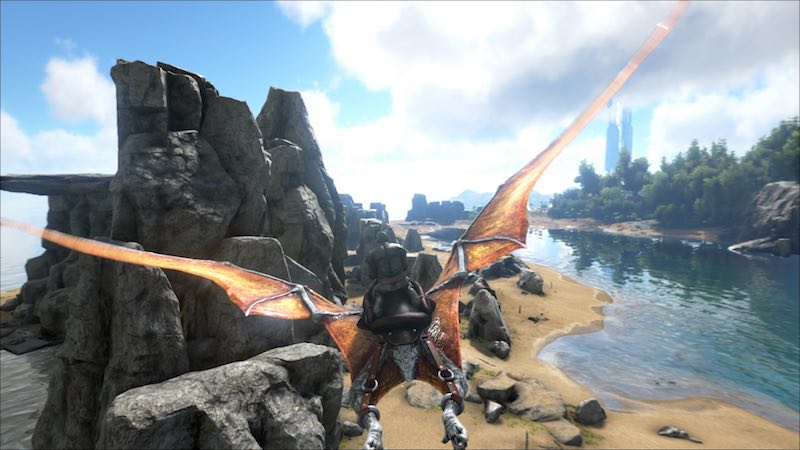 On the subject of updates, Rapczak stated that console gamers can expect a more relaxed update schedule compared to those playing Ark on PC. The reason for this is that while Steam allows the studio complete freedom to update the game as it needs to, consoles, being a controlled platform, have a longer test process.
"On console the updates are not fully in our control. We must go through the console owner [Microsoft or Sony] and they validate and test our updates before passing them on to users," he says. "This is a great thing but it means less frequent updates. We are currently planning 2 to 4 updates a month to keep the console version up to date with the PC version in 2016."
Bringing parity to the Xbox One
The game is currently available on the Xbox One via early access and will be coming to the PS4 next year. Much like Elite: Dangerous and The Long Dark before it, the studio has taken a punt on a platform that isn't traditionally perceived as the place for content that isn't as highly polished.
Furthermore, most console gamers aren't exactly tolerant of potential bugs and issues that might arise. In spite of being a possibly risky move that could backfire, Rapczak believes being present on consoles is important.
(Also see: Dr. House Meets Final Fantasy in Zenith, an Xbox One Game Co-Developed in India)
"I think the tide is changing a bit, but consoles still should have a higher level of polish and quality than a PC game because there is only one hardware target," he says. "All the energy that goes into supporting a game, on all the PCs of the world, should be directed at making the game run well on a specific type of hardware, and that's what we've tried to do with Ark on Xbox One."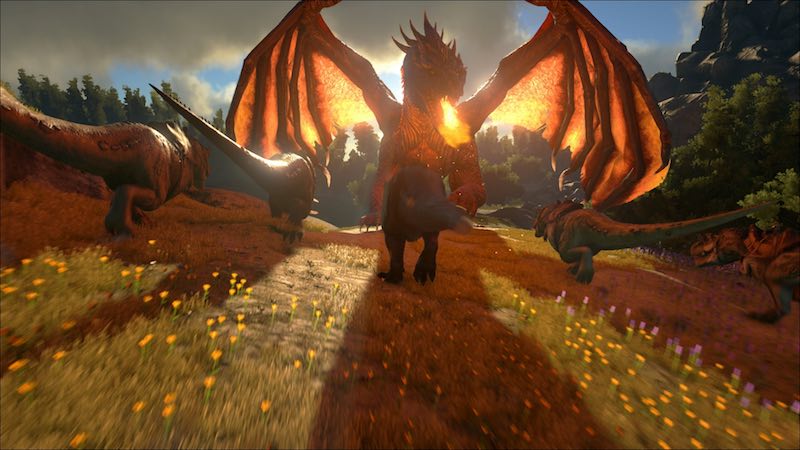 Most indie studios have shown a preference for publishing on the PS4 over the Xbox One, but Ark: Survival Evolved is on Microsoft's console first. In the past developers have stated that stringent processes and guidelines have made it tough to see their games hit the console. We wondered how Microsoft's ID@Xbox program has helped with this.
"1000 percent. I can't say enough good things about the ID@Xbox team and what they have been doing to help us get Ark on consoles," Rapczak exclaims. "If there was ever any doubt about who is developer-friendly, I think Microsoft has removed any of the doubt from their end."
Of VR and what next
Rapczak previously was the technical art director on Microsoft's Hololens before striking out to make Ark. The game is built for VR from the ground up, he says, and once the hardware is in place, gamers will be able to take advantage of this.
"[The] scope of world, perspective and doing things that are amazing in VR like moving from ground to flight to underwater," he tells us. "We have not yet done a pass on the game's UI for VR, so expect to see that coming later in development."
At the moment the game supports Microsoft and Sony's VR headsets. We quizzed him on which one (including HTC's Vive and Oculus Rift) would be the best fit for Ark.
"All are great options, but the X factor in VR is great user input," he says. "So far I have been very impressed with the Vive's input method. [But] it's still a young technology. But I think this time it really has some legs. We're always evaluating new markets and new technologies, and we have some ideas up our sleeve for VR and AR," he teases.
(Also see: Microsoft's E3 2015 Conference: The Xbox One is Now a PC, HoloLens, and Yes, Games)
Ark has become an adventure game, survival game, an open-world sandbox, and a place for mods. Where does the line between a virtual world and a game blur?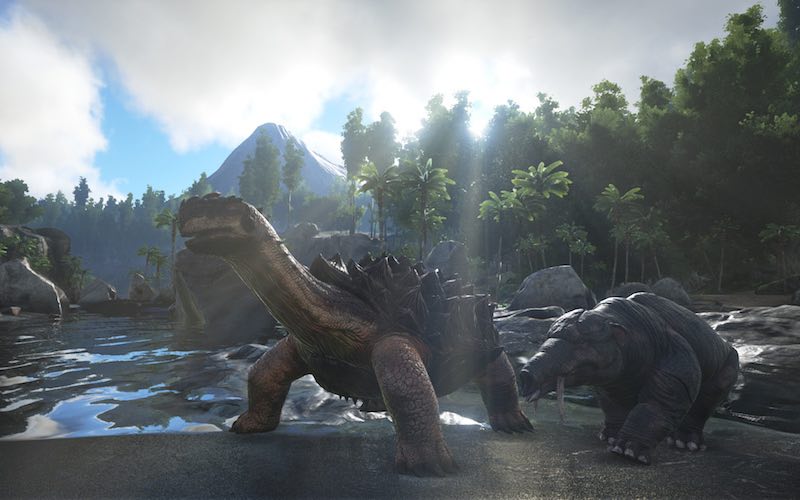 "I don't know myself. Ark is honestly the first game I have seen where the line can't be pinned down," says Rapczak. "I have seen people getting married with Ark cakes, using Ark to treat PTSD and other disorders, going from socialising in Ark to hanging out IRL [in real life] without stopping conversations and even making a living off of the content they produce for their own fans and followers on Twitch and YouTube."
"It's really amazing, and we're so humbled by the positive impact Ark has had on people from all walks of life," he says.
The general consensus from the vocal PC gaming community is that Ark is early access done right. Our early impressions of the Xbox One version augur well, but whether a finicky console gaming audience agrees remains to be seen. Before all of this though, the team is hard at work as the game will be out of early access in June next year. Rapczak said support after version 1.0 will continue for "a long time," as Studio Wildcard still has to add an end game, backstory, and its planned expansions. For Studio Wildcard, the journey has only just begun.