It was during a particularly tricky puzzle in the Talos Principle that I realised that the game had done me in. I was going around in circles looking for solutions to a problem I had inadvertently solved 20 minutes ago. That got me thinking, did I reject the problem because I didn't see it then, or was it because it looked too easy to be a legitimate solution.
The Talos Principle is a first person puzzle game, available on Windows, Mac and Linux PCs, with Android and PlayStation 4 versions expected later this year. You play a robot with a hint of humanity, and the ever more complicated puzzles are wrapped up in a philosophical storyline that explores materialist thinking.
Philosophy and games haven't been best buds since the dawn of time. Earlier, games were quite happy throwing the story in as part of the manual and giving you a setting to experience on your own.
Games like Metroid, Castlevania, Doom relied on atmosphere to hook you in. It was around the time of System Shock that things started to change. Here was a game with a fully-voiced antagonist, one that was chilling and menacing in equal parts. The game was an homage to cyberpunk lore and it captured the feeling of being bogged down in a derelict spaceship perfectly. The game's villain Shodan mocked and taunted you at every turn, yet gave you enough to ponder over.
These themes were further explored in System Shock 2 and more fully realised in "Andrew Ryan" - the mad genius behind the underwater city of Rapture - from the game BioShock. Rapture was meant to be a safe haven for creativity but it is a wreck by the time the player finds it. You gradually uncover a tale of a city that was founded on good and devolved into evil, leaving the player to ponder the questions of free will and control. What are the limits to which a person should be controlled? Your own deception at the hands of Atlas later in the game show the player that he too was being deceived the entire time, not unlike how Shodan deceived you in System Shock 2.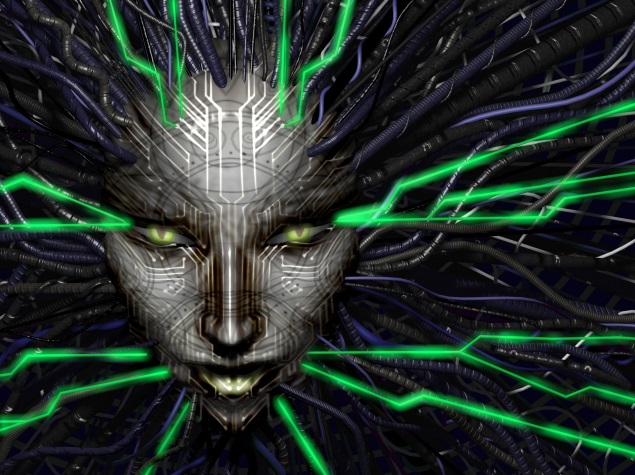 This mix of philosophy and deception engaged the player and immersed him in the game world. This kind of trickery seemed like a perfect fit for puzzle games in general.
But as with all good things there was a wait, and then Portal came about and changed first person puzzlers forever. Portal's GLaDOS borrowed equally from Shodan and Andrew Ryan with a bit of Max Headroom thrown in. Primarily just a voice that guides the player through the early stages of the game, GLaDOS was a perfect fit for the world of Portal. Portal 2 expanded this concept adding a new character and fleshing out the world a little more.
The Talos Principle uses this foundation as a base to kick things off. It challenges and confuses the player using words. The game starts with a voice from the sky, telling you that you have risen from dust and commands you to explore the world you are in to collect sigils to progress to more worlds to repeat the same thing. In a simulated world, where the only thing guiding you is a voice from the sky how do you differentiate fact from fiction, where is the line between the truth and the lie?
As a game, it's a first person puzzler similar to Portal, for lack of a better example. It's actually a different beast altogether; where Portal used a sparse narrative and a fantastic antagonist to keep you hooked through the journey, The Talos Principle uses philosophy.
You're immersed in words, which tell you that all is not right with the world that you inhabit; that the end of the world has already happened and you are stuck in a time capsule of humanity's finest achievement. If anything, it challenges you to think about life. After all, it is one life we lead, there are no reincarnations or fantastic worlds made of clouds. What there is are memories, sigils of what we were when we were alive, the places we went to, the photos we took, the friends we made or the status update we put up before we kicked the bucket.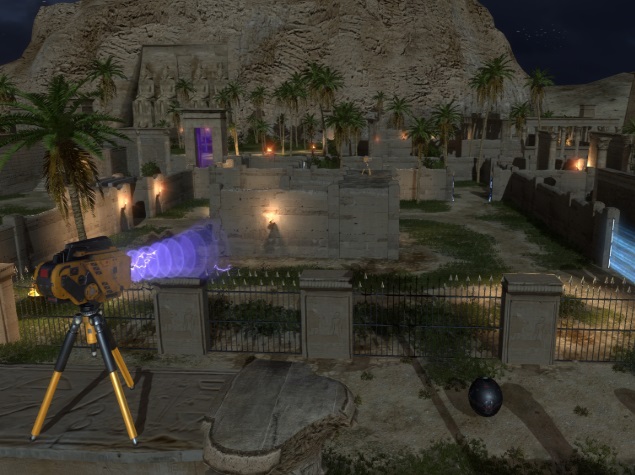 When you explore the worlds you come across puzzles, challenging you to solve them to progress to the next, similar to life, where you move from problem to the next. You use messengers (or devices in layman terms) such as connectors that connect one power output to the next, similar to narrative threads in your own life made up of social connections with friends and colleagues. If you think about it, there is an interesting parallel to be drawn between the objects that you use in the game to real life. In a world devoid of anything else, these are your best friends.
There are others that inhabit this world too, ghosts of previous inhabitants, sometimes literally. Most though are in the form of messages, written or spoken and depending on how many you find, they give you a sense of the world you are in. They are written smartly enough to raise more questions than to give you straight answers. There are secrets, there are stars, there is fun and there is gloom and the Talos Principle handles it all brilliantly.
The music is as understated as the narrative is building on the environments themselves to create moods and an atmosphere of hope among the bleak existence and it fits perfectly, from the chants inspired by chamber music in the game's opening menu's to oddly minimalist Egyptian tunes, to uplifting piano pieces, they create the perfect atmosphere to think.
The visuals arguably the most important aspect of any game are varied and colourful, depicting worlds made that could possibly be real, yet glitch out or behave oddly just enough to keep you thinking, fitting in with the theme brilliantly, you could be walking along a puzzle room just to have portions of it glitch out or behave oddly, it creates an atmosphere of reality breaking down around you yet if this is the only reality you have ever known, how do you know it's simulated?
But there are some things that detract from the overall experience. The game falls into a solve puzzle, move to next area cycle quite early on, which is quite similar to games like Portal. The difference here is that Portal is a singular, linear, focused experience with perfectly balanced puzzles that hit the right note between challenging and sinister. The Talos Principle however keeps things open ended, inviting you to solve puzzles in any order of your choosing which means it's not as crisp or as focused an experience.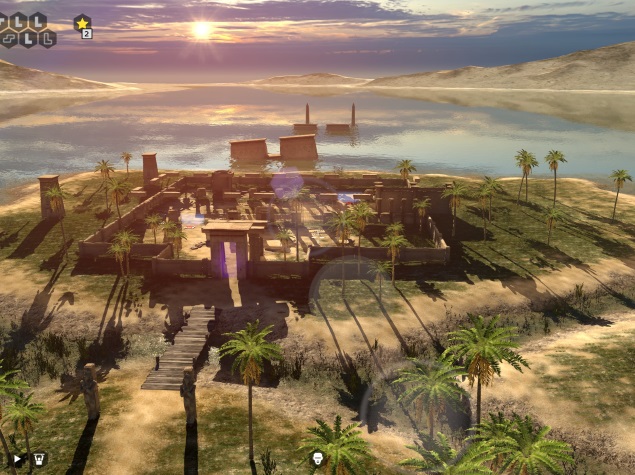 Some of the puzzles can be real headscratchers too, possibly putting off some players. It's a game that demands skill, you need to apply what you have learnt in ways the game wants you too and for some, it might not be their cup of tea. At the other end of the spectrum, many puzzles often have similar solutions, upsetting the balance of the game. Some puzzles can be solved in seconds, while others can be infuriating if you don't know what too look for.
Despite these shortcomings, the game manages to keep you engrossed, and actually makes you think about what you're doing. It might not be a great exploration of materialist philosophy - just like BioShock wasn't exactly a comprehensive primer on utilitarianism - but it manages to go deeper than other experiences of its kind.
In the end, I may be accused of looking at the game a little too in-depth, drawing conclusions for questions that may not exist; maybe the creators never intended for this to be any more than a good puzzler to keep us engaged. After all, it's just a game, right?