With Microsoft firing the first salvo of Black Friday deals last week for the Xbox One, Valve has also come to the party. It's PC game digital distribution service, Steam, has deals on a host of games right now. However, it's not following Valve's usual model of flash sales with deals shifting the whole time. There are some differences this time around and here's what you should know.
1. There is only one discounted price for the entire sale
In the past we've stressed on waiting for daily deals or flash sales before buying a game. Not this time. The following message was posted in a Steamworks Developers group confirming this:
In past sale events, we've asked for two discounts--a duration discount that runs for the length of the sale, and a feature discount that runs in the event that a game is featured on the front page. This year, to optimise the sale for customers and to allow us to feature and recommend your products in more ways to more customers, we're asking for just one discount, to run the length of the sale.We'll still be highlighting top games on the front page for 24-48 hour spans, but those products will stay at their most competitive discount, before and after being featured. It's not a major change, but it does make the sale a lot more valuable for customers, and it allows us to build sale tools that highlight and recommend products all sale long, instead of just during front page features.
What this means is that you won't have to wait before buying in the hope of a better price. A welcome change in our opinion.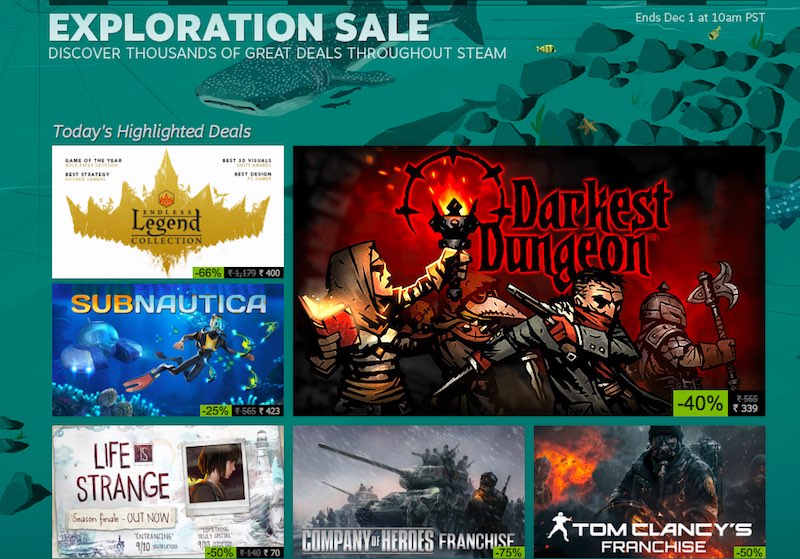 (Also see:Here's Why Steam's INR Pricing Does Not Benefit Anyone Right Now)
2. It will run for a week
The Black Friday sale (or Exploration Sale as it's being called) will be on offer from November 25 10am PST (11:30pm IST) to December 1 10am PST (11:30 IST). Something to remember in case there's something you want to buy.
3. Not all games are available for purchase in India just yet
Looking to buy the entire Fallout collection of games? Well you still can't. Older titles like Fallout, Fallout Tactics: Brotherhood of Steel, Fallout 2, Fallout 3, or Fallout New Vegas still do not have a price in INR, which means they're unavailable for purchase. The same applies to other franchises from Bethesda like Wolfenstein, Dishonored, and The Elder Scrolls (yes, you still cannot buy Skyrim). While the publisher is yet to comment on this, industry sources have told Gadgets 360 that the priority for many game companies is to get newer games with their prices on Steam up front and centre, which could explain the unavailability of most of Bethesda's catalogue.
Don't let the Rs. 0 price fool you, you still can't buy it. Trying to do so results in an error on the payment page.
4. Steam isn't always the cheapest
Yes, you read right. This holds true for games from publishers like Electronic Arts and Ubisoft who have their own digital distribution services. For example, Mirror's Edge is Rs. 166 on Steam but is Rs. 149.50 on Origin. Sure the difference might not be much, but when you're buying a lot of games from the same company, it adds up to some serious savings.
5. Check if a game is region-locked before buying
With Steam having Indian pricing, you can't gift games to non-India accounts. Also, some games like Metal Gear Solid V: The Phantom Pain, and a spate of Final Fantasy games, are region-locked and run-time locked, meaning you'll have to be in the country of purchase to play them. If this is a hindrance, we recommend checking this handy guide to figure out if what you want to buy has these restrictions.
Keep in mind that Steam will also have a Winter sale from December 22 to January 1 which might see some newer games like Just Cause 3 and Rainbow Six Siege at even cheaper prices.
What are you picking up during the Steam Sale? Let us know via the comments.
Affiliate links may be automatically generated - see our ethics statement for details.