Ever wondered just how messed up the human collective is? A quick way to check is to look at the stream for Twitch Plays Pokemon, which started its third round of crowdsourced-Pokemon playing on Saturday, after successfully completing Pokemon Red and Pokemon Crystal.
Twitch is a popular game video streaming service. What that essentially means is that when you're playing a video game, you can share a live stream of the game for anyone to watch. And anyone who is watching can leave comments on a chat feed. Twitch streams can also have a second screen for the streamer's webcam so that you can respond to chats while still playing the game. The platform recently added support for mobile games as well.
Twitch Plays Pokemon takes things to the next level - the game is being played as per the commands of the people watching it on the stream. People leave commands on the chatroom that are parsed and carried out. There were variations like Anarchy mode, where anyone could leave a command and the game would carry it out, and democracy mode, where votes were tallied from all the commands, and then there were also votes to switch between anarchy and democracy. The latest round is limited to Anarchy, for now.
With hundreds of thousands of people giving commands at the same time, you can guess that the game, for the most part, was a random and chaotic mess. Despite that, Twitch Plays Pokemon was able to beat Pokemon Red, and then Pokemon Crystal last week, and it has now started on Pokemon Emerald.
The experiment started on February 12th, and over 175,000 people played Pokemon Red within the first two days, with 6.5 million views within five days. By the time the first game was completed, the game had reached 36 million total views, and actually took down Twitch's servers a couple of times.
When you actually watch the Twitch stream, it's a fascinating mess. It doesn't look like anyone is ever going to get things done, and that makes the fact that the mob has completed not one but two long games all the more exciting. This time around, there are around 30,000 people playing, and there isn't a democracy mode anymore. This means that anything goes and a lot of people get on board just to troll the ones who are taking the game seriously.
A playground for trolls
Imagine if you're playing Pokemon and trying to actually beat the game. But you're playing with a friend at the same time. And every time you try and take one step to the left, your friend takes ones step to the right. That's pretty much what an average session on Twitch Plays Pokemon can feel like. Here's a short, random, unfiltered sample of the chatroom, whose text gets parsed and used to play automatically:
"Lethalburger: left
Cerisse: right
Bruer23: R3kla: dcsdvCrimsonflight: torchic is stuck n the pc
Takeapieandrun: dis *** is hitting on us
Sinatuubatv: ༼ つ ◕_◕ ༽つ ONLY 1 BIRD JESUS!!!!!!! ༼ つ ◕_◕ ༽つ
Mysugarbabe: Left
Soppps: right"
If that sounds a little chaotic and also somewhat weird, that's because it is. In less than one second, two users tried to move left, two other users tried to move right, one made a randomly abusive comment, and one references a meme. It's as if you dipped into 4chan for a second.
There have also been some very successful approaches to interactive storytelling using the same technique. MS Paint Adventures is a collection of webcomics written in the style of choose your own adventure series. When the comics started, the next comic would be decided in response to the comments in the forums, though over time the size of the fanbase made this impossible.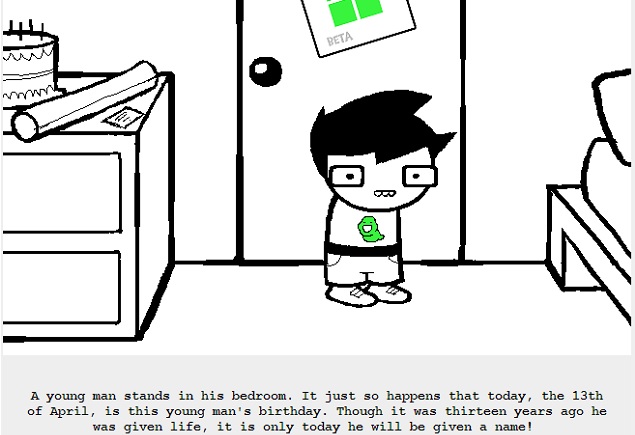 This meant that some people would be trying to build a heroic narrative, and then a troll could come along and tear everything down, and then leave the fans angry and unhappy as they watched yet another carefully built up idea come crumbling down.
Other comics were spawned from the same concept, so you have some long running adventures which actually managed to reach conclusions, while others like Prequel (which is supposed to be the prequel to The Elder Scrolls IV: Oblivion) have taken three years to go over the events of five days of in-universe time. Prequel is a particularly good example of the genre, because it certainly feels like there are as many trolls as there are actual fans. Although another possibility is that "Kazerad", the creator of the comic, is the real troll and just hates happy endings...
Two down, a lot more to go
So how has TPP been able to complete two games of Pokemon? The creator of the game had told Joystiq earlier that "even when played very poorly, it is difficult not to make some progress in Pokemon." And that's true - the games are still designed with kids in mind, and are highly forgiving.
But despite that, he thought the first game itself wouldn't be completed, and yet, that's exactly what happened. While the trolls take some time and have fun with things, when it's been really critical that the game be played in a focused way, the community has rallied behind the game, and actually developed anti-trolling tactics.
While the game itself isn't very interesting to watch, the way in which it has mobilised thousands and built to such impressive results is amazing. Sure, the average kid could probably play through Pokemon a lot faster and more effectively, but at least the collective intelligence of humanity is somewhere near the average kid. Let's breathe a sigh of relief at that notion at least.