If you've bought a new game on the PC in the last few years - be it digital or retail - you have probably come across one or the other video game store, from Valve's distribution platform Steam, to Electronic Arts' Origin. But there are other options beyond those two, and depending on the game you choose to pick up, you might have a few options to choose from. There are pros and cons to using each store, which in turn has complicated things for players.
So with that in mind, here's a comparison of the Windows Store, Steam, Origin, Uplay, and GOG.
Ease of use
Microsoft's Windows Store looks like it was designed for tablet screens with its big icons, and it focuses more on user reviews instead of trailers or videos. Steam appears clunky and badly organised so it's hard to find what you want. For example, Project Cars appears in the Sports category, which ought to only be under Racing.
EA's Origin does its best to suggest upgrade options for its games, hoping to get more money out of your purchase. Ubisoft's Uplay doesn't do anything special - and the store section displays its website in a shell like Steam and Origin.
GOG has the cleanest look of the lot, and the clear segregation of store and downloads on the same screen helps users get all the information in a jiffy. Origin uses poster-kind thumbnails and big orange buy buttons to direct purchases, making it the fastest to navigate. In ease of use - Origin and GOG are the best.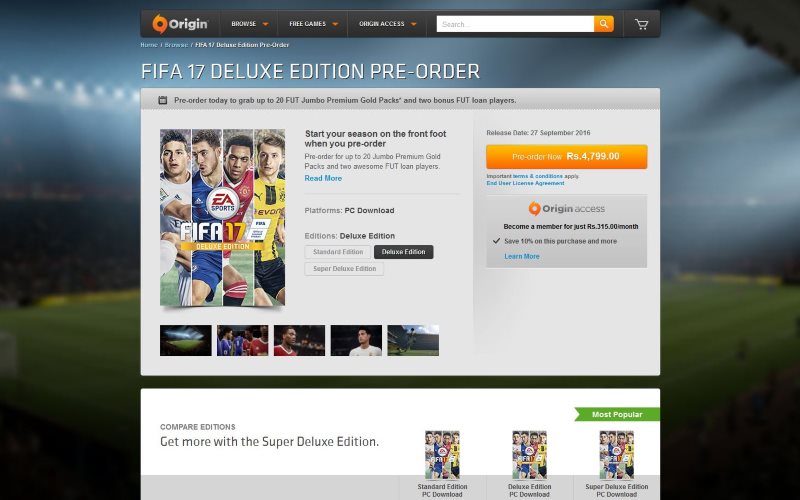 (Also see: Building a PC for Use With Oculus Rift or HTC Vive? Here's What You Need)
Variety of games
Steam has most games from third-party publishers, and it also boasts of the biggest library of games. The other stores are largely devoted to first-party games, with Uplay having only 75 games in India. Origin does stock few third-party games other than EA's, but typically, Steam has it beat on pricing.
GOG has a huge collection of DRM free games, but because of that, it only has a total of 1,584 games. This does include a few high profile games such as The Witcher 3 and No Man's Sky, but by and large, it doesn't have most of the top new games either. Not unexpectedly, Steam is the winner on variety, but all the stores boast of very high profile exclusives.
INR pricing
Video game prices are mostly listed in US dollars as they tend to be priced according to the purchasing power of Americans who constitute most of the global market. That hurt users in other countries including India as players would have to spend on currency conversion rates and other mandatory fees. That has changed in recent years, though it has been implemented in different ways.
All of Windows Store, Steam and Origin use INR pricing, but Valve is the only one to adjust pricing according to purchasing power, making it the best place for Indians to shop for games in most cases. Both Microsoft and EA convert prices directly from US dollars to INR. Uplay and GOG don't have INR pricing as yet, with the latter's "fair policy" of keeping USD as a standard across the world hurting it here in India against the likes of Steam. Ubisoft displays the European store for Indians, so you have to pay in Euros. Thanks to INR pricing that takes into account local values, Steam is the best store here.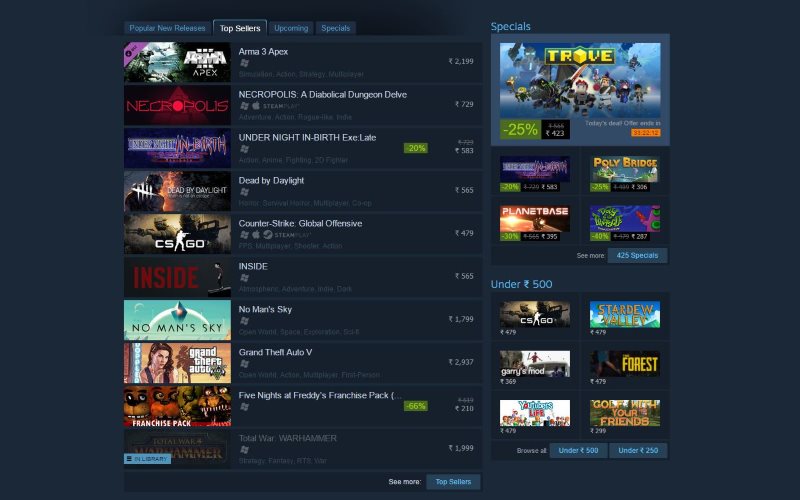 (Also see: Top 5 Alternatives to Valve's Steam)
Payment methods
Windows Store, Steam and GOG accept both international debit and credit cards. Origin and Uplay only accept credit cards, though Ubisoft does have option for Paypal with GOG. Steam also allows Skrill and Bitcoin.
In terms of gifting, you can use both Steam and GOG to send games to friends and family. The others don't have any option like that. Steam seems like the best option in terms of payment methods, though overall its close enough not to matter to most people.
Refund policy
Steam offers no-questions asked refunds within 14 days of purchase, and two hours of game time. EA's policy for refunds with Origin goes like this: within 24 hours after you first launch the game, within seven days from your date of purchase, or within seven days from the game's release date if you pre-ordered, whichever comes first. With GOG, you can get a refund within 30 days of purchase.
Windows Store and Uplay have no refund policy. Whatever purchase you make is final and binding, so think twice before you click buy. GOG is clearly the best store in terms of refunds.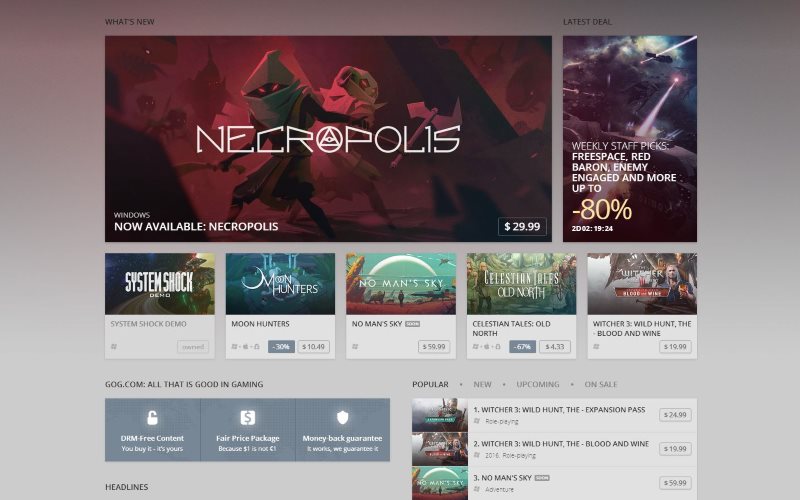 (Also see: Steam Isn't the Cheapest Place to Buy Steam Games Anymore)
Additional features
Windows Store and Uplay have no community features.
Steam does have an active community wherein developers, players and media can join in with their posts. It even has a Workshop that provides dozens of mods for games in a centralised fashion, and then there's Steam Greenlight where you can vote for new games currently in development and that you'd like to see on Steam. Valve's platform is also the only one to have a mobile app out of the five stores we've compared here, and it does a great job of providing access to virtually everything - you can browse and buy games, look at your profile and friends' activity, send messages in groups and so on.
While there's no community in Origin, EA does have Origin Access, a gaming service with a monthly subscription with over 25 games and new ones being added all the time. Plus, Access gives you 10 per cent off on all your purchases. GOG does have a built-in community option to discuss gaming, specific games and a community wishlist feature where players can "suggest, discuss and vote" on new app features and games they would like to see at GOG.
If you've made it this far, you must have used one or the other online PC game store. We'd love to know your thoughts, so go ahead and vote in the poll below.