Rocket League is one of the strangest and most popular new games of the year, blending together racing and sports games, as you chase a football using a rocket-powered car. This may sound absurd on the surface, but since its launch in June for Windows and PlayStation 4, the game has netted $50 million (approximately Rs. 331 crore) in revenue and won two accolades at The Game Awards 2015.
The game will arrive on the Xbox One in February 2016 with versions for OS X and Linux to follow, so if you've not been able to play the game yet because it's not on a platform you own, that's going to change soon. What's more, with more than 1,75,000 concurrent players, the game is still very popular, so it's a great time now to get into the action if you haven't already.
The game's incredible popularity comes down to its simplicity; a basic control scheme without a bunch of combos helps you to focus on the split-second action unfolding in front of you. The game design is such that you will always feel that you can do a little bit better if you just played a few more rounds, making it quite addictive.
And at the same time, Rocket League is a classic example of the easy to learn but hard to master category. There are no assists here, no upgrades (other than cosmetic ones) for your car and no special powers. You start and remain on the same level as team-mates and foes, which puts your driving abilities front and centre. Here's what you want to know as you drive to the top of the league.
1) Boost is a vital commodity
Driving around the closed arena of Rocket League with a zero on your boost meter is always a bad idea. And despite this warning, you'll probably find yourself exchanging "No boost!" calls with your friends on a regular basis.
You need to be aware of the action, and what your boost levels are at all times. That slight detour you take to pick up a boost packet can be the all-important difference between a clearance and conceding a goal.
2) Offence is the best defence
Rocket League allows a maximum of eight cars in the arena. Hanging back and surveying the field can prove useful from time to time, but you will make a bigger contribution to the game's outcome by being aggressive in your opponent's half.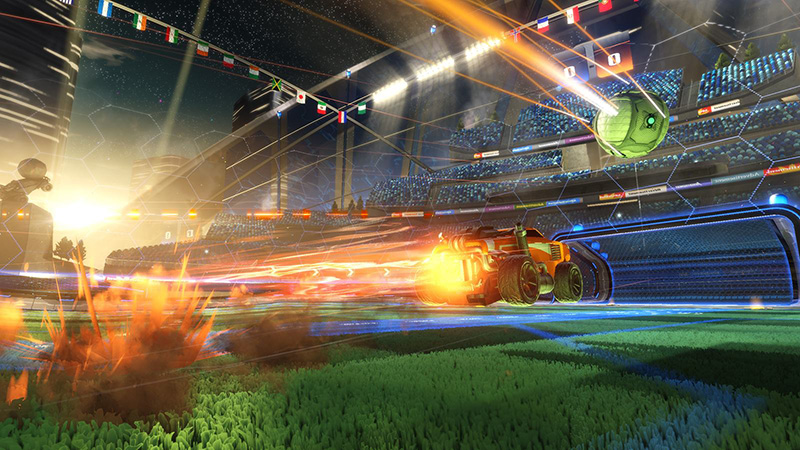 3) Teamwork is essential
Sure this isn't real-world football. You can't pass the ball around like FC Barcelona do, and starve the opponent of meaningful possession. At the same time, there are no rules in Rocket League against hitting others.
By co-ordinating your moves just right - someone on your team takes the ball and the others bash incoming challengers out of the way - you can convert a blocked shot into a substantial goal-scoring opportunity. On top of that, there's the power of the full-boost takedown, a handy weapon in all kinds of situations.
4) Avoid standing under the ball at all costs
This may sound simple on the surface, but it's very easy to get caught under the ball. It's natural to wait for the ball to fall back to Earth, you've probably done it on the playground playing football. But while jostling for position in human-football inherently puts you in a stronger position, doing the same in car-football is rarely a wise move.
Plus unlike humans, rocket-powered cars can fly like chickens, so waiting on the ground is quite stupid. Make use of both the camera options, judge the flight of the ball accordingly, time your jumps right, and power it home.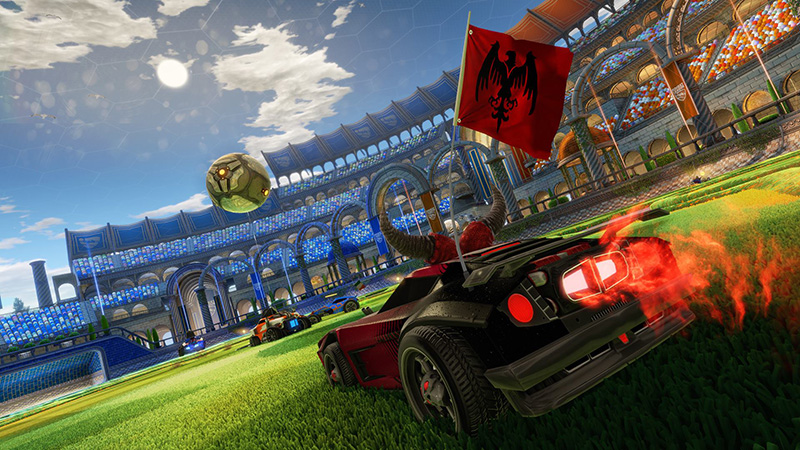 5) Aim for the goal with every chance you get
Getting to the bouncing ball first is necessary for obvious reasons, but the direction you send it in can - or rather will - affect the number of goals you are able to rack up. Merely moving it forward won't cut it on the higher difficulty levels or against experienced players online, so make sure the momentum is on your side and always ram the ball towards goal.
With that said, bouncing the ball off walls can lead to some very interesting goals, so keep that in mind and stay open to fresh angles.
6) The power of Rocket League's second camera
It's easy to ignore the two camera options taught in the tutorials, since the default camera's laser-like focus on the ball works well most of the time. But a tap of the triangle button (on the PS4) will work wonders where a looping ball is bound to give you headaches.
The second camera removes its ball-oriented fixation, and you are free to look in the direction you please. As a bonus, you get a landing marker and a time gauge to help you calculate your approach. It takes time to develop an understanding of when and how to make the best of it, but learn to use this camera and your game will benefit hugely.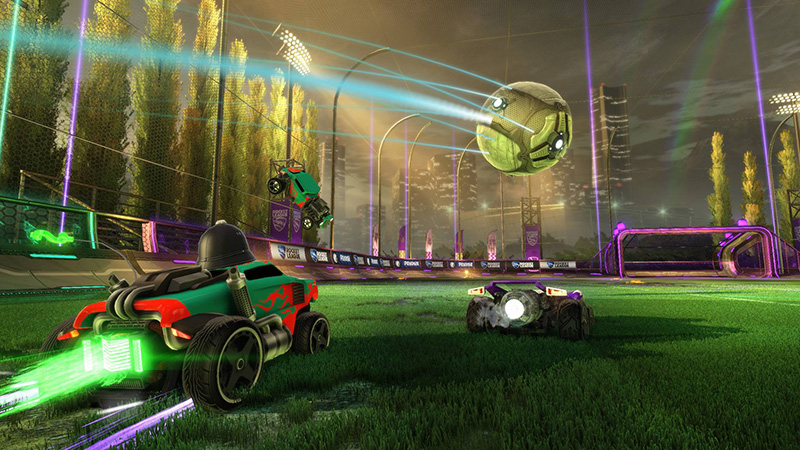 7) This is a game meant for multiplayer
Rocket League is best enjoyed in multiplayer. That's not to say single-player isn't rewarding, but Rocket League comes to life with your friends at the side. The most fun we've have had with the game is when we are engaged in constant verbal chatter with real people.
It's a ridiculous game about cars playing football, and there's no story to uncover, and no finesse to develop playing against bots. If you want to have fun and get better, start playing against real people - you might be terrible at first, but that's how you'll improve.
These points will all help you to get better at Rocket League, but remember that blind luck exists in the game, and you're not always going to benefit from it. The unthinkable and unimaginable can and will happen. Dust yourself off and speed headlong towards the centre of the pitch.
Rocket League is currently available at Rs. 395 on Steam, and at Rs. 998 for the PlayStation 4.
Do you have any thoughts? Any tips we missed? Special moments? Tweet to us @Gadgets_360 with #RocketLeague or let us know your thoughts via the comments below.