Released in 2010, Red Dead Redemption is rightly viewed as one of the better games that Rockstar, the creators of the GTA series, has released. It's a loving ode to the myth of the cowboy and the Wild West, with shootouts, bounty hunters, and moustache twirling villains who tie hapless damsels in distress to railway tracks. Except that you can often be the villain in this scenario. If you are an Xbox Live Gold member, you can now buy it at just Rs. 375. From Friday, the game will also be available for the Xbox One.
(Also see: 15 Best PlayStation 3 Games Under Rs. 1,000 That You Must Play)
There are a number of great last generation games that you might have missed out on, and sales like this one are a great way to fill out the library - but Red Dead Redemption in particular holds a special place in our hearts for its gripping story, incredible (for the time) animations and striking visuals, varied gameplay, and the potential for you to send everything haywire if you wanted. There's a sharp disconnect between the story the game is trying to tell, of an honourable man driven to extremes by a changing world; and the way you play the game - you can happily be a caricature of a cartoon villain, and the game will let you do just that.
But most of all, what made Red Dead Redemption such a success was that it really allowed you to unplug from reality. More than the actual missions, just riding around on your horse and enjoying life in the wild were deeply satisfying. This also helped you to connect to your character John Marston; a cowboy who finds his way of life disappearing, as the railroad - and civilisation - catches up with him. Seeing the joy of being in the wild, it was easy to sympathise.
Until a cougar nearly ran over us like a freight train.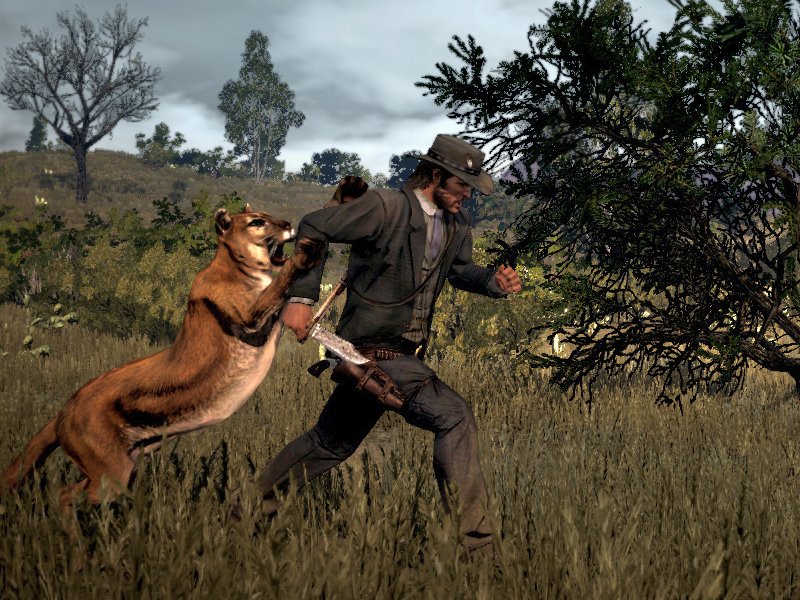 There are a lot of animals in the game, which you can hunt for sport or profit. There are also some animals in the game that return the favour - cougars and bears are the deadliest of these, and cougars in particular were dreamed up in one of the nine circles of hell. That's pretty much the only explanation for why these infernal beasts would show up at the worst moments with blood curdling screams and slice you to pieces when you were just trying to pick a flower. The fifth time this happens, you start thinking about how nice it would be if there were roads and cars everywhere.
The cougars are extremely scary. They're fast, they're hard to spot, and their sound design is hardwired to our fight or flight response, and flight really feels like the right choice here. They sneak around, and get you right as you're dismounting from your horse, or examining something on the ground. And once you're defenceless, they turn you into mincemeat.
This cause a retaliatory wave of revenge not unlike the conquest of the West. The railroad wasn't what was destroying all the wildlife though - just one man, with a Winchester rifle, and a lot of pent up adrenaline.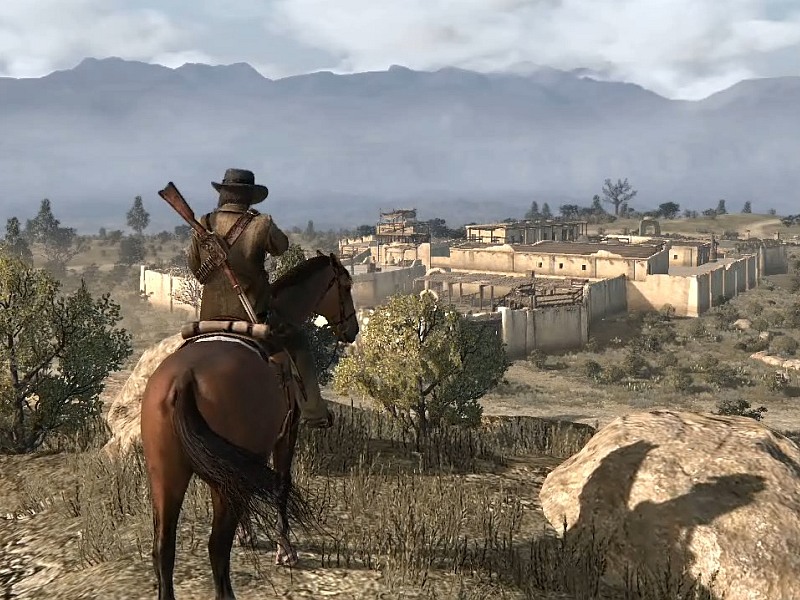 Red Dead Redemption allows you to really get into the lone survivor in the wilderness mindspace, as you stalk animals such as deer and kill them, to skin them and hope that the blood draws out the predators you want your revenge on.
Unfortunately, this attracted more wolves and coyotes than it ever drew cougars, but once a man is on a mission against nature, he rarely draws fine distinctions. Marston built up a giant collection of wolf pelts while he kept seeking cougars to kill, his white whale.
Like Ahab though, Marston's quest was doomed to repeated failure - it turns out that when you do draw out cougars, the hellbeasts are not always alone. For instance, there was the time when a cougar was spotted at the crest of a hill. Getting off the horse, we sneaked around to get downwind, lined up a beautiful sniper shot, and missed.
What followed was a shameful minute of running around in circles while trying to fire a shot over the shoulder in the desperate hopes of killing the cougar, which alternated between chasing Marston, and mauling his horse. It was at one of these latter moments that a lucky bullet finally connected, and killed the cougar. The celebratory dance that followed in real life was cut short when a second cougar snarl suddenly erupted, and the screen faded to red.
Marston was dead again, and there was no redemption.