Sony will be announcing the PS4 Slim and PS4 Neo at the PlayStation Meeting later on Wednesday. A spate of leaks over the past few months have given us enough of an idea of what to expect. If you're the sort who is looking to join the 40 million PS4 owners Sony touted in its last financial earnings report, here's what you need to know.
(Also see: PS4 Neo Is Coming - Here's Everything You Need to Know)
The PS4 Slim is already out
The PS4 Slim is already available in the Middle East, which will come as no surprise to anyone who tracks the region. Stores have been selling it as low as AED 1,800 (approximately Rs. 32,565), and with the right connections you can get one prior to the official launch - if you're willing to pay a pretty penny for it. The PS4 Slim is expected to be available by the end of September in most territories. At the time of writing this, Sony has not shared plans with Indian game stores for a local release just yet, or even a price for that matter.
PS4 Slim might be cheaper
While there's no clarity on how much the PS4 Slim will cost, an analyst speaking to The Wall Street Journal claims it will be $299(around Rs. 20,000), compared to $399 that the original PS4 cost at launch. Keep in mind this would be the price of the console in the US, and not markets like India where it's likely to be more expensive due to customs, duties, and taxes. The original PS4 is officially available for Rs. 32,990in India, and it's regularly discounted both online and at retail by a few thousand rupees. If there's a price drop, at all, don't expect it to go below Rs. 28,000.
One advantage of the PS4 Slim over the original PS4
Thanks to early purchasers, we now know that the PS4 Slim ships with 5GHz Wi-Fi support. This is welcome news for gamers who prefer using Wi-Fi connectivity for gaming instead of a wired connection, as it would result in better performance over the usual 2.4GHz band we've seen in the original PS4.
Out with sharp edges, in with rounded corners
Another difference is in the PS4 Slim's aesthetics. Gone are the sharp edges of the original PS4 and in its place a more rounded design. Also missing is the original's glossy panel, albeit that was absent in the 1TB version of it as well. Rather, we're treated to an all-matte body, making it less of a dust magnet than its predecessor.
Audiophiles may not want to buy the PS4 Slim
According to people who bought the console early, the optical out audio port which was present on the original PS4 is missing. This means specific headsets and other audio gear will probably not be compatible with the PS4 Slim.
(Also see:PS4 Slim Leak Shows All Matte Finish and No Optical Out)
A small console, made even smaller
The PS4 is a slim enough console as it is with dimensions of 275x53x305mm. When you think it couldn't shed any more bulk, the engineers at Sony did just that. The PS4 Slim sports dimensions of 264x39x288mm, and shaves off around a third of its height. There's a vertical stand as well - sold separately, it screws into the PlayStation button logos on the side of the system.
PS4 Slim will bring easier hard drive upgrades
Unlike the original PS4, which required a bit of finesse when it came to bumping up storage space, the PS4 Slim is easier to upgrade. On the rear is a thin piece of plastic that when removed by hand gives way to a SATA drive port. You can use a standard screwdriver to remove the single screw present and pop in a new drive. However the plastic cover doesn't seem as durable as it should be, or as secure. And yes, the PS4 Slim supports the same hard drive specifications as the original.
(Also see:PS4 or Xbox One? We Help You Decide)
PS4 S - S for Silent
For some, the PS4 suffers from an annoying amount of noise, and we've ourselves likened it to a jet engine. Early reports indicate that the PS4 Slim is silent enough even in the most trying of circumstances thanks to improved internals. A welcome change that should make it worth considering if you're super sensitive to noise.
Minor DualShock 4 improvements
The PS4 isn't the only one with an upgrade, its controller has also received a few minor tweaks under the hood. For one, the light bar on the PS4 Slim controller has been modified so you can see what colour is emanating from it while playing without having to tilt it. Also, you can allow for it to relay button presses via USB connection, making it ideal for games that require split second response times, such as Street Fighter V. The new DualShock 4 works with older PS4s as well.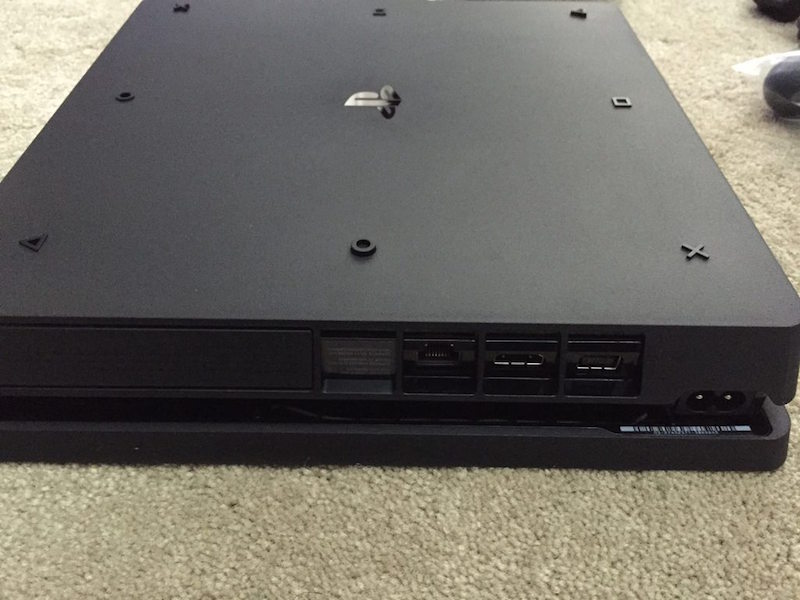 Good bye light strips
Gone is the light strip and in its place is a tiny LED. Also new are evenly spaced USB ports along with clearly marked Power and Eject buttons. These are useful cosmetic adjustments since the light strip is rather bright, especially for dimly lit rooms.
(Also see:As Sony's PS4 Turns 1 in India, Is It a Good Time to Buy?)
PS4 Slim won't be obsolete when PS4 Neo is out
Sony has made it clear that the PS4 Slim or the original PS4 for that matter, won't be obsolete when the PS4 Neo - a beefier variant to be unveiled at the PlayStation Meeting - hits the shelves. "PS4 is PS4, new high-end PS4 is still PS4 so you know the life-cycle is not going to be shorter," Sony Worldwide Studios President Shuhei Yoshida said in an interview earlier in the year.
(Also see: PS4 Neo Will Not Make the PS4 Obsolete: Sony)
And if you're worried about game compatibility, this is what Andrew House, President and Global Chief Executive of Sony Interactive Entertainment had to say prior to E3 2016: "All games will support the standard PS4 and we anticipate all or a very large majority of games will also support the high-end PS4," he said.
Hear us discuss what we want from the PS4 Slim, and PS4 Neo on Orbital: The Gadgets 360 Podcast. You can either subscribe to it via iTunes or Feedburner or just hit the play button below.