After launching the GeForce GTX 1080, 1070, and 1060 (with a rumoured 1050 in the works), Nvidia India has announced the country's inaugural GeForce Cup, an e-sports tournament featuring Overwatch. Though Overwatch is probably our favourite game of the year so far, it is still a surprising pick, given its creator Blizzard has pretty much forgotten about India despite having a distributor in the country.
The reason for this choice emerged in a chat Gadgets 360 had with Vamsi Krishna, Head – Consumer Marketing, South Asia, Nvidia. He let slip some interesting snippets on gamers in the country and what the graphics card giant is up to, aside from pushing out new hardware.
"Internally a lot of folks have asked me this question as well. And the crowd in India is more for CS and Dota and even the kind of e-sports teams that are popular in India are for these games, so why choose Overwatch?" says Krishna. "The title has a significant uptake in global markets. This is one title which we strongly believe has an amazing gameplay experience that most of the gamers in India are deprived of experiencing."
"It also meets a great platform where gamers can get the best gameplay experience," he adds. "That's the reason we chose Overwatch. What we also chose was to enable the premium cafes for Nvidia with Overwatch so they also encourage people who are coming to the cafes with this new game."
(Also see: The State of E-Sports in India: Untapped Potential but It Doesn't Have to Be)
For the GeForce Cup, Nvidia resorted to third-party suppliers for Overwatch PC codes Krishna says. With Blizzard not bringing in the game officially or offering any support, it makes us wonder if the company is too early to the e-sports bubble - while lucrative internationally, it has yet to hit similar heights in the country.
"The way the Indian e-sports scenario is, most of the global publishers don't think there's a sufficient size for e-sports in India, but we have a sufficient size," claims Krishna. "It's a matter of fact and it's time before they realise we have a sufficient crowd and they come one by one officially to India."
"And that's the step Nvidia is taking to build the crowd in India," he adds. "Eventually you'll have support from publishers formally in India."
Unlike other recent e-sports events that have taken place online, cyber cafes will play a crucial role for the GeForce Cup. But are they still relevant? According to Nvidia, very much so, likening their effect on adoption of video gaming in the nation similar to China or South Korea.
"It's actually not cybercafes, it's gaming cafes," he says. "They are very relevant in India. If gaming as a category has to grow in India, gaming cafes play a significant role in this particular growth. What we believe is India and China when we compare, these are the two countries that are very similar in terms of society."
"China is way ahead of India in the perspective of the gaming category," he adds. "China has around 145,000 gaming centres and close to 60 million gamers." India is nowhere close, but Krishna's hoping that Nvidia can change this by working with cybercafes and getting them to convert to gaming cafes, at a time when Internet connectivity is getting cheaper and more accessible anyway.
(Also see: Nvidia on Indian Gamers, the GeForce GTX 1070 and 1080, Pricing, and Availability)
"We believe there are 12 to 15 million PC and console gamers in India and we only have 300 to 350 decent gaming centres in India for this crowd," says Krishna. "There is a significant opportunity for gaming vendors in India and that's the reason why Nvidia is putting a lot of effort in terms of helping these cafe owners into understanding best business practices and to allow more gamers to get encouraged to get into gaming cafes." Nvidia's cafe program - which guides and rates cafes according to their gaming readiness - helps in this.
"We're looking at close to 150 cafes in the last five months and out of 150 cafes, we're close to 29 certified cafes," he says. "All these 29 cafes have made significant changes or investments to their cafes to meet the certification standards. If you go to a platinum-rated cafe you will find a minimum of GTX 960 and above and that's a platform where gamers can get a good gaming experience."
"While we certify cafes, we also help them with initiatives like the GeForce Cup that takes place in platinum-rated cafes to start with, and with season one we're doing with eight of these," he explains. "There will be a significant footfall in these cafes. There will be a new set of gamers to play new genres creating incremental revenue sources for these cafes."
For Nvidia, the upside to this is getting to sell more cards, without having to reach the consumer market. A cybercafe is likely to buy more GeForce GTXes in a single order than most consumers would in their entire life time, several times over. "This is a long-term strategy for Nvidia. It's never a quick strategy for us," Krishna says. "Nvidia is one of the key gaming brands in India whose actually seriously investing in gaming cafe category."
(Also see: Nvidia's New GeForce Experience Makes It Dead Simple to Share and Record PC Games)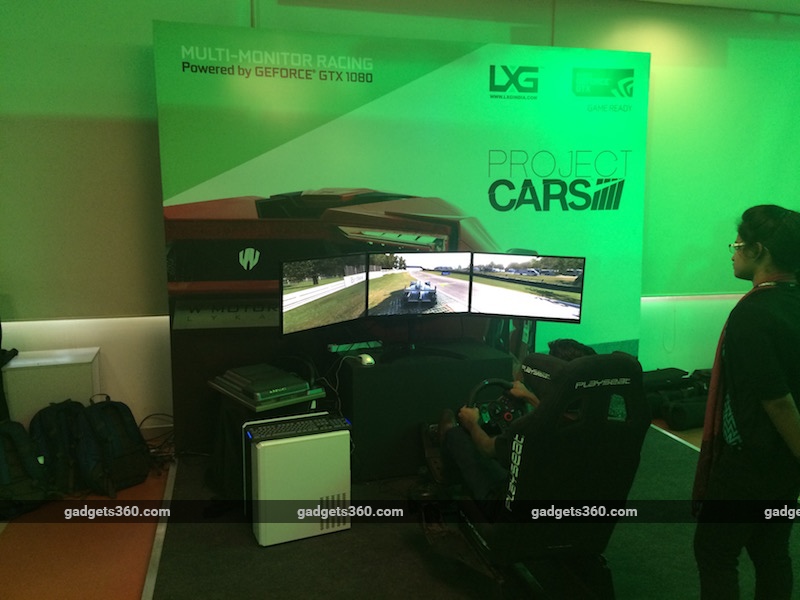 "Our audience is an active mix of everything [lapsed, active, and soon to be gamers]. Of 25 million who have an active interest in video games, around 10 to 15 million of them have platforms physically present with them," he adds. "When we look at the number of people showing active interest on video games and related interests we close to 25 to 30 million people who are active on Facebook. That's a big number. We're only talking about connecting two to three million people but the opportunity is a lot more than what we're reaching right now."

The term "platform" we're told, refers to both PCs and consoles. Of which, PCs are "significantly dominant," according to Krishna. Drilling down further, he tells us that only one to one and a half million people have "decent" platforms to play on resolutions of 1080p and above. But this isn't a reflection of interest in the category, he insists.
"While the balance nine plus million people do have a PC but no good platforms. They consume a lot of data. If we announce any game titles or talk about any games that release in the market they go active on social and consume the content," Krishna explains. "They check out what's happening around the world, they follow and post. The balance show active interest and that's untapped potential that will eventually get into the fold." One method used to tap into this segment Krishna tells us, is its live stream of marquee events such as the GeForce 1070 and 1080 launch in Bengaluru.

 "On that day we reached close to two million gamers. Close to 200,000 video views on that day alone," he says. "If you look at the demographics of gamers, 50 percent are in the demographic of 18 to 24 and are predominantly male and these guys are one of the most socially active audiences in the world today."
"One thing that we struggle with in India is the broadband. Today if you have - this is a hypothetical assumption from my personal perspective - high speed broadband connections across 20 cities," Krishna adds. "Say 100 million high speed broadband connections. I don't see a reason why India will not have 20 to 30 million gamers who are playing on the best platforms. That is the reason why there is a significant deficit in the growth of PC gaming."
(Also see: Asus Strix GeForce GTX 1080 and Nvidia GeForce GTX 1080 Founders' Edition Review)
And it isn't just the top 20 cities either. In addition to the GeForce Cup, the company is bringing its GamerConnect event - where consumers can check out the latest games on Nvidia hardware to tier-II cities such as Mangalore and Jaipur.
"It's a growing gamer community and most gamers in tier-II haven't got exposed to the brand directly. Tier-II cities are also very well connected today. The kind of response we get in tier-II cities is a lot more encouraging these days," he says, adding that the spending power is on par with bigger cities. GamerConnect appears to be a way for the company to let customers - existing or otherwise - of its presence.
While Krishna's focus is squarely on evangelising gaming, we had to ask of the company's plans for the GeForce GTX 1050 - the alleged budget GPU successor to last year's GTX 950.
"I can't comment on that. There is no announcement of any other products from the Pascal architecture perspective," he says. "The only products we are formally announced in India are the 1080, 1070, and 1060 in two formats - 6GB and 3GB. Having said that, Nvidia constantly apprises the market scenarios and product gaps - as and when there is a right time or opportunity we will talk about those accordingly."