After three years of endless hype, the nearly endless space exploration and survival game No Man's Sky arrived last week for PlayStation 4 and Windows PCs. If you picked up a copy alongside thousands of others to take on its vast universe, you're probably a bit lost after a few hours into the game, considering how little guidance the game provides, outside its tutorial repair-your-ship mission.
While some might relish the challenge of finding their own way, and understanding what works and what doesn't, others have only so much time in a day to venture out into the unknown. There's a lot that you need to know that the game doesn't really tell you, and to aid you on this mystery-filled journey that's uniquely yours - no one will (likely) see the planet or solar system you come across - we've compiled some introductory knowledge from our first-hand experience of the game.
Only carry what you need
Elements like Carbon (which you'll get from any plant), Plutonium (red crystal shards), and Iron (rocks) are widely available on most planets so there's no point lugging around too much of them. Limit their quantity to just one or two slots in your exosuit or ship inventory.
You want to keep space for the things you're likely to find as you make your way from one outpost to another. Objects such as Fascination Beads or relics belonging to one of the three races in No Man's Sky - Gek, Korvax, and Vy'keen - will take an entire slot per item. So even when you come across another item of the same kind, it will take up a fresh slot in your exosuit or ship. When you're running out of storage space, it's something that can truly cause frustration, as any new player will attest.
No Man's Sky is, at times, a game that's more about juggling your inventory than it is about space exploration. You can never have too many slots in your exosuit or the starship, though both do require different upgrade strategies. More on that later.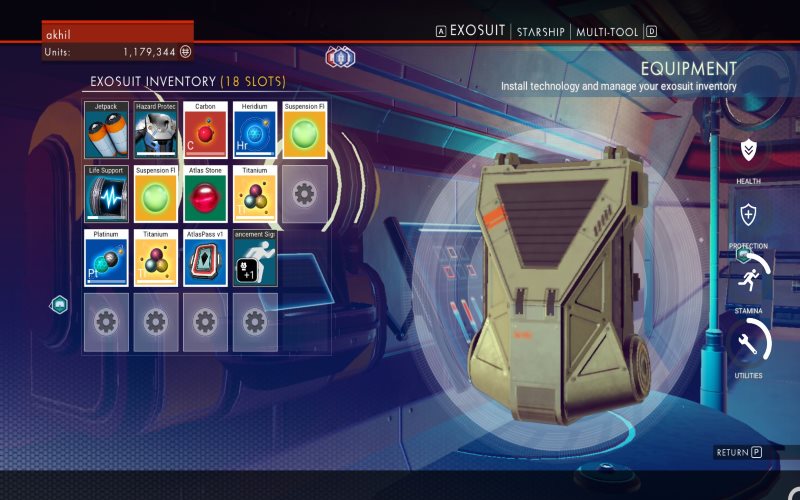 Precious elements are worth the grind
To buy exosuit upgrades, or things you might need for crafting, or the biggest purchase of them all - a new starship - you're going to need a lot of in-game currency, termed 'units' in No Man's Sky. One of the quickest ways to earn more, is to mine resources that fetch a lot at the Galactic Market, such as Emiril and Gold. No Man's Sky is Minecraft in space, after all. So if you come across a planet that has tons of either of those resources, and you'd like a new spaceship that can not only handle its own against space pirates but more importantly gives you many more inventory slots than your starter, then it's worth the time spent.
Collect as much Emiril/ Gold you can stuff in your inventories, and then go sell it at the market. Do note that if a solar system has tons of valuable resources on its planets, you might not fetch a great price at the local Space Station, owing to the abundance. In that case, try a trading outpost on one of the planets or talk to a traveller.
Inventory upgrades are crucial
You should upgrade your exosuit whenever you find an upgrade. These are usually found in triangular-shaped chambers on planets and behind Atlas Pass v1-locked doors on Space Stations. These upgrades will give you one extra slot each, for an increasing price. That means the first one is free, the slots thereafter costs 10,000, 20,000, 30,000 and so forth.
As for the starship, only consider an upgrade when you have millions of units in hand. There's no point upgrading to a ship that's only slightly better, given the amount you'll have to spend.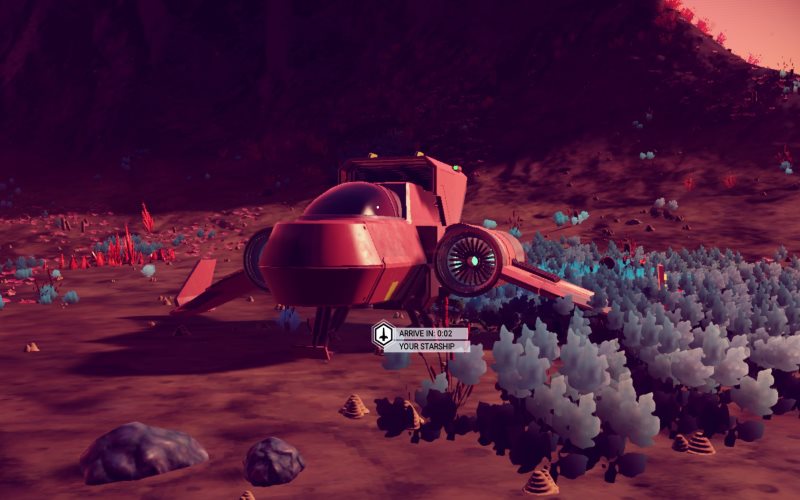 Bypass chips can be the way to a better starship
While the scanning tool can be useful in picking up nearby signals, it won't reveal all the important places to visit on a planet. That's why you should keep an eye out for the scanning beacon that shoots out an orange beam of light into the sky. Once you access them with bypass chips, the beacon will help you reveal the location of monoliths, colonial outposts, or a transmission which might lead to a crashed ship you can repair, and call your own.
These ships only need enough resources to get them working again, so you'll be saving a lot of money by not spending many thousands or millions of units on purchasing a new one. And as players have discovered, every time you come across a crashed starship, there is a 50 per cent chance that it will have one inventory slot more or less than your current ship. So keep making bypass chips to activate beacons and find crashed ships in hopes of levelling up towards the maximum number of starship inventory slots - 48. It's tedious - but also the most economical way - to upgrade your starship.
Never stop searching for product recipes
Product recipes can be found through various ways - a multi-tool analysis machine, galactic terminals at outposts, or by talking to non-playable characters (NPCs) - and be used for installing new technologies or crafting new objects for your exosuit or starship. They can be a bit of double-edged sword though. While finding new ones is great, you can't use all of them because of the limited inventory slots you have, which are better used for resource gathering.
But that shouldn't stop from you exploring as you can't guess what you're likely to chance upon. From jetpack or stamina boosters for your exosuit, to faster and more efficient mining methods for your multi-tool, there's massive variety to the upgrades. You may also get recipes for expensive purchases such as Suspension Fluid (required for Hyperdrive), which costs over 20,000 units at the Galactic Market but with the recipe can be made from elements as simple as Carbon. There's a fair bit of work involved in finding and using recipes, but it's definitely worth the effort.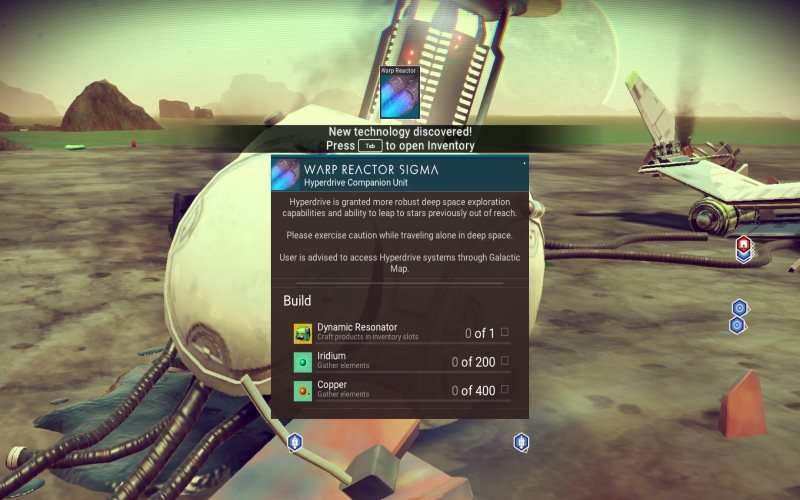 Relationships with alien races are important
During your galactic journey, you will come across three alien races, as mentioned before - Gek, Korvax and Vy'keen - at Space Stations, colonial outposts, or when you go up to other starships. As you interact with them, they will tell you more about the lore of No Man's Sky, their view on certain problems they are facing, just or react to your presence. Depending on the situation, you will need to choose between a set of responses or offer something to the individual.
If you keep on picking the right response, your relationship with the entire race will gradually increase. This will eventually allow you to select responses that would otherwise not be available, giving you the upper hand in dialogues. You can also increase your relationship level by visiting monoliths and ruins, and selecting the appropriate responses. Maintaining a good relationship may also result in getting upgrades for your multi-tool, or new recipes for technology upgrades.
Don't stop logging
Each and every planet in No Man's Sky has its own set of flora and fauna, usually. There are planets that are devoid of plant/ animal life, which you'll be informed of upon first landing. Finding and scanning the life forms with your Analysis Visor - which can be installed into your multi-tool - will net you units. What's important to remember is that you can earn even more by uploading this information to the game's central repository.
Bring up the pause menu on your platform of choice, and head to the Discoveries tab. There you will find a complete list of all the solar systems and planets you have visited, along with a red icon next to them. Select a planet where you have discovered lifeforms and plant life, and you'll see them appear on the right. No Man's Sky will reward you with units for each thing - waypoints, records, life, planet or solar system - you upload. To do so, just hover over the items and then hold down the keys. The red icon will then turn green.
Remember, you can only name something before you upload it so make sure there isn't a typo in your clever wordplay. Although to be fair, given the game's 18-quintillion-planets nature, there's a strong chance that only you will know about your mistake.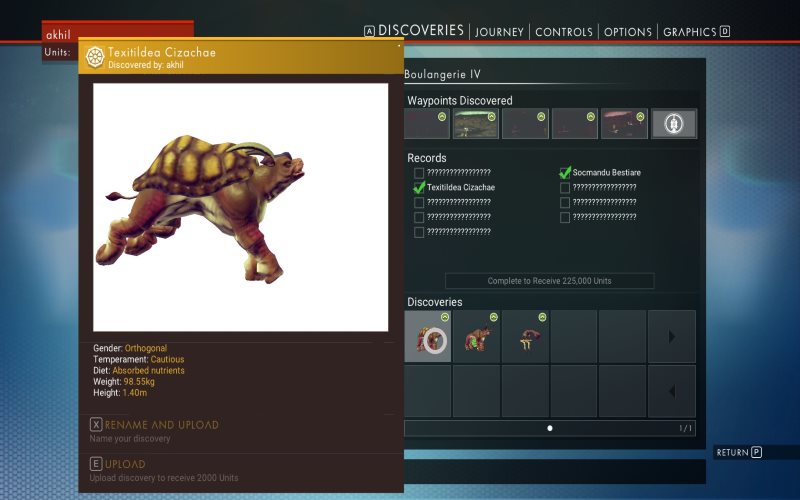 The Atlas is your friend
When you start your game, you'll end up interacting with some wreckage around your ship. One of them involves a red orb which will describe a tale about the Atlas interface, and two individuals called Nada and Polo. Choose the Atlas' guidance, and then forget about it for a while even when you come across locked gates and crates that require different versions of Atlas Pass to open them. Relax, you can't have it all.
As you continue your journey towards the centre of the universe, a terminal on one of the planets you visit will tell you more about Atlas. It will also help you unlock a newer path in your Galactic Map that will show you the route to an Atlas Interface four or five solar systems down the warp line. This may or may not take you towards the centre, but it's worth going off-course if necessary.
When you make it to the Atlas Interface, you will be greeted with a giant red orb inside a floating mini-Space Station. This will give you an Atlas Stone - possibly the most precious object in-game - and guidance towards another Atlas Interface.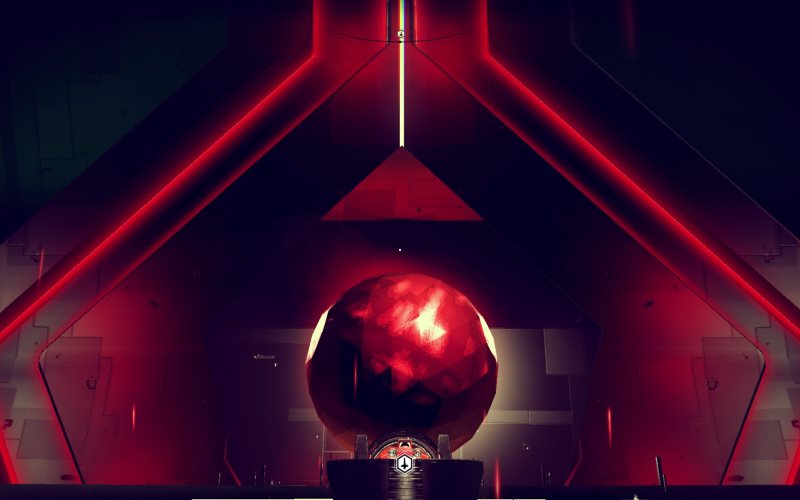 Sticking to the Atlas path will bring you to a different solar system in time with a giant anomaly - one in the shape of a planet. While finding your way in can be a bit confusing, keep floating around it until it gives way and opens the door to greet you. Inside, you will find Nada (a Korvax) and Polo (a Gek) hard at work on whatever it is they are doing.
Interacting with Nada will bring you three options: resources for freeform exploration, guidance for the Atlas path, or a shortcut to the centre of the galaxy. The last of these is in the form of a black hole, which Nada will mark on your map. Polo only has interest in knowing what you have learnt about alien species during your journey. Give him the data you have and he will teach you how to craft an Atlas Pass in return, which has been one of the biggest questions for most players since day one.
Do you have anything to add? What have your galactic travels taught you? Let us know via the comments below, or tweet to us @Gadgets360 with #NoMansSky.