Although 2002's Mafia: The City of Lost Heaven garnered critical acclaim and all-round praise, the sequel (released in 2010) was a lot more divisive. However, that did little to quench its popularity. Fun fact: India was one of the few countries to demand reorders of Mafia 2. The latest game in the series, Mafia 3, looks promising, bringing a mix of real life settings, historical references, and depictions of gang life. Mafia 3 is hitting the shelves this week, and before the launch, Gadgets 360 spoke to Haden Blackman, Studio Head and Creative Director of developer Hangar 13, to find out more.
Fans of Mafia and its sequel would notice that 2K Czech - which was responsible for the first two games - is not helming development duties on Mafia 3. Nonetheless, Blackman is quick to assure us that some of the previous games' staff is at Hangar 13, and that 2K Czech still has a role to play.
"A larger number of folks who worked on Mafia 2 were founding members of Hangar 13, and we are still working very closely with 2K Czech for art and cinematics, among other things," he says. Blackman himself is no spring chicken, having worked on the likes of critically acclaimed Star Wars games such as Knights of the Old Republic and The Force Unleashed.
While having those involved in earlier games on board is a good thing as it ensures some form of consistency and continuity, that's not all. Blackman says that Mafia 3 plans to stay true to the series' legacy. "In order to ensure we were true to the Mafia experience, we created a number of 'franchise pillars' that we used as guide posts throughout development," he explains. "To us, a Mafia experience: Is about organised crime; tells a story that can be considered 'historical pulp fiction'; focuses on a gifted anti-hero; and treats the city as a main character."
In order to do so, Hangar 13 drew from documentaries, books, articles, and interviews as well as conducting "hours and hours" of photo reference research. "We use films (along with a number of other sources) as inspiration, but let gameplay ultimately drive the experience," Blackman says. "We might want a moment reminiscent of a heist in other movies, for example, but we build that entire experience in gameplay first. We try to use cinematics only as a last resort."
Gameplay first
Although there are some games attempt to be movies, Hangar 13 is clear that it is going to tell a story through other means. And part of this is making sure that its narrative and gameplay seem to go hand in hand.
"We were very focused on ensuring that everything you do in the open world drives the narrative forward in some way, whether it's Lincoln's [Mafia 3's protagonist] quest to tear down the Italian Mafia or his efforts to build up his own family," Blackman says. "I also feel like we've done a very good job creating a true cover shooter in a living open world that includes traffic, pedestrians, and everything else you'd expect there."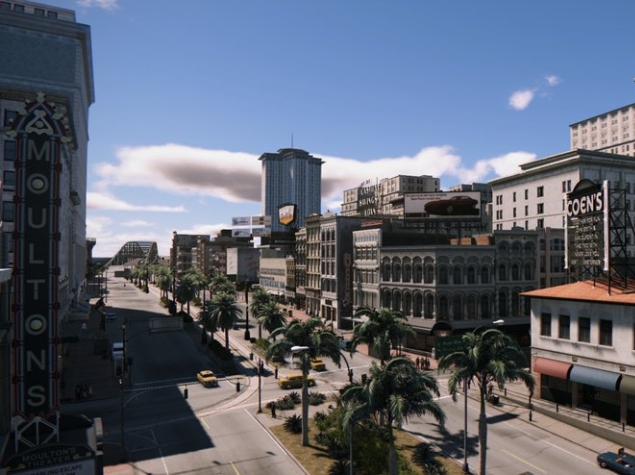 In some cases though, gameplay takes top priority. For example, when designing the world of New Bordeaux, which is based on New Orleans, Hangar 13 widened the streets, reduced one way lanes, and increased elevation. These changes were made over keeping to an accurate representation, in order to facilitate the gameplay.
"We also wanted to ensure that all the elements someone expects from a city in the South were represented, so we brought the Bayou in much closer. Again, everything was driven by gameplay demands," Blackman says.
On the topic of gameplay, while its stunning Gamescom 2015 reveal showed off multiple ways to play, more recent footage appeared to favour high-speed chases over other playstyles. Blackman states that this is far from the case.
"Driving is very fun in Mafia 3, but it is rarely required to progress. If you enjoy high speed driving, you can go after specific targets in vehicles, or use our Drive Like a Madman interrogation technique – but none of this is required content to progress because of the way our open world content is structured, which focuses on damaging the mob," he explains. "If you want to damage the mob through stealth or straight gunplay, you can pick objectives that support those better. Even in the few missions where you are literally asked to chase someone down, you have multiple options – you can run them off the road, you can shoot out their tires, you can call in reinforcements."
"Everything that is presented to the player either furthers Lincoln's quest to take down the mob or his efforts to build up his own family. However, the player does unlock new abilities for Lincoln over time, and we encourage the player to experiment with different playstyles. We are also planning to release new features, such as Racing, in free content updates."
Staying offline
Naturally, Hangar 13 is working on downloadable content (DLC), as is typical for most AAA games these days. Mafia 3 is set to feature post-release content ranging from free cosmetic upgrades to fully-fledged missions - some of which hasn't been announced yet. Blackman hinted at what to expect.
"We start by discussing what experiences we want to add to the game, and we have purposefully allowed ourselves to explore some themes and ideas that are slightly different in tone to the core game because we want to offer players a slightly new experience with each story-driven expansion," Blackman says. "We'll definitely take user feedback into account – as we already have by announcing the release of outfit swapping."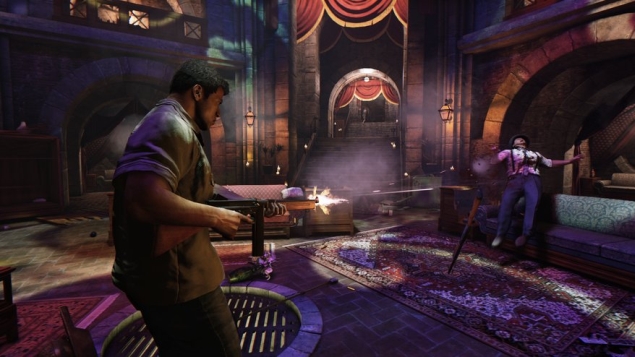 Unlike many other recent games, Mafia 3 is also one of the few holdouts that's staying offline. Blackman isn't averse to online features, but adds that it's all about finding the right fit.
"I think there's room for all sorts of experiences, ranging from true, narrative-driven single-player games to dedicated multiplayer games. Even within those two categories, there's room for some experimentation, and each can learn lessons from the other," he says. "While we don't require players to be online, I see great benefits in using online features for building community around a game we all love. Features like the community-written notes in Demon Souls or being able to share NPC companions in Dragon's Dogma are great."
We had to ask if Hangar 13 had plans to support iterative consoles - particularly the PS4 Pro, since it's out shortly. It's a question that matters a lot right now because high-profile titles such as The Witcher 3: Wild Hunt will not be souped up for the PS4 Pro.
"I'm always excited about new technology because it means we can push our art even further," Blackman says. "For the PS4 Pro specifically, we'll add some graphics upgrades."
Mafia 3 is out on October 7 for the PC, PS4, and Xbox One and while initial early impressions have labelled it a must play, stay tuned to our review soon.