Have you ever wondered why your favourite Indian mobile game isn't available in Bengali, Gujarati or even Hindi? The story behind localisation of games in India is pretty complex, if we were to put it simply.
According to the latest statistics available, India is home to more than 120 major languages, with 11 of those spoken by a combined population of 818 million, more than the United States and Western Europe put together. It's not only a really diverse market for mobile developers, but also one of large promise - in February this year, India became the second-largest smartphone market after crossing 220 million unique users. But there are some good reasons why you don't see too much language-based localisation, thanks in part to the knowledge of English among the first-generation Indian smartphone users.
To cater to the gaming crowd within this huge demographic, you would think you'd need a mixture of two things: local content that appeals and attracts, and language-based localisation. But that's not entirely true, if you speak with some of India's biggest mobile game makers.
Instead of producing titles that are narrative heavy and would therefore require translation into other languages, developers in India are sticking with titles that are "just pick up and play", according to Manish Agarwal, CEO of Nazara Games. The company is the publisher of games such as Chhota Bheem Jungle Run and the Indianised version of Cut the Rope 2, published in partnership with Zepto Lab.
Saurabh Aggarwal, founder and CEO at Octro - the makers of the fifth highest grossing app on the Play Store in India Teen Patti - concurred. Its biggest titles deal with card games such as the aforementioned Teen Patti and Indian Rummy as well. "You know, playing cards look exactly the same in Marathi as they do in Hindi or whatever," he said. "We localise our marketing materials but within the games, [there isn't] a lot of text to read."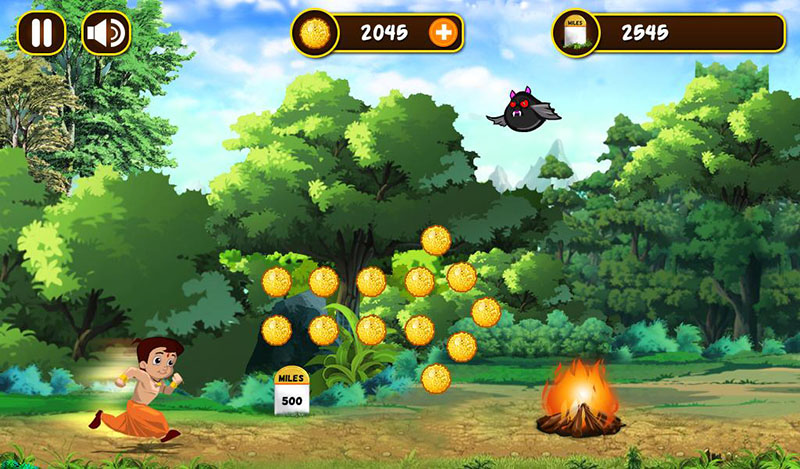 (Also see: Carrier Billing Is Not Going to Help Indian Game Companies)
Nazara's Agarwal thinks that is down to the nature of games it is making currently. "The play button is P-L-A-Y and people know it - that's the only call to action," he said. And then there are others who can't justify the time and effort it takes to localise, such as Real Cricket 16 developer Nautilus Mobile. "Being a small studio with limited hand and minds, we have just been too busy catering to our users' several needs in terms of content and features," said Anuj Mankar, CEO of Nautilus.
That's not to say they haven't tried or experimented with localisation at some point. Octro's founder remarks that Teen Patti is now available in Gujarati, Marathi and Hindi apart from English, but the percentage of users for those versions is minimal at best. And something very similar happened for Nazara too: one of their most popular games in Jungle Run was translated into Hindi, Tamil and Telugu, and Agarwal notes the percentage of users who switched over was "very, very low."
Saurabh said that another reason for the low adoption of the translated versions could be the release schedule and familiarity of the English versions. "When we released the localised version of Teen Patti, we already had 30 million registered users for the game," he said. "Those [30 million] were used to the English version of Teen Patti, and they continued playing that version instead of changing the language to Gujarati or Marathi."
For new users he thinks the game is pretty simple so "they tend to recognise the icons and work with that."
So, is localisation then even helpful to developers who invest time and money in the process? "I have seen some apps see a great spike in their user base upon localisation," Mankar said. "I [do] think localisation is beneficial, but I think the benefit is more for games that are put up on operator stores rather than the primary app stores such as Google Play and iTunes." This is probably down to the promotions and incentives offered by third-party app stores, in a bid to improve their visibility, which in turn helps developers reach a larger user base as well.
While that may be true for some, it isn't necessarily the be-all and end-all either.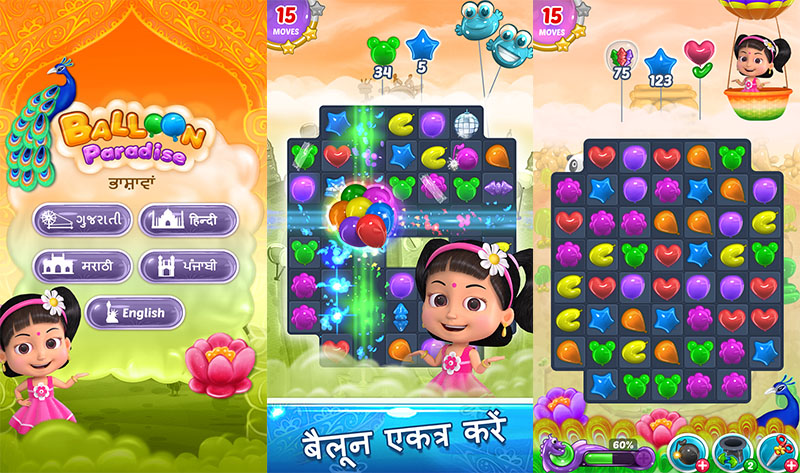 (Also see: Meet US-Based App Developers Who Are Going India-First)
Las Vegas-based developer RV AppStudios is the company behind smartphone tools and games such as Flashlight, and Finger Slayer, which have been downloaded over, and around, 10 million times, respectively. It is also behind match-3 game Balloon Paradise, which has now been localised in Hindi, Gujarati, Punjabi and Marathi.
"India is the only country where we've tried to culturalise [sic] the game a bit as well, as in we've updated the in-game design just for players in India," Vivek Dave, founder and president of RV AppStudios, told Gadgets 360. That meant modifying the logo, screenshots, video and the in-game design apart from the text obviously, "to truly connect on a deeper level", he added.
India's smartphone base is growing on a monthly basis, and Dave understands that many of those users won't be fluent in English. "Can you image the experience for a first time user learning to play a game without being able to understand any of the instructions?" he asked. Even though only 5 per cent of Balloon Paradise players are based in India, RV AppStudios said it's fully committed to India and that's down to the change it has seen. "[The] monthly percentage of Indian users increased four folds to 20 per cent after we incorporated localisation in native Indian languages last month," Dave added.
While both Octro and Nazara have made attempts at localisation with limited results, they remain open to trying again, more so if the game or users demand it. Donkey Quiz, for example, is a new multiplayer quiz game by Octro, which relies on Indian specific content, the founder and CEO said. Hence, the company feels language-based localisation will be crucial for its success.
(Also see: Game Development in India: In a State of Constant Flux)
"We released Donkey Quiz [last week], and we are already getting feedback on it... can those questions be in Hindi as opposed to English?" he added. "So where there is a lot of content to be read and such, I think localisation is going to make immense difference. For games otherwise, it might not be such a big deal."
Nazara's CEO, on the other hand, thinks that will change going forward, as the next generation of users enter the burgeoning Indian market, as current smartphone penetration levels are still below 30 per cent. "Broadly what I believe [is that] currently mobile gamers in India have a smattering of English," he said. "However when we are looking at next 200-300 million mobile users coming into the system, where they really don't know even P-L-A-Y, there the language would play a great role."
To understand the future, developers making games for India need only look to the country's northern neighbour - China - where Mandarin holds the upper hand over English. In a Google-sponsored research project into app localisation, it was revealed that 53 per cent of Chinese users thought the app they were using hadn't been properly adapted for their requirements. As a result, 25-30 per cent of users ultimately stopped using the app. While the market in India may not be as polarised as in China, it does show the importance of localisation and how ignoring it can have negative repercussions.