These days, Ubisoft is most known for its frequent sequels, than original games. For years on end now, we've seen a barrage of Assassin's Creed, Splinter Cell, and now Far Cry games. The Division seems to take a step in a different direction. For one, it's safe to assume it won't get a sequel next year, and secondly, Ubisoft plans to support it with free and paid content updates (for how long though, is anyone's guess at this juncture), which is more than what we can say for most of its annual rehashes.
(Also see: The Division Beta: 7 Things You Need to Know)
The game itself a combination of a third-person shooter and a massively multiplayer online game with role-playing elements. Think of it as being akin to Bungie's Destiny in terms of scale. The difference is that The Division is in third-person, and set in post-pandemic New York where you're fighting armed rioters instead of aliens.
First unveiled at E3 2013, The Division wowed many with spectacle and flourish that made it a perfect vision of what many could expect when next-generation consoles would hit. Since then though, we've seen Ubisoft over-promise with riveting trailers for games that ended up being a little disappointing. The most notable cases of this were Watch Dogs and Assassin's Creed Unity, thanks largely to their graphical downgrade and poor technical performance.
While we aren't out to count each individual pixel in order to see how The Division fares compared to its initial reveal, if our impressions of the game's beta on the Xbox One are anything to go by, then this is yet another case of Ubisoft's presentation being better than the actual game.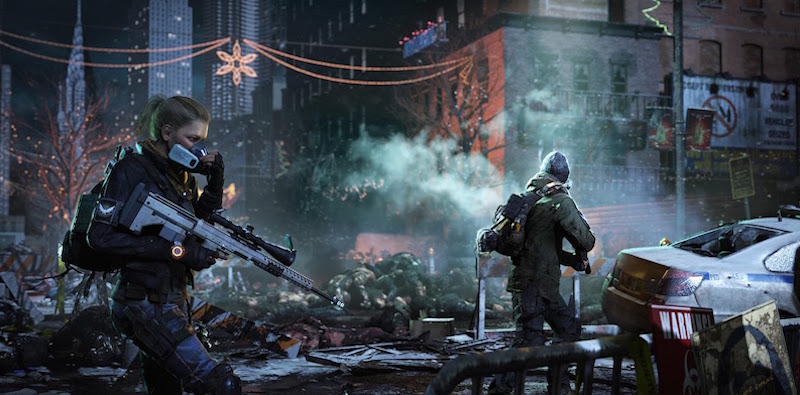 That's not to say that The Division looks bad, per se. It just isn't spectacular either, and that's what was promised. There are the usual bugbears of texture pop-in and a visible drop in frame rate when the action gets frantic - perhaps the price of scaling the game for a large number of players? We don't know. What we do know is that it's just a smidgen better than what we'd consider serviceable, and definitely nowhere close to how good it looked during the initial reveal.
The graphics aren't the game's low point though. Rather, that serves as the baseline for The Division's overall quality. Our ire is directed at the game's user interface, which has all the nuance and tact of Donald Trump on Twitter. It tries to use modern app design cues but ends up falling flat by treating you to a seemingly endless stream of icons, menus, status bars, clues, highlights, and percentage counters. The approach towards UI and user experience is shocking to say the least, particularly from a company known for focus-testing the living daylights out of its games before release.
(Also see:Tom Clancy's The Division Beta Size Revealed: Report)
Thankfully there seems to be enough of atmosphere in The Division to distract you from being daunted by the smorgasbord of design elements. Like most great pieces of fiction such as King Kong, Spider-Man, 30 Rock, and Seinfeld, The Division takes place in New York City. As we pointed out in an earlier article, the borough of Manhattan is the only slice of the Big Apple available at launch. Apparently, other areas will follow by way of free and paid updates. What it lacks in terms of locations, it makes up with sheer density. It's a world brimming with details. From non-playable characters interactions being peppered with interesting conversation to the game's factions duking it out, there's a lot going on in the world of The Division.
The Division's UI is as cluttered as it gets.
New York is under siege after a deadly virus hit the city on Black Friday. Panic is widespread and you're tasked with bringing some semblance of order back as an agent of the clandestine organisation know as the Division. In order to do so you'll create and customise a character in your likeness and partake in a host of missions that have you putting a bullet in the heads of unsuspecting (and also suspecting) foes. The former was randomised during the beta so we can't quite tell what options will be available until the full game is out, as for the latter, there's a lot of it, and it's great, mostly.
The gunplay is satisfying though somewhat muted. There's a perceptible difference in recoil, physics, and handling of weapons like the machine gun and assault rifle, while pistols pop as they should. However grenades feel toothless. They might do tremendous damage but they don't sound like they could.
Moving from one point to another feels responsive. Ducking in and out of cover or vaulting over obstacles works as it should. It doesn't have a sense of heft, like controlling a steroid consuming marine in Gears of War, or slowness akin to a 40-year old man in The Last of Us, making traversal a definite plus point.
Although Ubisoft has polished the moment to moment gameplay, it isn't without its concerns. Mission structure for one, might end up being repetitive as would the game's dark zone mode which has you up against your fellow human players for better loot. For a game labelled as a shooter-RPG hybrid, barring the usual health bars with numbers rattling off them as you shoot an enemy there seems to be very few RPG elements. Being a sliver of the final game, most of the skills and talents you can use were extremely limited, but we get the sneaky suspicion that you won't be able to build your agent in your likeness- rather limiting you to presets much like that other shooter-RPG hybrid, Destiny.
(Also see: Bungie Responds to Destiny Matchmaking Issues With a Lag-Based Trial)
Much like Bungie's shared world shooter which is currently in limbo, we worry with what to expect when The Division finally hits. Player progression might just be threadbare due to a lack of content, and while Ubisoft might harp on its lack of micro-transactions now, it could change down the line. Or it could end up like The Crew, a title that's still worth playing a year post-release.
Thankfully we won't have to speculate for too long. With The Division out on March 8, it'll be interesting to see how much depth this title has. For now though, we'll keep our fingers crossed.
The Division Beta is live for the Xbox One now. PC and PS4 gamers can check it out from Friday 5:30pm IST and it should end sometime on Monday.