If you're a PC gamer then you probably just emptied you wallet thanks to the Steam Summer Sale. That is over now, but there are still a few tricks you can use to ensure that you never miss a deal. Aside from the usual Summer and Winter Sales, Steam also has daily and weekly deals. You'll always find something on discount on Steam, and more often than not, it will actually be a game you're interested.

Rather than have obsessively checking Steam to sift through deals, you should just enable notifications so that you're informed when games on your wishlist are up for sale and when sales begin, making it easier for you to purchase what you want without emptying your wallet. This guide tells you exactly how to do that.
1. Switch on the Steam client. Log in to your account.
2. Click on your name on the top right. You'll see an option called Account details, click it.
3. This opens up your account within Steam's own browser, on the right side, you'll see an section called Email Preferences, click on Configure your email preferences below it.
4. Here you can opt in for emails to be sent when a Steam Sale starts and when an item on your wishlist is on sale. You can also opt out of all email marketing communication. After choosing what you want, hit Save.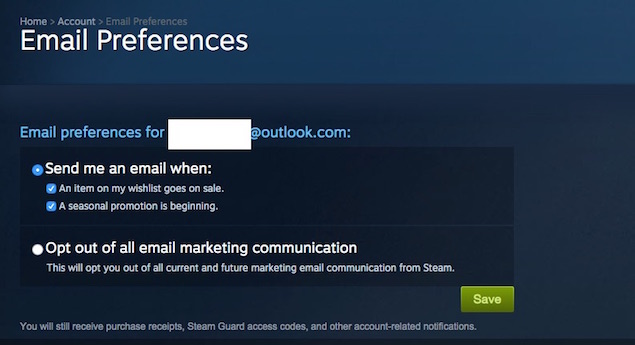 5. Remember also to add games you're interested in to your Wishlist. To do this, go to the game's page on Steam, and just click on Add to your Wishlist, on the right side of the screen.
That's all there is to it, you'll never miss a Steam Sale or a discount on a game on your wishlist ever again. If there's any games that you want to buy but aren't sure whether you should spend the full price, then putting them on your wishlist like this is a great idea. The Steam Winter Sale is six months away, but if you follow this advice, you won't have to wait for the winter to get great deals on games you're excited about.