The Witcher games see you switch from slicing monsters into pieces, to fast talking your way out of trouble. The games place you in the shoes of the Witcher - a monster hunter named Geralt. Taking place in a fantasy setting, it's similar on the surface to The Lords of The Rings. What makes it different however, is that the tales weaved in these games have more in common with Game of Thrones than Tolkien's high fantasy epics.
In spite of a fairly linear narrative, the Witcher still does an excellent job of giving the player a lot of freedom - there are many times in the story where you have to make choices and the decisions aren't simple black and white either. The Witcher does this even better than games like Bioshock, and Mass Effect. Unlike other games, your choices don't boil down to good or evil options - the world of these games is far more nuanced, and you're only picking between shades of grey.
What started as a book series has spawned a host of successful video games. Over the years there have been two main entries in the series and a slew of side-projects including a mobile game and a flash browser game, and the third and possibly final entry to the franchise is going to release in May 2015.
NDTV Gadgets spoke to Marcin Momot, Community Coordinator at Witcher's developers CD Projekt RED to get an inside look at the process of making a game like this one, and the challenges the studio faced along the way.
Open world, emergent gameplay
An important change that's coming with The Witcher 3: Wild Hunt is that the series is moving to a fully open world. In previous games, there was a fair degree of freedom to explore and play the game at your own pace, but you couldn't freely travel around the world and pick up quests the way you can in a game like The Elder Scrolls V: Skyrim.
With Wild Hunt being an open world game, there's always the concern that it would be difficult to maintain a focus on storytelling. A lot of other RPGs solve this issue by having players take up quests around the game world, but Momot says this is not the case here.
"Despite being set in a vast and open world, the plot is constructed in such a way [that] it's alluring for the player and constantly beckons to be explored," he tells us. "Having said this, we always give the players the option to explore the world at their own pace. There's a ton of side quests to explore."
The idea behind this is to allow for emergent gameplay, letting people's adventures in the game create their own unique stories that exist within the overarching narrative. It's quest design quite that draws parallels to Hemingway's stream of consciousness approach to writing novels.
"Open world allowed us to design quests in a completely new way," says Momot. "The player isn't restricted to any section of the world, and can go and explore vast parts of the realm."
"It all starts in Novigrad, where Geralt has to meet with an old acquaintance, Dijkstra," he says. "Then he moves on to No Man's Land, to visit the swamps where the creature Johnny [the objective of the mission] lives. The world is open, so the Witcher has to learn to use his witcher senses to find the tracks leading him to his target. On the way he sees a small encampment full of ruffians and bandits, so he decides to solve that problem first."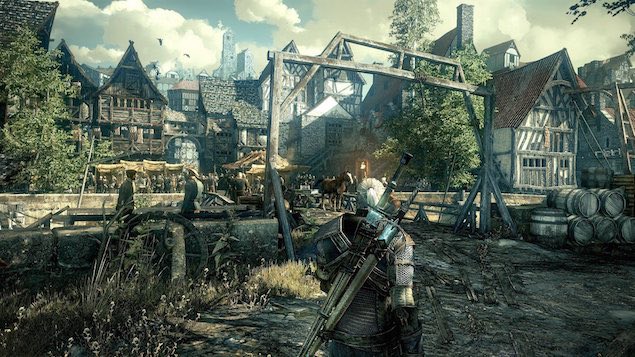 This kind of evolving mission design, where you flow from one objective to the next seems to be the guiding principle of the game's design.
"You complete your missions not only 'in the vicinity'," explains Momot, "but sometimes you will be forced to travel great distances, and take on jobs you wouldn't expect."
What this also means is that player choice is paramount. In earlier games, particularly The Witcher 2, you could bypass certain combat situations that would have gory outcomes through your choices. By doing this, the game was able to build a sense of cohesiveness between gameplay and narrative. Momot says the same can be expected in Wild Hunt.
"You can expect even more, I think," he says. "Since Geralt [the titular Witcher] is roaming the world, he needs to use different ways of achieving his goals. Sometimes you'll talk your way out of a predicament, and sometimes you'll have to use your blades."
AAA anonymous
As AAA PC and console development gets more complex, the likelihood of bugs rises tremendously. We've seen it with Assassin's Creed: Unity, where issues were so severe that Ubisoft gifted people who bought the season pass with a brand new game. It's something CD Projekt RED is aware of too, and that's even more evident with the latest change of release date from February to May.
The series is skipping also last generation consoles completely, losing out on a potentially lucrative user base, something Momot says was necessary.
"The Witcher 3: Wild Hunt has been developed for the next-gen consoles from the scratch, and we had a lot of time to get used to new platforms and their quirks and secrets," he says. "Skipping the old-gen consoles allowed us to fully realise our creative vision. Extra processing power enables us not only to make a better looking game, but also a game which is broader in scale, and more intricate in terms of gameplay."
Does this mean we will also see larger, grander, combat scenarios? According to Momot, the emphasis is on realism.
"You will never see Geralt battling huge crowds of people," Momot explains, "because, in reality, a huge crowd of people would rip the best fencer in the world to pieces in a matter of seconds. And we are trying to make a realistic (to a point) game in which you fight odds you could take on in real world."
India and emerging markets
The Witcher series plays like an action-adventure game in parts, but is a true role-playing game at heart where in setting, characters, and choice are of equal importance if not more so. Most games in this genre do not fare too well in India, but this does not perturb Momot.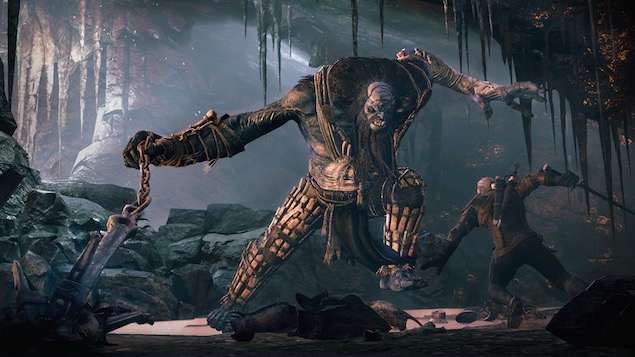 "The big idea behind Geralt is universal, so you don't have to know him to understand what he is," he says. "He's like a gunman in the wild west, he's a monster hunter, a tough guy who gets stuff done. And he's in this vast open world making things happen. Since he's kind of parallel to the whole world, he can deal with kings and peasants alike and that puts him, and the players, in a really unique situation."
While that faith is admirable by itself, the company will also stick to its stance on DRM - which is not to have any. Although piracy is a huge problem in India, Momot says the company hopes that player's better senses prevail.
"We believe in gamers and do everything to make them believe that it's worth buying a legal copy of our game," he says. "The Witcher comes in a really rich standard edition and I think it's worth to buy it, both to support us for making it, and to have the best possible experience."
Whether this strategy works out or not remains to be seen. For now, diehard fans will have to be patient to see what unfolds when the game hits on May 19 next year.