The "biggest game show in the world", Gamescom officially kicked off on Thursday, and on day one we got to visit booths from Nintendo, and played Street Fighter V, and Metal Gear Solid V. Day one is closed to the general public, and only the press and industry members are present at Gamescom. Day two is a little different.
(Also see: Gamescom 2015 Day One - Nintendo News, Metal Gear Solid V, And Street Fighter V)
Day two of Gamescom 2015 saw what appeared to be all of Cologne showing up. Lines were longer and the booths packed to the brim, and there was an overwhelming sense that the show had finally begun for real. For us though, it was business as usual; and by that we mean keeping an eye out for all things interesting, on the showfloor. Or in some cases just outside it. Read on to know more.
FIFA makes people bold
No sooner had we left Gamescom for the day than we were hounded by a polite German youth who spoke impeccable English. He wanted to know if he could buy our press badge so he could check out FIFA 16. While it's a testament to the power of EA's FIFA brand, we found that the latest football game sports only small incremental changes to the gameplay, and nothing that truly caught the eye.
Simulators are a big deal this year
When you hear the term 'simulator' in terms of video games, the first thing that comes to mind is probably flight simulators or driving games like Gran Turismo. In Europe however, all kinds of simulators are a big deal. Games like Construction Simulator and Farming Simulator sell extremely well. So much so that Giants Software, the makers of those games, had a rather large booth at Gamescom 2015 that was full of fans checking out other games like American Truck Simulator. Though Gamescom featured games with all sorts of sci-fi and fantasy settings, it turns out that games where you have to park a truck have their own appeal.
Magnificent Mafia 3
Yes, we've heard murmurings of Mafia 3 for a while now, and its Gamescom unveiling showed off a slick trailer. We got to see how far along the game is at publisher 2K Games' booth and were pleasantly surprised as we were treated to real-time gameplay footage. Barring the odd frame drop or two, Mafia 3 is shaping up to be one of the games we're really looking forward to for 2016. The gameplay demo that we saw showed a game that's oozing atmosphere and detail that could very well rival what Rockstar Games has pulled off with Grand Theft Auto and Red Dead Redemption.
Master of Orion is coming back
Cyprus-based Wargaming is known for its online multiplayer action games like World of Tanks and World of Warplanes. Following the bankruptcy of Atari in 2013 it snagged licenses to beloved strategy franchises such as Total Annihilation and Master of Orion. These shaped the real-time and turn-based strategy genres respectively. And now the latter is making a comeback on Steam via Early Access at an unannounced date. We weren't allowed to play Master of Orion, but watched a company representative play through the demo at Wargaming's booth. Based on this limited view, we're somewhat optimistic about its chances of pulling off this remake of a 22 year old game.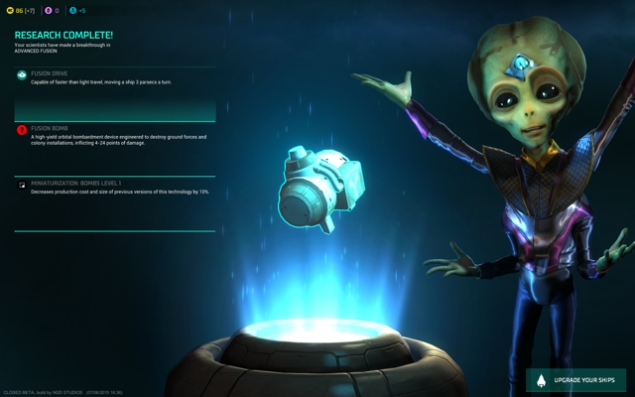 These were some of the highlights of day two at Gamescom 2015. With some more announcements expected throughout the duration of the event, we can't wait to see what's unveiled next.