As Gamescom 2015 rolled into its third day, we found ourselves amidst a whole lot more people than we'd have imagined. With it being a Friday and the second day for the general populace to show up, space to put one foot in front of the other was at a premium. Nonetheless, we braved the crowds to bring you the latest and greatest from day three of the event.
Gamescom? More like Star Wars Con
Star Wars: The Force Awakens isn't the only big budget sliver of entertainment based on the Star Wars saga out this year. There's Star Wars: Battlefront as well, a multiplayer first-person shooter from DICE, the Electronic Arts-owned studio responsible for Battlefield. The game is playable at three locations: Sony's booth, EA's booth, and a semi-private EA community section - and no expense was spared to let the crowds at Gamescom know it was present.
A giant AT-AT Walker and a TIE fighter looming large at EA's and Sony's booth respectively were hard to ignore, resulting in a staggering number of people checking them out. And that's not taking into account that Disney Infinity 3.0 - the latest in Disney's toys to life video game series - features Star Wars characters heavily has a huge presence as well. Between the two you could very well confuse Gamescom as Comic Con if it had more people cosplaying characters of the series.
A gimmick that went too far
Deep Silver's Homefront Revolution is a lot of things but it's not dull. From a dismal trailer during Microsoft's press conference to a surprisingly solid gameplay demo, we're having a hard time figuring out how it could surprise us next. Well, we didn't have to wait too long. At the game's public booth guards were decked up as the game's enemy soldiers. To go with Homefront Revolution's theme of living under an oppressive regime, they'd randomly harass people waiting in line by checking their bags or forcing them to undergo a full body search. The gag didn't go down too well with the more sensitive members of the audience, some of whom let loose a slew of curse words. Needless to say, it was a gimmick that went too far.
(Also see: The Good and Bad of Microsoft's Gamescom 2015 event)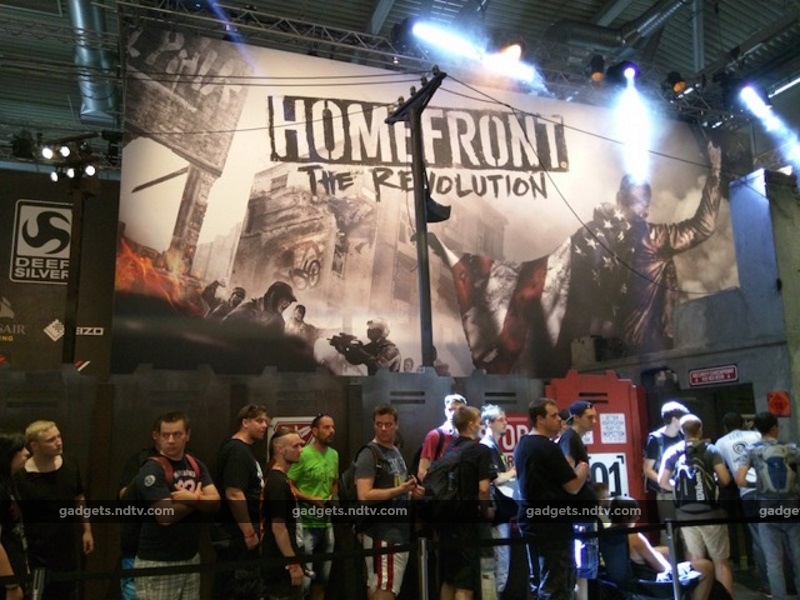 Hearthstone comes to real life
With most publishers trying to one up each other with bigger halls or weird gimmicks, Blizzard decided to stay true to its games. Well, at least with Hearthstone. Present at Gamescom 2015 in the form of a giant inn resembling what Blizzard alludes to in its monster hit game, it was perhaps the most on point yet whimsical setup at Gamescom, one that's worth checking out even if you're not a fan.
With two days to go, Gamescom 2015 is shaping up to be a stellar affair. What would you like to see? Let us know via the comments.
For the latest tech news and reviews, follow Gadgets 360 on Twitter, Facebook, and Google News. For the latest videos on gadgets and tech, subscribe to our YouTube channel.
Related Stories