Quantum Break is out on April 5 and in the lead up to that, we've managed to get some quality time with it on the Xbox One. While it's too early to pass judgment on Remedy Entertainment's latest game, there's one thing for sure: it's massive on story. You could focus on the gameplay is you wanted, but you would be missing out on a great deal of what Quantum Break has to offer. Here's why.
Like in most games, the opening sections dealt with teaching us the basics of Quantum Break's gameplay. From firing a gun to stopping time, there's a fair bit of variety to it. But along the way we also learned what to expect in terms of narrative. You're playing Jack Joyce and you're meeting an old friend who is working as a scientist at Riverport University. One freak lab accident later and Monarch - the game's big, bad corporation - sends squads of disposable soldiers to deal with you.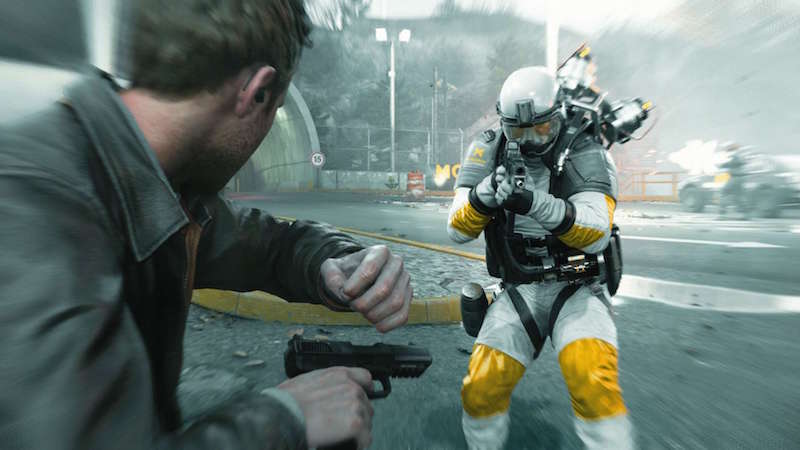 (Also see: Developer Finally Reveals if Quantum Break Runs at 720p on the Xbox One)
When playing, aside from completing key objectives of meeting primary characters or clearing a room full of enemies, you're also encouraged to explore your surroundings. Doing so lets you discover a fantastic amount of detail about the world you're in, and the story you're experiencing. Radios feature disc jockeys who're talking about the game's events, and you'll find people's emails that add context and background to the relationships between characters. There's a lot of this kind of background material to immerse yourself in that makes the world seem more real. It's not a particularly new technique, and has been used in classic games such as System Shock, but Quantum Break does this very well. So much so that we found ourselves trying to collect every little bit of story, instead of completing the main missions.
Incidental story-telling aside, there are the game's cutscenes. These give you a clear idea of what's going on if you're not keen on exploring the game world. They're slickly directed complete with fantastic voice acting and natural looking movements rendered in-game. Simply put, they're well-executed. No surprise since the credits for the game's characters reads like a who's who list of TV's finest including talent from Game of Thrones, Lost, True Blood, Fringe in addition to X-Men: Days of Future Past's Shawn Ashmore. Their presence goes a long way in making the time-bending fiction of Quantum Break all the more believable.
(Also see: Quantum Break for PC Shows the Needs of the Many Outweigh the Needs of the Few)
Now, most video games would simply leave it at this, a sprinkling of peripheral albeit rewarding pieces of story coupled with scripted events to take things forward. But Quantum Break goes beyond. Each of the game's acts is bookended with a live-action TV show. If the opening episode, Monarch, is anything to go by the rest of them should be a treat to watch, sporting production values that are on par with most modern dramas. These go a long way in explaining the motivations of the game's many characters and reveals that even its villains are human after all. Our only grouse is that they have to be streamed at this juncture, being available for download for Xbox One users when the game is out. Windows 10 PC gamers have no such luck though.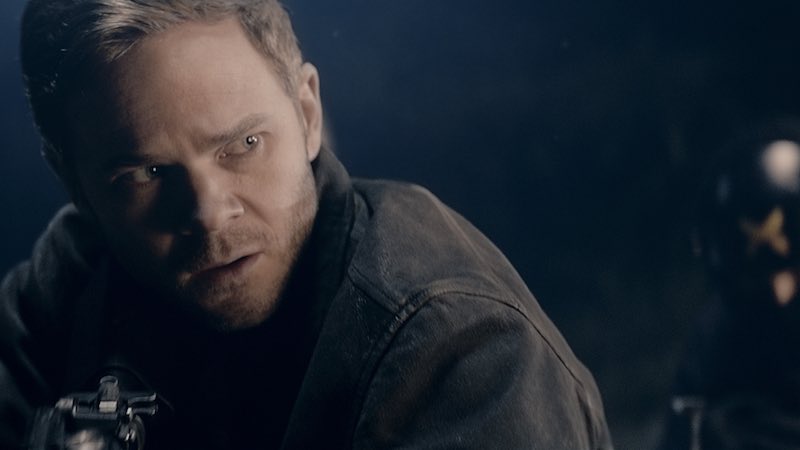 And there's more. Over and above the little plot details, cut-scenes, and a TV show, there are Junctions. Here we found ourselves in the role of antagonist and Monarch founder Paul Serene. After the events of the first chapter that saw protagonist Jack Joyce gain his powers in a lab accident, you can choose what happens next. Do you cover up the events at Riverport University by killing everyone who was there at the time or do you adopt a softer stance through a PR campaign with doctored accounts from eyewitnesses to make Jack Joyce look like a terrorist? Both paths have tremendous implications. The former gains Joyce a fan following but ensures no one knows what happened and the latter results in a manhunt for Joyce but he learns the truth from the event's survivors. As well as impacting the main game, the Junction system also determines how Quantum Break's TV episodes pan out. What's interesting is Remedy's use of the game's villain to determine the fate of its hero, who you control as well. Its an interesting way to take things forward and have us piqued for what to expect as we play through the game.
(Also see: Quantum Break PC Requirements Announced, Free With Xbox One Version)
By focussing heavily on narrative and weaving it across various types and formats, we can't help but feel that Remedy has astutely decided to work on an area where most games this generation have fallen short. Whether you realise it or not, every point of interaction in Quantum Break is smartly woven with its story in one way or another, giving players a range of immersion to the point where it seemingly impacts the game in meaningful ways. In an age where the plot is simply an excuse to put a bullet in the head of virtual enemies, Quantum Break appears to be a welcome change. Now, while it's too early to tell how good the story is, it's definitely managed to keep our attention so far. Check out our full review of the game next week.