Gamers who are also football fans fall into two camps - the ones who can't get enough of EA's FIFA franchise, and those who think that Konami's Pro Evolution Soccer series can do no wrong - and the two rarely, if ever, see eye to eye. If you are a FIFA fan, then you know that FIFA 16, the next instalment of the franchise, is out next week. It's one of the few games that's available not just on the PC and the current generation consoles (the PlayStation 4 and Xbox One), but also on the PlayStation 3 and the Xbox 360. But which version of the game is the one worth getting? We checked the demo out on every platform to tell you.
Few options on PC
Thanks to its immense popularity, FIFA 16 manages to attract a mainstream audience which may not have the most up-to-date PC to play the game. This is most obvious from the system settings available. While GTA V, The Witcher 3, and Metal Gear Solid V: The Phantom Pain all sported a wealth of options for PC users, the graphic options for FIFA 16 are rather sparse.
We tested the game on an Intel Core i5 3470 at 3.2GHz, 16GB of RAM, and an Nvidia GTX 980Ti. Needless to say, playing FIFA 16 at 4K was effortless with this setup. The game looked crisp and sharp and felt blisteringly fast, netting between 110 to 120 frames per second with every graphic setting turned to the maximum. This was expected considering that most gaming PCs are overkill for this title.
(Also see: FIFA 16 Player Ratings: What You Need to Know)
Playing using a midrange GTX 950 card, we were still able to max out the game at 1440p, with a frame rate of around 60fps for most part, and the rare dip to 40 during replays. At 1080p we were able to get close to 120 frames per second at most times, dropping to the low 90s on occasion.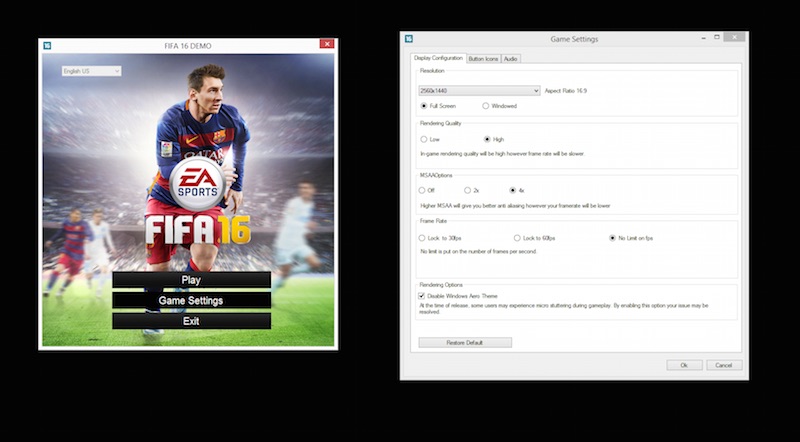 At all resolutions and hardware configurations, we noticed visible tearing in the game's cut-scenes and replays which took away from the immersion to an extent. Capping the frame rate to 60fps did little to rectify this.
In terms of hardware, the PC version of FIFA 16 doesn't require cutting edge components to get it running. If you have a Windows 7, 8, or 8.1 64-bit operating system and at the very least, an Intel Core i3 at 3.1GHz, 4GB of RAM, and an Nvidia GTX 650, you should be able to play the game fairly well at 720p. And if you're the adventurous sort - like some FIFA 16 PC fans on EA Sports forums - then you can overclock your ailing, obsolete PC to the minimum 3.0GHz to get it running.
Getting the PC version running was more challenging than the game itself
While the PC version looked decent, getting it running was an exercise in frustration. Every time we tried booting it up, we were met with errors, and EA's support forums were anything but helpful. We tried everything from reinstalling the requisite .NET Framework files to verifying the installation. What finally worked was disabling Origin - the game's client - in the options, after which it started up without a hitch.
That's an odd fix, but considering that the option is there within the client itself, it's possible that EA expects players to do this; though how most people are supposed to divine this is hard to see. This was the case both on Windows 10 and Windows 8.1 64-bit operating systems.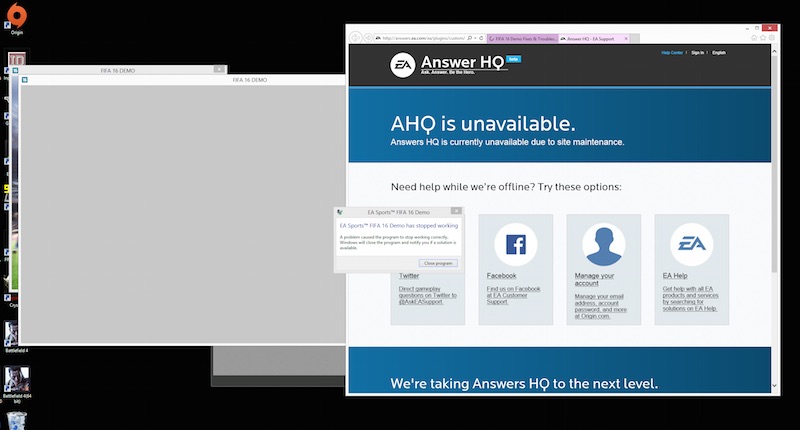 Start up issues aside, our trusty Xbox 360 controller was not recognised at all, although it usually works on Windows without a hitch. Our Xbox One gamepad worked just fine, which is quite puzzling.
Play it on the PS4 or Xbox One instead
Side by side with the Xbox One and PS4 versions, FIFA 16 on PC runs a lot faster thanks to our overpowered machine. While it did look slightly better, there's nothing to suggest that it's a drastic upgrade over its console brethren. The PC version is a better bet than the PS3 or Xbox 360 versions though, with no slowdown and texture pop-in.
But how does it play? Compared to the console versions, FIFA 16 on PC didn't feel as responsive. Performing basic actions like passing and shooting even with a controller felt rather laboured, as we found ourselves exerting more effort than we had to versus the console versions (even with the same settings). This made matches feel like a chore. Adjusting the controls for passing and shooting didn't make it any easier either.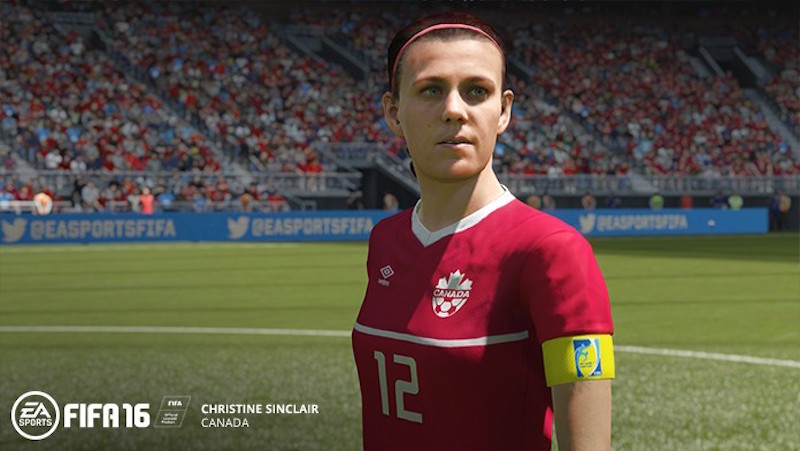 (Also see: FIFA 16 India Price Confirmed; Amazon Is EA's New Exclusive Partner)
Also, on all versions of the game, heading the ball always netted a goal and every cross was a perfect cross. Scoring seemed too easy and playing as the women's teams resulted in gameplay that was a lot faster, while the men's teams felt sluggish.
Add to this the fact that just getting the game - which is only available as a digital download, you can't just buy a disc and start playing - up and running on the PC was a monumental effort, and then choosing the console version seems like the obvious option.
Still, EA is known to change a few things in the final release, so it will be interesting to see what is different when we get our hands on the full version of the game next week. Stay tuned for our review.