One of the most anticipated games of 2015, Fallout 4 is finally out and while some of us are already familiar with the large, expansive post-apocalyptic wastelands that await us, for many, it's their first visit to the wastelands of Fallout. That because the game launched to 'record sales', and buyers clearly go beyond the series faithful. If you're new to Fallout, here are some tips and tricks to make your adventure a little easier.
1. Don't depend on the Pip-boy
While the Pip-boy (a watch that contains every scrap of information, and your menus and items) is a handy way to view your inventory and character attributes, it becomes extremely cluttered when you're done with a few Fallout 4 quests. Your best bet is to set up a quick menu using the directional pad. This allows you to quickly access up to 12 items with a few taps without interrupting your session by going into the Pip-boy menu.
(Also see: Everything You Need to Know About Fallout 4)
2. Save your Power Armour for important quests
Early on, you get access to the series' classic Power Armour. It's a handy piece of kit that lets you mow down some of the game's bigger foes like gigantic Deathclaw mutants. However, it runs on batteries known as Fusion Cores. They get depleted rather fast and are tough to come by, making it important for you to save it for longer Fallout 4 missions instead of having it on at all times.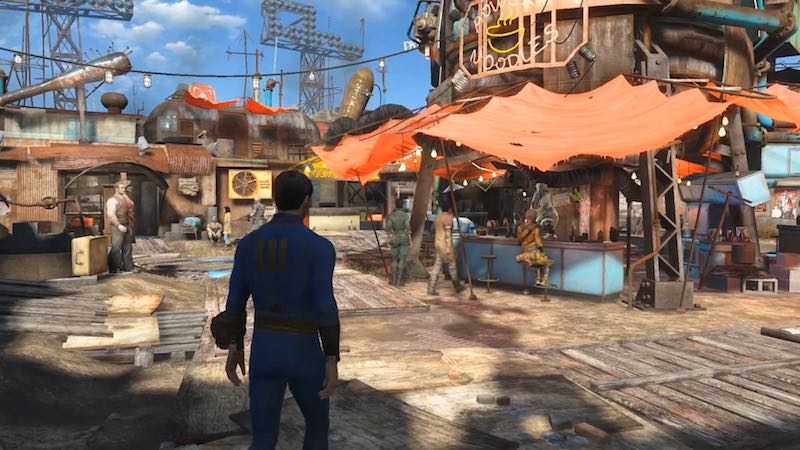 3. Of beds and chapels
Sleeping in a bed completely restores your health and repairs any broken bones. It also grants you the Well Rested perk. This gives you a 10 percent experience boost for a limited time. And if you sit on a pew at the All Faiths Chapel in Diamond City, one of the major settlements in the game, you'll get a five percent experience boost for a short time. Both are handy ways to level up your character faster.
(Also see: What the Games Industry Can Learn From Fallout 4's Reveal)
4. V.A.T.S is not a pause button
This is something for both newcomers and series veterans to take note of: activating the V.A.T.S - which allows you to pinpoint where exactly you want to hit your opponent - does not pause the game. Instead it simply slows it down. What this means is, you will take damage if you don't line up your shot soon enough. Being quick on the draw is helpful in most combat situations. Even if in slow motion.
These are some of the tips to help you get by in Fallout 4. What do you think of the game so far? Let us know via the comments.
For the latest tech news and reviews, follow Gadgets 360 on Twitter, Facebook, and Google News. For the latest videos on gadgets and tech, subscribe to our YouTube channel.
Related Stories