With the PS4's dominance, the Nintendo Switch's launch hype, and a shortage of exclusives to talk about, Microsoft goes into E3 2017 with a lot to prove. But if its past showings have been any indication, the company should be up to the task, with bringing backwards compatibility to the Xbox One, and its consistent efforts at refining its OS. Announcing solid exclusives should help too.
Microsoft's E3 presentation begins at 2pm PDT on June 11 (2:30am IST on June 12). Here's what to expect from Xbox and Microsoft at E3 2017.
Xbox Scorpio price, release date, games, and a real name
The Xbox One equivalent to the PS4 Pro saw a spec reveal a couple of months ago. At E3 2017 Microsoft is expected to finally tell us how much the Xbox Scorpio would cost (some reports claim $399), when you can buy it, and what games you can play on it. With Microsoft's conference being 90 minutes long, expect a large chunk of it to focus on Xbox Scorpio, and perhaps its VR and AR capabilities too.
Xbox Scorpio Isn't for Gamers - Here's Why
Live services for all your Xbox One games
This is a bit of a sticky topic for some. Xbox boss Phil Spencer stated that story-based, single-player titles don't have the impact they used to have. Granted, Spencer did backpedal later, but keep in mind that Halo 5's micro-transactions such as REQ packs have ensured a consistent stream of revenue.
So much so that they've brought more money in six months than any previous Halo DLCs, and Halo 5 had more players playing six months down the line than any other Halo game. Halo 5 also sold as well in that time frame as Halo 1, 2, 3, and 4. That's outstanding when you consider franchise sales tend to dip with each passing entry. All this means that you shouldn't be surprised to see any new games announced to be launched with an online component of some kind, and microtransactions to go with it.
Forza Motorsport 7
Another year, another Forza. Like clockwork, you can expect another entry in heralded racing franchise. Although 2016 saw the superlative Forza Horizon 3, don't expect another open-world entry so soon. Rather, Forza Motorsport 7 will have more in common with Forza Motorsport 6's adherence to simulation, rather than the crazy arcade free for alls the Horizon series of games tends to offer. Developer Turn 10 has already ported the Forza engine to Scorpio so don't be surprised to see Forza Motorsport 7 spearheading the console's launch.
Is Halo Wars 2 a Desperate Hail Mary for Microsoft?
Crackdown 3
Little has been said of Crackdown 3 in recent memory. Much like its predecessors, it's an open-world action adventure with an emphasis on destruction and over the top abilities, putting you in the role of a super cop in a dystopian future. With development headed up by Reagent Games - a studio run by Crackdown creator David Jones - and support from Dead Island 2 and Snake Pass developer Sumo Digital, E3 2017 is the perfect stage to show off some actual gameplay and hopefully a release date, after its last public outing at Gamescom 2015.
Sea of Thieves
Multiplayer open-world pirate adventure Sea of Thieves was announced at E3 2016 along with a cringe-worthy gameplay trailer. Developed by Kinect Sports studio Rare, a Sea of Thieves release date as well as some of its gameplay aspects could be a focal point for Microsoft.
State of Decay 2
Like Xbox Scorpio, State of Decay 2 at E3 2017 is a surety. Scheduled for a 2017 launch and powered by the Unreal Engine 4, this zombie survival game with co-op elements should have a wealth of gameplay footage at E3 2017 as well as details as to how it differs from the first game - this is crucial considering how many me-too open-world zombie survival clones have crowded marketplaces like Steam since then.
The Xbox One AIB Video Says a Lot About Microsoft India - and It's Not What You'd Think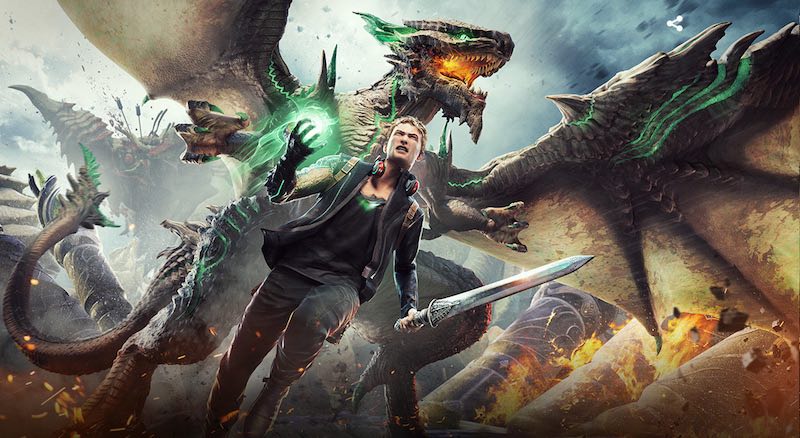 ---
Our Xbox E3 2017 wishlist
Sure Microsoft has a lot to talk about at E3 2017, but there are some things the company won't probably divulge, but on the chance that someone is listening, here is our wishlist for the event.
Scalebound
This action role-playing game helmed by Bayonetta and Vanquish creator PlatinumGames was one of our most anticipated games of the generation, making it on our list twice. Sadly, Microsoft killed production, and while it renewed the trademark for the game, it is as likely to show up at E3 2017 as Halo 6 is on the Sega Dreamcast - that is, not at all.
Xbox Scorpio release date and price outside of the US and Europe
The Xbox One isn't doing too well outside of the US, as we've reported in the past. Like the Xbox One S, Xbox Scorpio probably won't release in every market at the same time. Having said that, it would be nice of Microsoft to let those of us outside the US, in countries like India, know when to expect the console. More so since the Xbox One S hasn't made it here just yet.
Halo 6, or any Halo really
Halo 5 maker 343 Industries already said that Halo 6 won't be at E3 2017. However it also did tease "a little something at E3 but it's not related to the next major entry in the franchise." Could we see a spin-off like Halo 3: ODST or would it just be new content to existing titles like Halo Wars 2 and Halo 5? Only time will tell.
What do you want to see from Microsoft's E3 2017 conference? Let us know via the comments.
We discussed everything we expect from E3 2017 on our weekly gaming podcast Transition. You can subscribe to it via Apple Podcasts or RSS or just listen to this episode by hitting the play button below.