The Deus Ex series is been known for its emphasis on open-ended gameplay and choice, wrapped in an immersive cyberpunk atmosphere. And it's something the games' creators at Eidos Montreal take seriously, to the point where fans can choose what pre-order bonuses they get with the digital version of the latest entry, Deus Ex: Mankind Divided. Depending on the number of pre-orders for the game, a certain amount of content is unlocked including a new mission, digital comics, and oddly enough, the game being available to play four days prior to the February 23 release date.
(Also see: Deus Ex: Mankind Divided Release Date, Pre-Order Bonuses Announced)
At Gamescom 2015, we had the opportunity to speak to Patrick Fortier, Gameplay Director for Deus Ex: Mankind Divided, to find out what goes into making a game this complex and open-ended. Here's what he told us.
This is not a statement game

One of the major themes of Mankind Divided is the apartheid. The game takes place in an era where there's a great divide between those who prefer enhancing themselves with technology such as mechanical arms and augmented eyes, and those who do not. When the game was first announced, many assumed it was meant to be a statement about world events. Fortier however, ensures us that this was not the case. The theme, he said, was a result of the overarching narrative the game was looking to achieve.
"People have asked us if it was to make a statement about specific events in the world, and it's not so much that as the realism of the situation," he explained. "If you look at a worldwide event of what happened with Mankind Divided with the aug [short for augmentations] incident where every augmented person was hacked, what's the logical response? What could you expect out of human beings when they're fearful and they don't understand and someone is actively manufacturing this fear and this divide? What do we see in real life? There's walls instead of bridges, people start being afraid and any reason is good in real life be it race, religion, gender to create oppression, that's how we felt."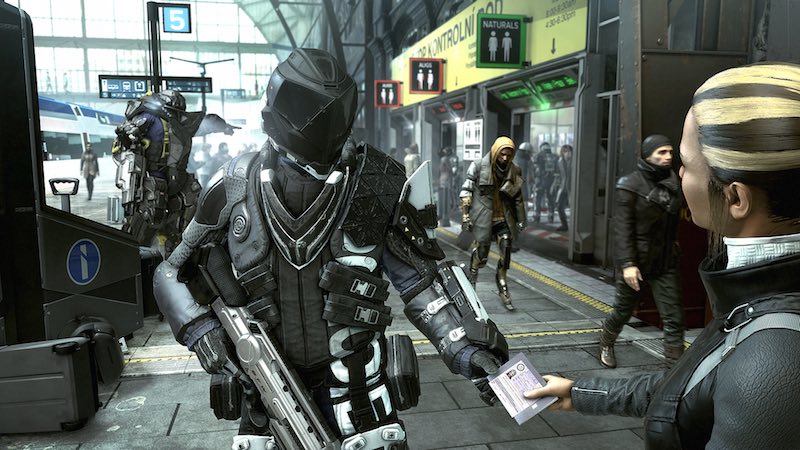 The game that came before Mankind Divided, Deus Ex: Human Revolution, focussed on the golden age of transhumanism, and its story let the team to explore the repercussions of its many events. "It allowed us to explore a different side of trans-humanism. It creates a different tone and explores different things and it's logical and impactful for our universe," Fortier said.
Everything tells a story, even colours

The development of these themes is also reflected in the game's art style. Human Revolution was replete with black and gold, colours that gave the game a "cyber renaissance" feel. In Mankind Divided you're treated to white and grey colours, making it a stark contrast. To Fortier, it served as an important story-telling tool.
"Because of the aug incident [of the first game] where everyone [with augmentations] got hacked, there was the frenzy that had major repercussions on the world and that's why it's called Mankind Divided, it's the wedge between naturals and augments," said Fortier. "There's fear there and some people are exploiting that fear, the dream of the cyber renaissance is being clenched by the corporate feudalism which is what we're calling it this time."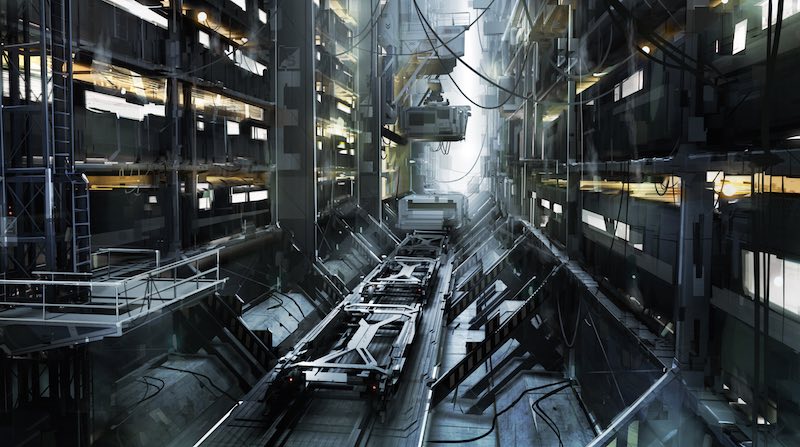 "Aside from the colours, there are harsher materials such as rock and cement. It's the power players coming in and eliminating some of that freedom, kind of killing the dream of what an augmented world could have been and they're fuelling the fear and the divide because it serves their own secret agenda," he added.
Balancing story, characters, and boss fights

Conspiracies are nothing new in the Deus Ex universe. In fact they play a large part in each of the game's events. Which begs the question, how does Eidos Montreal manage narrative, along with player choices, and its impact in telling a story? To Fortier it's all about accommodating every play style possible, which includes allowing for key characters, such as bosses, a chance to live another day or so it would seem.
"We're fully supporting a game where you can go non-lethal all the way from beginning to end. As I like to say, bosses are people too. So that includes them," he said. "That's a big impact narratively. I don't want to go into specific details but [in regards to boss fights, which weren't well received in Human Revolution] part of the answer to that is also our reflection on the question: 'do classical boss fights make that much sense and are they a required thing in a game like Deus Ex?'"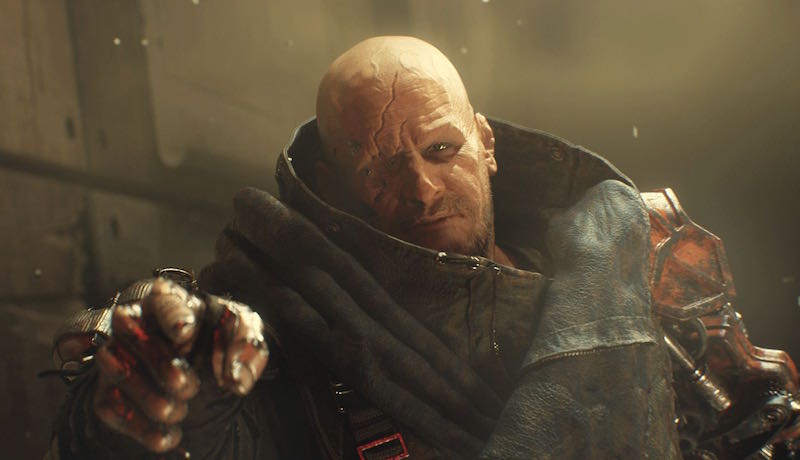 One can safely speculate that this could create multiple storylines and altogether different experiences, compared to what usually is a linear plot, though Fortier refused to be drawn out on the matter, offering no other details. Instead, he talked a little more about boss fights.
Viable social options

Boss fights are a touchy topic. Human Revolution was universally panned for its poor approach to them. Fortier is adamant about rectifying this and explained how they would work in Mankind Divided.
"We have social debates where that are one on one and you have a dialogue tree and you have to choose the response based on what you're feeling from the other person," he elaborated. "Then classic boss fights are another thing. And we're not...we haven't said that we mix the two in the middle of a classic boss fight you can stop and talk your way out of it and have a debate. I'd love to be able to do that one day, we're not there yet with Mankind Divided."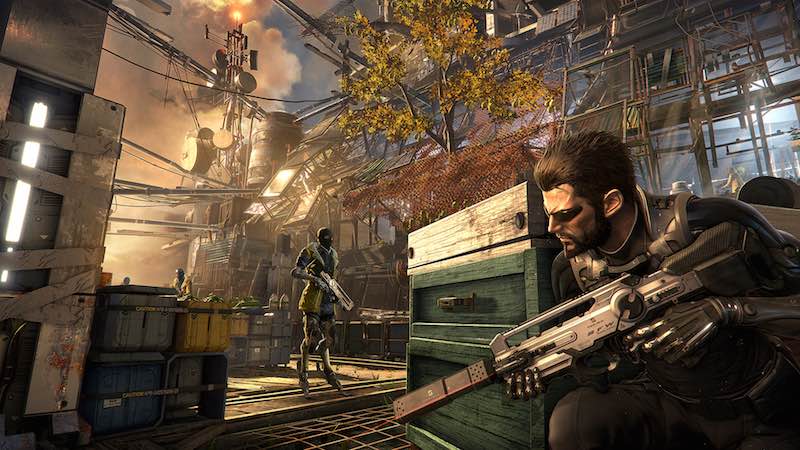 Delving deeper, he went to tell us how the social options in in the game make for viable progression.
"On the way prior to starting a classical boss fight, maybe you've talked to some people who have given you information or items that may be useful against the boss and give you different possibilities on how to take on that encounter," he explained. "So your full exploitation of the social path gave you some abilities to deal with the encounter."
Approach to choice in a post-Witcher 3 world

Another concern is how deep player choice would affect the game's story. Considering that The Witcher 3 is thought of as the gold standard in terms of how to approach player decisions what with minimal foreshadowing, how does Mankind Divided stack up? There's an element of hard, binary choices.
"We've had these story arcs where you do one thing or another and you don't have time to do both and you have to make these hard choices and you're going to do it based on your perception of what's more important or what you care about and the same thing for the multiple endings," said Fortier. "They leave the world in a very different state based on what you ultimately do."
Also, it's about allowing for both kinds of choices - big, decisions that have obvious repercussions and small ones, while seemingly non-essential stack up and impact the ending you finally see.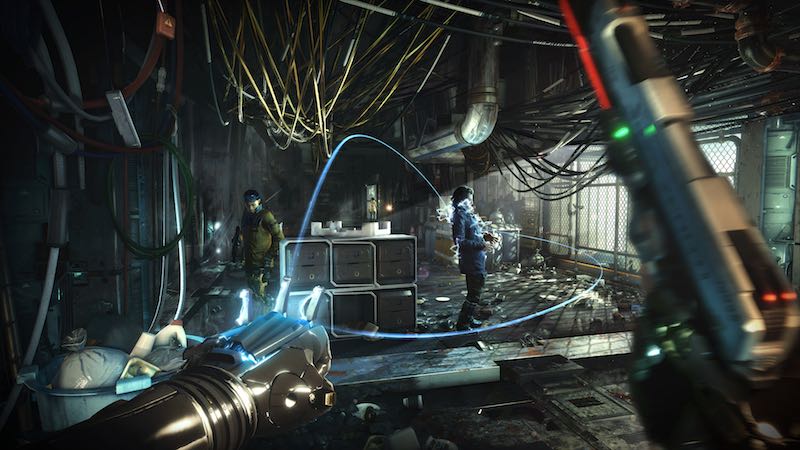 "There are little choices that you don't necessarily realise you're doing and those are not epic in of themselves but they could lead to epic things. You could talk with an NPC and not realise what they're asking you to do, you choose to do it," Fortier added. "Later on maybe that comes back to haunt you or to serve you. And that may ultimately play out in the end sequence of the game and suddenly if you trail it all back to all the little choices that led to you having that it's like 'oh my god that happened in the first hour of gameplay just because I agreed to what was offered me!'"
A potential new game mode?

Although such an intricate choice structure lends itself well to multiple replays, it also has players mulling over their decisions mid-game and spend more time reloading save files to see if their choices give them a desired ending instead of well, enjoying the journey itself. It's something Fortier is aware of, but he hinted that Mankind Divided might have an interesting take on save files.
"There's an interesting answer to that but I can't talk about it right now. But fundamentally the save system will be the same," he said. "Maybe later we will talk about some other things that could be different as well. But fundamentally yeah, if you just start the game on the regular difficulty level and all that, [then] you have multiple saves..."
The response leads us to wonder if Mankind Divided could sport some sort of an Iron Man mode. Popularised by the XCOM series, it prevents players from making multiple save files. What this means is, all your choices are permanent because the game autosaves after every event.
As it stands, Deus Ex: Mankind Divided is shaping up to be one of the more interesting titles of 2016. Though Fortier appeared to keep his cards close to his chest, we did manage to find out more details on the game's perks, augmentations, and where the game fits in the Deus Ex universe. Stay tuned to this and more in the second part of our interview.