Last week, Nazara, one of India's oldest gaming companies, announced the acquisition of Nodwin Gaming. This comes a year after the firm announced plans to enter into the e-sports space. Nodwin has been working towards making e-sports a mainstream event in the country through its partnerships with international heavyweights like the Electronic Sports League (ESL) and Valve.
Gadgets 360 spoke to Nazara CEO Manish Agarwal and Nodwin CEO and Managing Director, Akshat Rathee to understand more about the deal at hand.
"The game plan with this acquisition is simple. Nazara's e-sports venture will be led by Nodwin. It's an independent subsidiary so they will do leagues and cups as their own IP and for third-parties as they have in the past," says Agarwal.
Previously, Nazara had stated its intent to run its own e-sports league. It planned to create an entire e-sports ecosystem from a grass roots level similar to Blizzard's Overwatch League, or cricket's IPL, but for multiple games as well as having its own e-sports league. This is still the intention, but when it will happen is yet to be decided.
"As for a Nazara Gaming League, we're 100 percent doing it, but it depends on timing it right," Rathee confirms. "It has to build return on investment and value for Nazara, if it will stand on its own legs, we'll go ahead and do it."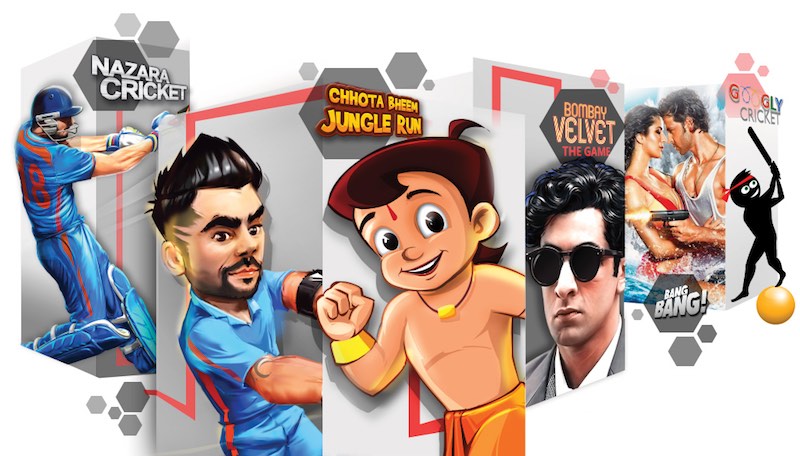 One of India's Oldest Mobile Game Studios Is Going All-in on E-Sports
Considering Nazara's strengths lie in mobile game distribution and publishing, Agarwal believes this deal gives it the flexibility to diversify, despite the scale of the gaming in the nation. The partnership with Nazara ensures Nodwin entry into international markets like the Middle East, South East Asia, and Africa — locations where Nazara has a presence and pre-existing relationships with telcos and brands, allowing it to serve e-sports on platforms popular to these territories, be it PC or mobile. India however, will be mobile first.
"The Indian market is still very small across multiple segments, whether its freemium on mobile or e-sports. We want to be a dominant force in gaming and not in just one particular segment of gaming," Agarwal says. "The obvious extension [due to the number of smartphones in the country] is how we create e-sports on mobile because of the sheer ubiquity of mobile. We believe that e-sports over a period of time will be led on mobile and then from our experience with distribution and with networks into global mobile gaming fraternity, and our status as a publisher will come in handy."
While past plans pegged revenue from advertising and merchandise, Agarwal sees brand sponsorships for events and content rights for matches streamed on OTT platforms in India and countries with a sizeable Indian audience being potential money-spinners.
What would this mean for Nodwin? For years the company has catered to hardcore gamers, predominantly on PC. Rathee believes that it's established enough to consider expanding into other segments, making smartphones the next port of call. As for the game of choice, Rathee singles out Clash Royale as one of the more popular options. No surprises considering other e-sports firms have also acknowledged the popularity of Supercell's competitive title.
Clash Royale Tips and Tricks to Crush Your Opponents in Style
"We're already supporting Clash Royale in ESL India Premiership and in the Dew Arena. We've been looking at some fairly massified games that are casual e-sports - as in, they're competitive but not necessarily [built from ground up to be] e-sports. Time has come to go deeper into what we call the mass segment, where the competition on mobile is going to be very important for us," Rathee claims.
"According to ESL data, India has become the second largest place for Clash Royale competitions in the world. The European Union is the first," Rathee adds. "Viewership for Clash Royale is much lower than what it is on Dota 2, but participation is nearly equal. On a competitive Dota 2 stream we might have a 100 to 150 teams participating and we 700 to 1000 people participating in a Clash Royale tournament. 100 to 150 teams is around 500 people, they're close."
As for team-focussed e-sports on mobile platforms for India, the duo admit that will take some time, citing that all great e-sports nations have competent grass roots programs. "I think individual level of mobile games will become the de facto standard for e-sports competitions in India at the start. Over time, team-based e-sports will start growing out of the mobile arena," Rathee hypothesises.
Given that Nazara recently bought World Cricket Championship studio Nextwave and now has access to Nodwin's learnings on what makes a great e-sports title, we wondered if we could see a competitive e-sports cricket game developed in India for mobile.
The State of E-Sports in India: Untapped Potential but It Doesn't Have to Be
"Will we support it as a demo game? Sure. Is it an e-sport? The community will decide," muses Rathee."I have no idea. Is Hearthstone an e-sport? Well the community decided that it is despite the fact that is pay-to-win for most of the things. If you ask people if pay-to-win games are fair, they're not. But people still like Hearthstone right? Eventually the community decides. Rainbow Six Siege tanked at the start but now it's one of the top games in the world. PUBG is not an e-sport [due to the procedurally generated nature of its items and weapons] but everyone wants to make it an e-sport. With WCC in the portfolio and if there's any other game, we'd love to go ahead and see if there's a nice multiplayer competitive angle to it, we'll support it."
It is important to note however, that this is not the first time an Indian entity has tried to adopt a diversified approach towards tackling the market. In the past Indiagames did something similar, targeting competitive, hardcore, and casual gamers alike with e-sports (hosting and broadcasting India's World Cyber Games), a PC games subscription service called Games on Demand, and a slew of mobile games for Android, iOS, and feature phones. Although that worked well for the time, now, it's a shadow of its former self.
With Nazara planning an IPO for this year, it's essentially appears to be adopting a similar playbook in order to be attractive to prospective investors. But would this actually benefit the nation's fledgling e-sports community? This of course, remains to be seen.
If you're a fan of video games, check out Transition - Gadgets 360's gaming podcast. You can listen to it via Apple Podcasts or RSS or just listen to this episode by hitting the play button below.