A lot of us started our journey into mobile gaming by playing the simple yet entertaining
Snake
on the Nokia phones of the early 2000s, but mobile gaming has come a long way since. Simple has since given way to complex, and smartphone games today are much more detailed and well-designed, with quality coming close to what you can expect on gaming consoles. While many say that iOS has all the good games, Android isn't far behind anymore.
The biggest advantage that Android gaming has is cost, or lack of it. A vast number of games available today on the Android platform are free to download and play, and even the paid games are unlikely to cost you more than a couple of hundred rupees. We've put together a list of the best and most entertaining games we've played for free on our smartphones and tablets in recent times. We sampled a lot of games to make this list, and the ones that made it were those that delivered the most entertainment per minute.
Keep in mind that while these games are free to download and play, some include in-game purchases,without which your progress through the game will be slowed, though not necessarily impeded. Some of the games will push ads at you, which you'll have to watch to continue playing. These caveats aside, all of the games listed below can easily be enjoyed at no direct cost to you. Here are the top free Android games.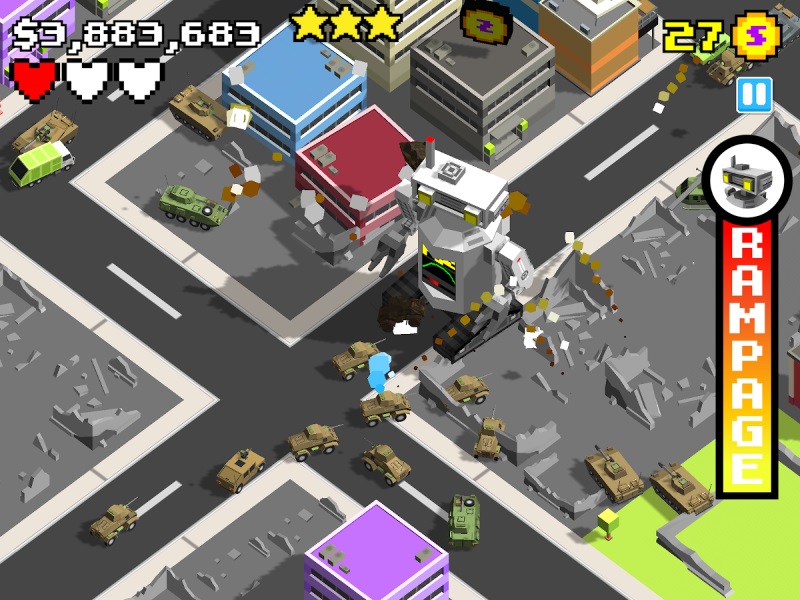 #6: Smashy City
The concept for this free game is similar to the arcade classic Rampage you control a large monstrous creature that has been placed in a city, intent on destruction. You proceed to demolish buildings and other structures, as well as vehicles on the road. Of course, the city deploys defences to stop your monster from doing too much damage, including armed vehicles and helicopters. Damage is equated with money, and the more damage you do before you're killed, the better. All of this is shown in the blocky retro art style that was made famous by Crossy Road, and helps lend a light, arcade-like character to a game that is otherwise based on utter and complete destruction.
It makes for hours of mindless fun, as you find the most expensive buildings to destroy, or strategies to do more damage without losing your health. The game itself is free and you can collect in-game currency to spend on new and better monsters, while certain monsters can be used early, through in-game purchases.
Look and feel: 3.5/5
Gameplay: 3.5/5
Playability: 4/5
Overall: 3.5/5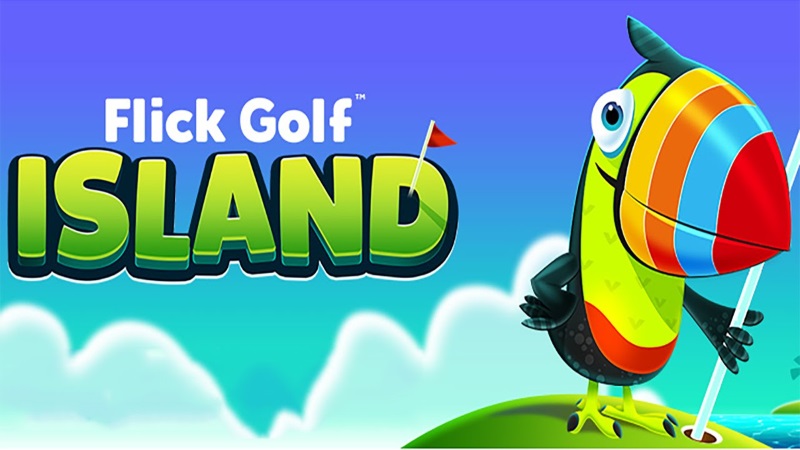 #5: Golf Island
A lot of people find golf too boring a sport to watch, but playing a highly dramatised version of it on your Android smartphone is a different thing altogether. Golf Island comes from the makers of the excellent Flick Golf series, and follows the same game dynamics. You use your finger as a golf club to hit the ball, and then control it in the air using flicks to direct it towards the hole. There are multiple courses, including tropical islands, outer space, ice cream worlds and more. It's a simple and addictive game that uses multiple factors such as wind, surface conditions and gravity to keep you thinking about how best to get the ball into the hole.
The game is free to download, but there are in-game purchases to upgrade your equipment and skills. Additionally, the game pushes video ads to you fairly often, so make sure you're on a Wi-Fi connection to ensure that your mobile data isn't unnecessarily used. These ads can also be fairly annoying, as they can't be skipped and come up without any warning. However, if you're willing to tolerate the ads, you'll find this game extremely entertaining - or you could just take your phone offline when playing to cut out ads.
Look and feel: 4/5
Gameplay: 3.5/5
Playability: 3/5
Overall: 3.5/5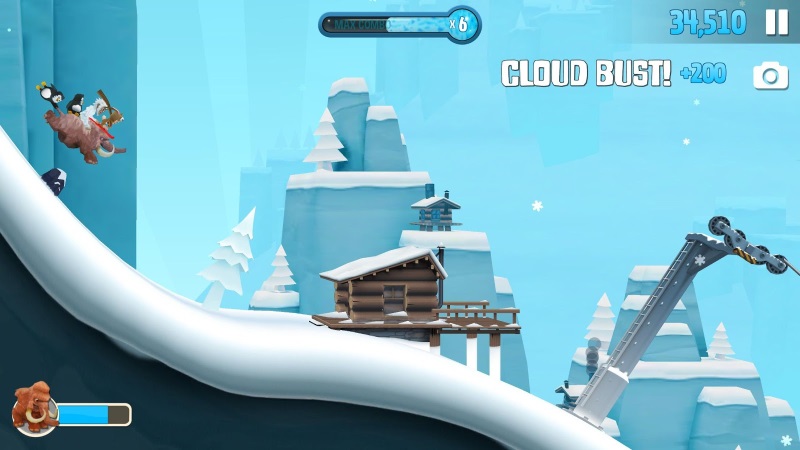 #4: Ski Safari 2
The sequel to the awesome (and paid) Ski Safari, this game follows the same plot and physics of the previous game. You take control of a skier caught in an avalanche on an alpine mountain, working on escaping (spoiler alert: you'll never escape). Along the way, you collect coins and points, while hitching rides on various mountain creatures who are also on the run, such as penguins (we know, penguins aren't native to the Alps), yetis, eagles, woolly mammoths and wolves. There are also various objectives to accomplish, such as pulling backflips or riding specific creatures through caves or on clouds. The entire premise is fairly comical, and this makes for some interesting gameplay.
You can use in-game currency that you earn by playing to buy upgrades, or spend real money to purchase additional in-game currency in order to speed up the upgrades, levels, and costumes. New levels can be unlocked, which turn the setting into a prehistoric world or an American canyon, adding a bit of variety and fun to the game.
Look and feel: 3.5/5
Gameplay: 4/5
Playability: 4/5
Overall: 4/5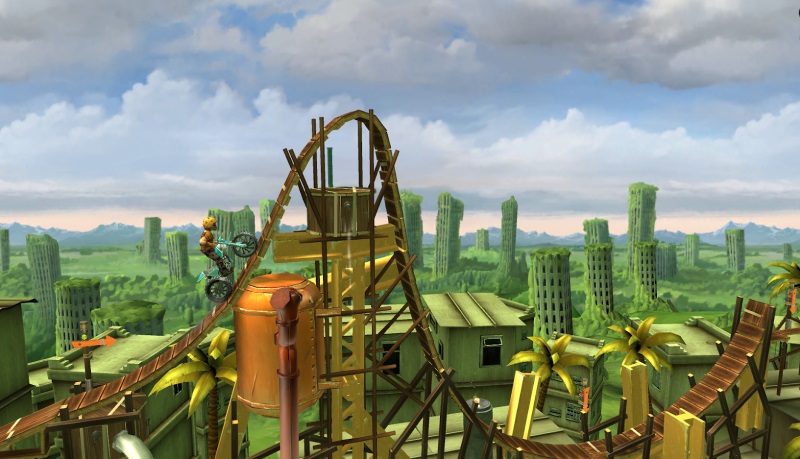 #3: Trials Frontier
The Trials series is primarily made for gaming consoles and PCs, but a spin off for mobile devices was made in 2014 in the form of Trials Frontier. The game is based on the sport of motorcycle trials, which involves using a specially-built motorcycle to traverse obstacle courses. Using a simple control system centred around throttle, reverse and balance, the goal is to complete courses in as quick a time as possible without crashing.
All of this is set in a post-apocalyptic, Wild West-esque setting where fuel and spare parts are valuable commodities. You follow a plot line where it's your job to help the people of a small frontier town in their attempts to survive the new world. The levels, physics and art work is beautiful, and varying levels of skill will keep you hooked onto the game for hours.
The game uses a 'freemium' model, where playing the game is free but you have a limited amount of fuel at your disposal. When your fuel runs out, you can either wait till its replenished or spend in-game currency on quickly topping it up. In-game currency also buys you the parts you need for upgrades, and speeds up upgrade times. However, running out of this currency means that you'll be stuck waiting for some time before you can play again, and your bike may not even be able to cope up with some of the harder levels as your progress in the game. However, with patience and sensible spending of the in-game currency, it is possible to progress far in the game without spending any real money.
Look and feel: 4.5/5
Gameplay: 4.5/5
Playability: 3/5
Overall: 4/5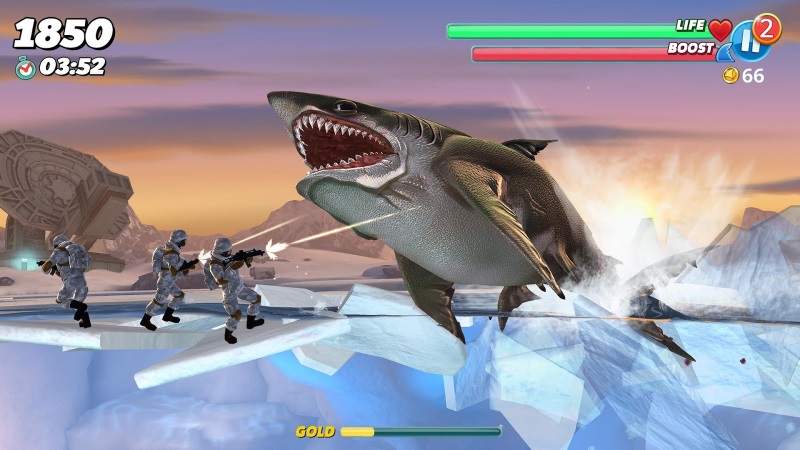 #2: Hungry Shark World
Hungry Shark World is the sequel to Hungry Shark Evolution, which first introduced the concept of being a shark and eating to survive. The new game adds a lot in the form of better visuals, a more complex ecosystem, better controls and specific conditions that vary based on the regional map you're playing. The game allows you to take control of a shark and play in any of three seas: the Pacific, the Arctic or the Arabian. Each level is filled with obstacles and enemies such as mines, harpoon and knife divers, armed submarines, pollutants, and garbage.
Your job is to keep eating to survive and to earn gold. You must also fulfil certain objectives that will help you earn gold, which will let you upgrade to larger, more capable sharks. You also need to either avoid or quickly consume enemies, while constantly eating to keep your health bar high. The game is endlessly playable, and will get you hooked within minutes. We had to force ourselves to stop most of the time.
The game does feature an advertising system which periodically shows you video ads between games. As is the case with Golf Island (above), these ads will use a fair bit of data, so it's best to be on Wi-Fi when you're playing this game. You can also choose to watch an ad for a free respawn when you die, and you can purchase the in-game currency through purchases with real money.
You can also play the game offline to go ad-free, while patience and perseverance will let you master the game without spending any real money.
Look and feel: 4.5/5
Gameplay: 4.5/5
Playability: 3.5/5
Overall: 4/5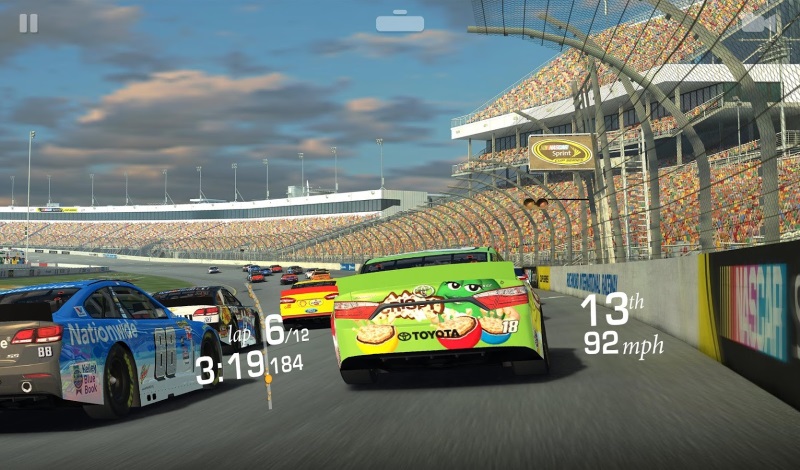 #1: Real Racing 3
Quite possibly the most sophisticated and elaborate mobile game ever made, it's an absolute wonder how this game, with its console-grade visuals and physics engine, even works so well on a smartphone. Real Racing 3 is a proper driving simulator, built along the lines of popular franchises such as the Forza andGran Turismo series. All the cars in the game are real and perform realistically, while the circuits are also actual race tracks from around the world, including popular tracks such as Spa Francorchamps, Suzuka and Laguna Seca. You start your racing career at the bottom with a beginner level car, but can eventually progress to driving the best cars in the world.
This is also the only game in this list which uses the device's accelerometer to control gameplay, so it's one you'll have to play sitting or standing (you won't be comfortable playing while lying in bed). You can play with the accelerometer off, with on-screen buttons for steering, but it doesn't feel responsive or intuitive.
You can also set the game up to provide you certain assists according to your skill; braking and steering assists, as well as traction control can be turned on or off.
It's therefore surprising that such a detailed and complex game is being given away for free, but the games publisher EA makes its revenue through the freemium model. As is the case with Trials Frontier, your car has a limited amount of serviceability, which is used up by racing. When your car runs out, you'll be forced to send the car to the garage for a 'service', which essentially involves you waiting, or using in-game currency to bypass. However, as you progress in the game and buy better cars, you can simply switch to another car and continue racing while one car is being serviced. However, the best vehicles and upgrades require large amounts of in-game gold, which you will have to purchase using real money.
Look and feel: 5/5
Gameplay: 5/5
Playability: 4/5
Overall: 4.5/5
These are the free Android games which we think you should play right now. Let us know which is your favourite via the poll below. Do you have any other suggestions? Let us know via the comments.