One of the games releasing in 2016 that we are most excited about is Firewatch. It is a first-person adventure game that takes place in the late '80s. In the game, you play Henry, a fire lookout at the Shoshone National Forest in Wyoming, and you have to explore a number of mysterious occurences.
The game has a fairly unique premise, and from what little has been shown so far, it also seems to have an unusual but appealing visual style, as well as smart dialogues. That's no surprise considering that Campo Santo - the indie studio behind Firewatch - consists of developers who have worked on games such as BioShock 2, Mark of the Ninja, and Telltale's The Walking Dead. Gadgets 360 picked the brains of Chris Remo, the game's composer and one of its designers, on what to expect from Firewatch.
With more and more games now taking advantage of powerful PC and console hardware for photorealistic graphics, one of the first things we had to ask was why Campo Santo chose a style that looks more like an oil painting for Firewatch. According to Remo, the decision was driven by the need to attain specific shades and a particular range of hues.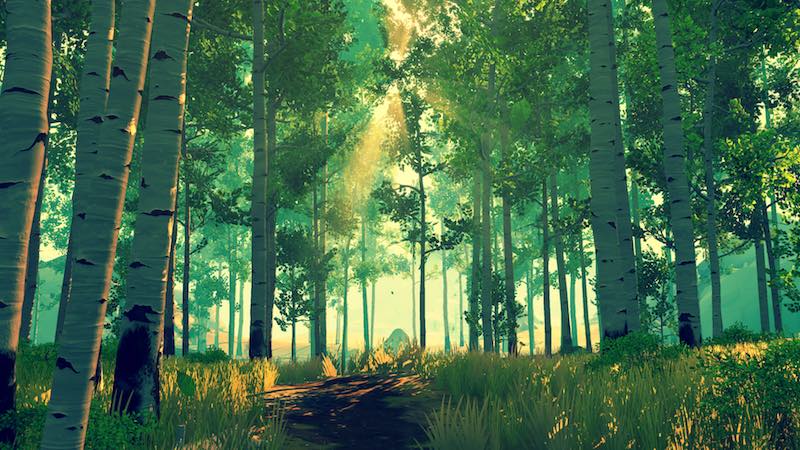 (Also see: 10 Games Releasing in 2016 We Are Most Excited About)
"It is very common for video game art direction to start with concept art. These days that concept art is usually digitally painted, although in the past it was often hand-painted or hand-drawn," says Remo. "So I don't think our process is particularly unusual. Obviously, we're lucky that our concept artist is Olly Moss, who is amazingly talented. But the goal wasn't to make the game look like a painting; instead the goal was to achieve unique and evocative colour palettes for the various environments and times of day, which Olly, and our artist Jane Ng, were instrumental in tuning."
But there's more to Firewatch than eye candy. Beneath its stellar looks lies an intricate set of systems at play in terms of design and narrative and how they allow players to interact with the game. It's this balance between gameplay and plot that makes Firewatch, from a development standpoint, a tough task.
"This [balancing of gameplay and narrative] has been the most challenging aspect of game design on Firewatch, for sure," says Remo. "It doesn't feel like game developers have settled on a lot of best practices so far in terms of how to design games that are heavily narrative-led, [that] aren't traditional puzzle adventure games and don't have any kind of combat, but still prize player interactivity."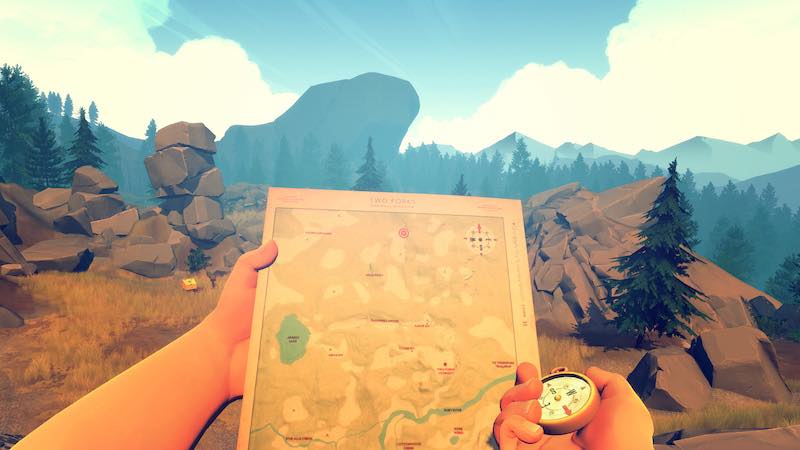 Remo says he is hopeful of studios reaching a method that works, and talks about how some of his contemporaries have tried to solve player interaction without resorting to combat or various kinds of puzzles.
"If you look at other recent games that try and solve this problem--like Gone Home, Oxenfree, Her Story, or Cart Life, just to name a few -- they all take a very different approach," he says. "I hope people keep trying, so some of these approaches continue to mature."
Firewatch's approach to player choice and emergent gameplay is also fairly unusual. It's a game of exploration that's backed by what seems to be a solid tale. With the usual gameplay mechanics of combat and puzzles out of the way, Campo Santo spent a lot of development time watching people play the game, to accommodate what they wanted to do.
(Also see: Top 5 Indie Games You Should Play Right Now)
"We always tried to imagine what a player might try and say or do in each situation, and then if those things lined up with what the character of Henry might say or do, we would do our best to support it in the game," he says. "We watched a lot of people play and took notes when they wanted to say or do something that the game didn't already support. That ended up being one of the most complicated parts of design; we ended up having to support a lot of crazy edge cases in an attempt to make the game responsive to player input."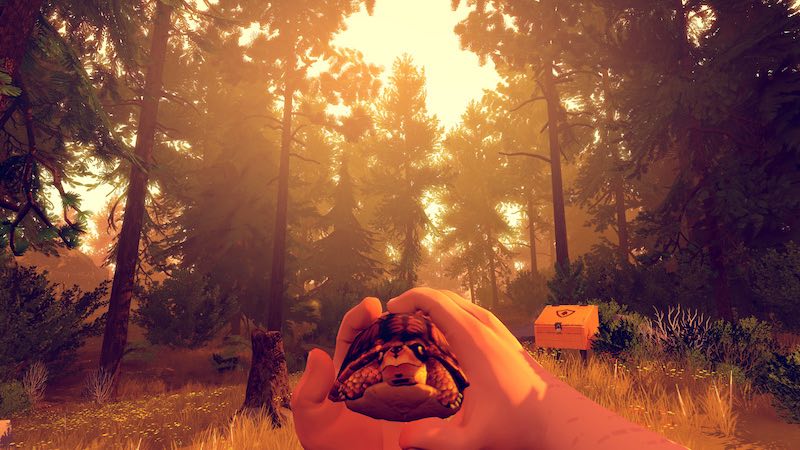 Furthermore, the game lacks the traditional fail state of death that we're used to seeing in video games. The reason for this was that it was simply redundant.
"As for death, we just didn't think it made sense in this game. As you play the game, you will understand the motivations of Henry as well as the other characters in the story," Remo elaborates. "And we think the stakes involved are high enough that the threat of physical death isn't really necessary to maintain suspense and a sense of mystery and threat."
Taken together, these design decisions mean that although Firewatch is entirely story driven, it still has a lot of replayability, and gamers will want to start the story over a couple of times to really experience the story.
"The length of a single playthrough of the game can vary a lot from player to player, because there are many times when the player can simply explore the world at her or her leisure, and hopefully find some of the hidden stories and moments scattered around," explains Remo. "It's still a very story-driven game, though, and a 'normal' playthrough will probably be 5 to 6 hours long."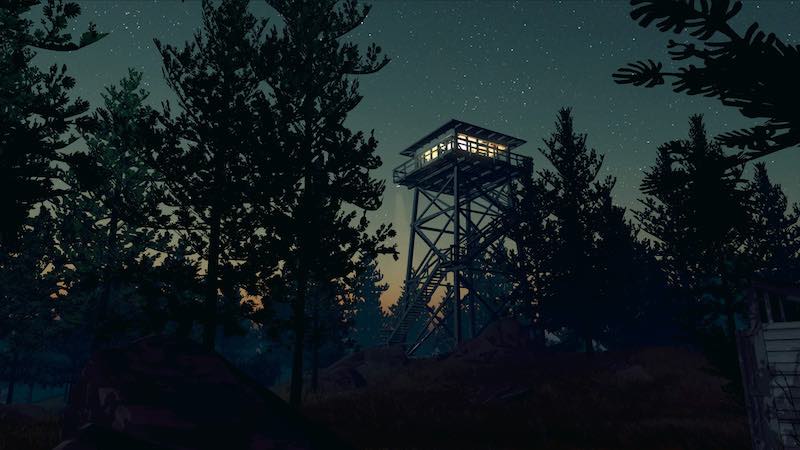 (Also see: Top 5 PSN Games You Should Play Right Now)
"Any one playthrough will be leaving a huge amount of dialogue on the table, so if you play through again and take a different approach to conversations, you will encounter a lot of new speech, and may learn different things about Henry and Delilah," he adds. "The basic underlying story won't change, but your character's reaction to it might."
Aside from design, Remo is also responsible for Firewatch's music. Since the game's events take place in 1989, did he decide to go with licensed track that harks back to the time or is it an original soundtrack? It turns out Firewatch has a mix of both.
"There is one licensed track in the game by Cheap Talk, a Los Angeles-based duo that records music intended to sound like 80s synth pop," explains Remo. "They are amazing at nailing that sound, and it works perfectly in our game. The rest of the in-game soundtrack is original music by me."
If you were expecting Firewatch to be a period piece with historical accuracy think again. Elements such as its audio and visual style work in sync to unravel the game's secrets, instead of trying to give you a feel of the time.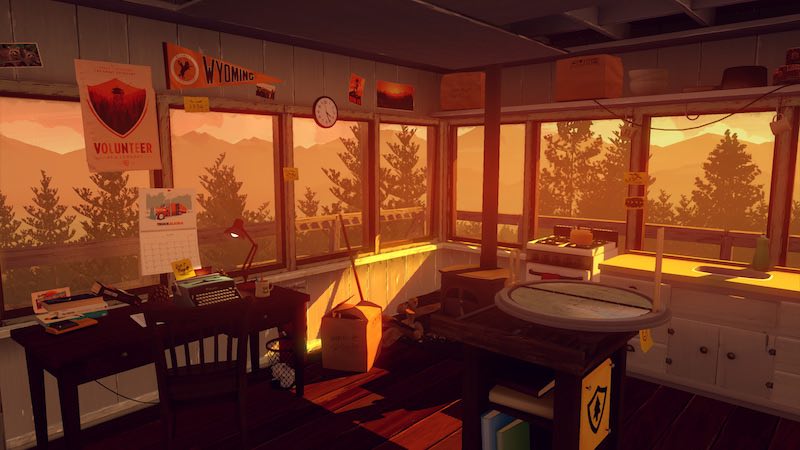 "I wasn't specifically trying to evoke the 80s in the score, because the music itself isn't supposed to be 'from' the world. Similarly, I wouldn't say our game's color palette or graphical style particularly looks like the 80s either," he says. "With the soundtrack, I used a lot of acoustic guitar, to evoke the outdoorsy exploration vibe, and a lot of base synth, to underscore the more unsettling aspects of the mystery that unfold. As the game progresses, these musical elements start to come together more."
The game's music serves another purpose - Easter eggs i.e. hidden bonus content usually included as a joke. Easter eggs have come to prominence with hardcore fans recently discovering elaborate secret additions to Battlefield 4 and Grand Theft Auto V. You can expect "a lot of small things hidden throughout the world," though you won't be able to find them if you simply blitz through the game's story.
"Speaking of music, there's actually a secret second in-world song in addition to the one I mentioned, which was performed by me. I don't expect most people to find it, but hopefully some people do," Remo adds. We're hoping it's the theme track to the popular Idle Thumbs podcast that Remo started.
Like most independent releases this generation, Firewatch is a digital download, and not on the Xbox One. In fact, there isn't even a price announced for the game yet, something Remo declined to comment on. Nonetheless, he didn't rule out the possibility of a physical release, or an Xbox One version either.
"Nothing is on the table or off the table until we see how the game is received," he says.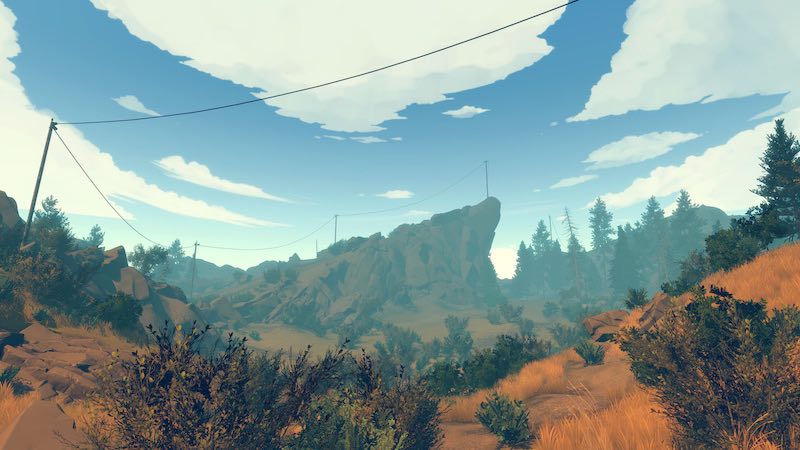 And it's this optimism that colours his view on the industry. For gaming, 2016 seems to be a watershed year, with its most interesting titles being new IP instead of sequels. And while Remo believes that large AAA game developers will continue to churn out sequels to known franchises, 2016 marks a fascinating time for smaller studios.
"I don't think we're moving away from big sequels; they seem as common, or more common, than ever," he says. "But among smaller-scale projects, there are lots of new ideas around, and that's very exciting."
Firewatch is out on February 9 for the PC (both Windows and OS X) as well as the PS4. No price has been announced as yet.