The Terminator released 31 years ago as a relatively simple action movie - as simple as a movie with time-travelling cyborgs could be. However, by the time the fourth movie in the series (Terminator Salvation) released in 2009, even the most dedicated fans got lost in all the twists and turns the series kept taking to justify the eventual formation of Skynet and the rise of the machines - even though every film in the series ends with the protagonists destroying Skynet in the 'current' present. Confused? You're not alone.
When you watched Salvation, it was evident that the logic of the series had become torturous, with the universe full of killer robots, shapeshifting liquid robots, liquid robots that also carry weapons, and finally giant robots that fire smaller robots. It was getting impossible to see how the franchise would continue post Terminator Salvation.
The creators found a relatively simple fix - the reboot. Star Trek did it, Spider-Man keeps doing it, Planet of the Apes did it, and so did Total Recall, Judge Dredd, and Robocop. Terminator Genisys resets the franchise's timelines, and starts off with Skynet sending a T-800 Terminator back in time to kill Sarah Connor. The human resistance fighters take over the compound right after this, and John Connor sends Kyle Reese back to 1984, faithfully recreating the start of the 1984 film.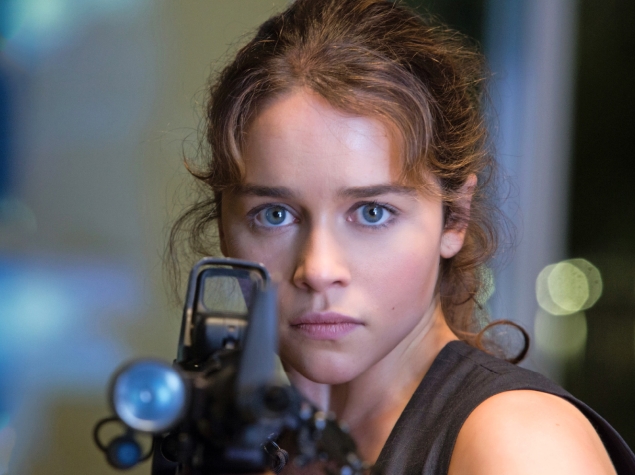 [Small spoilers for Terminator Genisys follow but we've avoided talking about the big twists.]
Only, things don't go as expected. There's a liquid metal T-1000 (the killer Terminator from the second movie) waiting for Reese (a CGI version of a young Schwarzenegger; there's a certain symmetry in using a computer generated terminator to play the part of a robotic terminator) when he emerges in 1984, which tries to kill him as soon as he gets back in time. And it nearly succeeds too, but Sarah saves Kyle at the last minute, driving an armoured truck into the T-1000, and then she turns to Kyle and shouts, "Come with me if you want to survive!"
That scene right there is pretty emblematic of all the problems with Genisys. For one thing, it's a movie that spends far too much time trying to remind you about all the things that made Terminator and Terminator 2 great.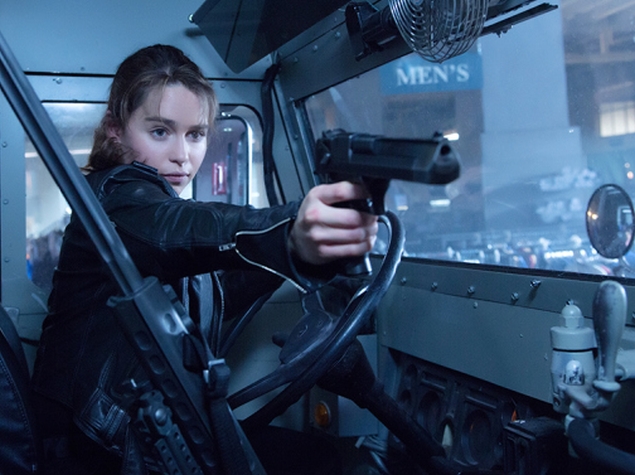 Then there's the fact that Sarah was able to find Kyle at all - sure, she could know the location of the alley he arrived in (though even that feels contrived), but after showing up, he's been on the run from the T-1000, running and climbing into buildings. Not only does she manage to find the specific building Kyle is in, but arrives at the exact spot where he is, perfectly in time to save him.
Terminator and Terminator 2 both had their share of impossible coincidences too - what action movie doesn't? - but they weren't as painfully contrived as this film.
And then there's Sarah Connor herself. Emilia Clarke is a fine actress, and her eyebrows moves more than Schwarzenegger's entire face, but while she's fine in Game of Thrones, here, she's clearly miscast. For one thing, she keeps trying to do an American accent, but it comes and goes throughout the movie. Then there's the fact that she's trained to over-enunciate on Game of Thrones; she's spitting out every word, and it just gets ridiculous after a point. Her Game of Thrones colleague Lena Headey did a much better job as Sarah Connor in the TV sequel to the films, The Sarah Connor Chronicles.
The only good thing about Terminator Genisys is Schwarzenegger. Right at the start of the movie, he fights the young T-800 sent to kill Sarah Connor in 1984, and takes a beating. He still wins, because he's playing it smart and has brought backup, but we quickly learn that the skin the T-800 is covered in is real and therefore, continues to age, just like a human would.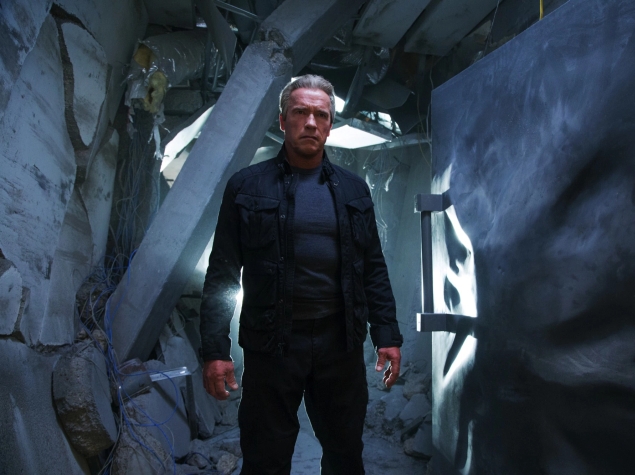 That leads in to a line that Arnold repeats a lot of times - "old, but not obsolete." It feels like a desperate cry from the movie itself, trying to assure viewers that they're not wasting their time here. Yet, it's his clear enthusiasm for the role that makes it all work. This happens through a long series of callbacks; to him learning to smile, and give a thumbs-up, and to him saying I'll be back, right before he dives out of a helicopter.
If you're a long-time fan of the films, then you'll also probably be excited by one of the first scenes, which shows the human resistance attacking, and defeating Skynet. It's an event that was described to us in the first film, and the promise of watching it play out now is pretty cool.
Unfortunately, what you really get is a long "inspirational" speech by John Connor, that's at par with Bill Pullman's speech from Independence day, and then we see a confused assault that shows a handful of humans and machines firing away at each other, and then things are over almost before they began.
And then you get into a real mess of time travel - first you have Kyle being sent to 1984, only to discover that another T-1000 terminator was sent to 1973, when Sarah was saved by a T-800. He's grown old and is her only family; she calls him pops, and he glowers impassively. Then, Kyle and Sarah's actions prevent Judgement Day in 1997, but it's going to happen anyway in 2017. So the two of them travel through time again, to save the day.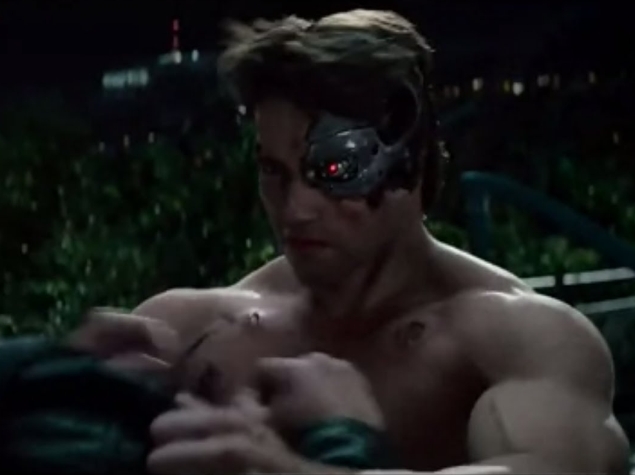 Except that the machines have sent someone back to 2014, who gets a job with Miles Dyson (who made Skynet in the original timeline) and helps develop a new OS for your phone, tablet and other devices called Genisys, which will bring your entire life to the cloud. Except that Genisys is Skynet, and this leads to one of the more confusing scenes in the movie where a character asks his younger self in an alternate timeline to remember something in the future, so that he will remember it in the past, so that he can change the future. Wait, what?
Between playing fast and loose with common sense as well as good storytelling, and spending more time in trying to remind you about how great Terminator 1 and Terminator 2 were, this film ends up being a complete waste of time.
On the plus side, Terminator Genisys looks - and sounds - fantastic. It's not something you want to watch at home; if you're at all interested in this movie, then watch it in a cinema hall so that the sound of buildings exploding and buses flipping over like toys can shake your seat and the screen can fill up your vision.
There's a gunfight that has the two terminators casually shooting at each other while in helicopters, which is incredibly stupid to watch, but also exceptionally cool. The scene ends with the clip you've already seen in the trailer, where the T-800 says "I'll be back", and then dives out to smash the other helicopter into pieces.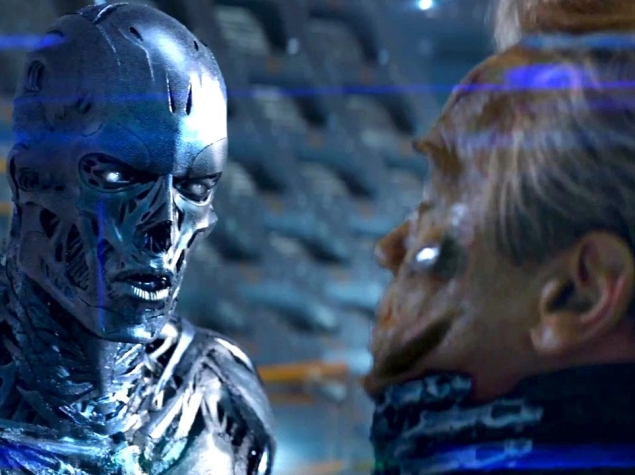 The final fight is also visually impressive, but it's so over the top that you might start to think that you're watching Rajinikanth's Enthiran instead of Terminator. Overall, if you're looking for mindless spectacle then this film delivers, particularly in the first part that's set in 1984 where the new T-1000 is excellent and fights dirty.
But the fact is that action spectacles are a lot more common today than they were in 1984, and this film isn't able to combine that action with a plot, or characters one would care about at all. Eventually, Terminator Genisys is only barely passable, and we'd sum it up using the T-800's words. Hasta la vista, baby.
We watched Terminator: Genisys at a preview show courtesy of Dolby India. The film releases Thursday in theatres across India.