Seeing as how Marvel Studios has been generating billions with its superhero universe, it's no surprise that DC and Warner Bros. wanted to get in on the act and make a world of its own. It has plans for 10 more films in the next four years with exact release dates, even if some of the movies still lack titles, let alone writers and directors. With Suicide Squad, the third release in the DC Extended Universe after Man of Steel, and Batman v Superman: Dawn of Justice, the studio had an ace up its sleeve - a bunch of borderline-or-worse sociopathic killers brought together to do some good. It's a different take from the other superhero movies we've been getting, and the costume genre could well do with an infusion of freshness at this point.
The problem then is that Suicide Squad fails to deliver on that promise, and at its best, it feels like a poor rehash of the snarky comments from this year's Deadpool, mixed with the off-beat team banter of 2014's Guardians of the Galaxy. At its worst, the film wallows around in dark tones and an endless stream of bullets, making it instead resemble Batman v Superman: Dawn of Justice, for all the wrong reasons.
More often than not, Suicide Squad plays out completely opposite to that old adage: strength in numbers. The film fares better when it lets individual characters take over the narrative, but cowardice and a general lack of time investment make sure that no one can get in more than a single line in what is a continuous repartee. It's a long circle to go through as well - the coerced team of bad guys consists of headshot expert Deadshot (Will Smith), baseball-bat-wielding deranged ex-psychiatrist Harley Quinn (Margot Robbie), Aussie-accented mega-successful bank robber Boomerang (Jai Courtney), fire conjurer El Diablo (Jay Hernadez), reptilian Killer Croc (Adewale Akinnuoye-Agbaje), and can-climb-anything Slipknot (Adam Beach).
It's never simple making viewers connect with the members of a team, which is why Marvel has largely preferred to provide its A-list actors with standalone outings before bringing them together in the first Avengers production. Suicide Squad falls victim to tons of exposition en masse, driven by government official Amanda Waller (Viola Davis) as she pitches her terrible idea to a couple of high-ranking individuals over a steak dinner.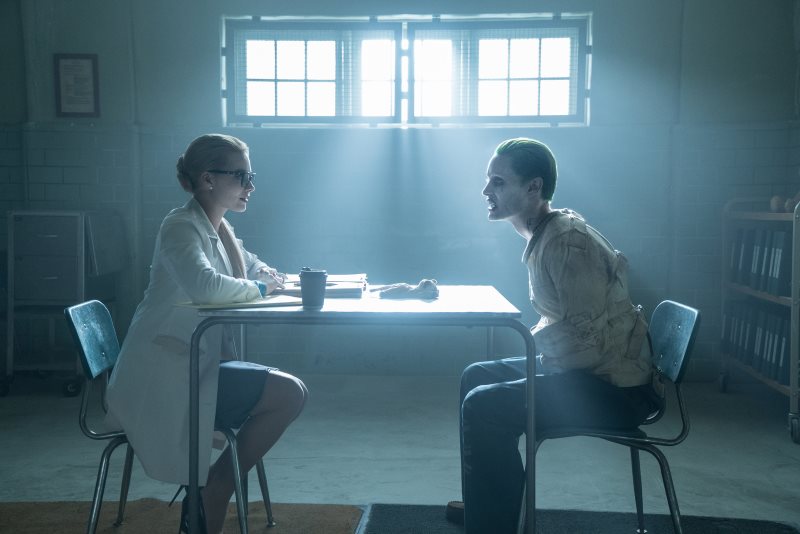 Margot Robbie as Harleen Quinzel and Jared Leto as Joker in a still from Suicide Squad. Image: Warner Bros
The first half hour of the film is devoted to this undertaking, and by the third clip showcasing the character's exploits, their eventual capture (Ben Affleck's Batman makes a couple of appearances). and the leverage Waller has, it gets a little boring. While the effort to humanise these characters and give them some background to operate with is commendable, the fact that most of these tales either rely on tired tropes does them no good. Robbie's Quinn wears skimpy dresses even as a psychiatrist attending to the Joker at Arkham Asylum, and Smith's Deadshot is served no better with "an assassin for hire who would do anything for his kid" - a routine daddy-daughter trope.
Suicide Squad isn't just limited to those people either. It's got Joel Kinnaman as the group's no-nonsense leader Rick Flag, his girlfriend June Moone (Cara Delevingne) as an archaeologist and a powerful witch as her alter ego called the Enchantress, Karen Fukuhara as Flag's bodyguard Katana, and Jared Leto playing the Joker, boyfriend to an emotionally manipulated Quinn. Every single person - from Smith to Leto - gets an average of five minutes to explore their past.
The trouble is that despite all this world-building, writer-director David Ayer (Fury, End of Watch) doesn't quite know what to do with the characters once they are all together. Boomerang and Katana hang forever on the sidelines, while Leto's Joker - with Heath Ledger's performance in The Dark Knight still fresh in the minds of fans - doesn't stand up in comparison and fails to light up what is ultimately an insipid work of art. It even suffers from incoherent pacing, character behaviour that flips one moment to the next, and a continuous blaring of music hits stretching from 1970s rock to 2000s hip hop. It seems that Warner Bros took over control of a weak rough cut, and then proceeded to bring in as many cooks as possible to stir the pot.
The film runs into just too many problems: characters don't fully embrace their wild and crazy side with the studio wanting to play it safe, the plot is all over the place which is not surprising considering the reshoots and innumerable edits, and the team of maniacs is battling an ancient being hell bent on ruling the planet in its own regard. Do comic book films have nothing new to offer anymore?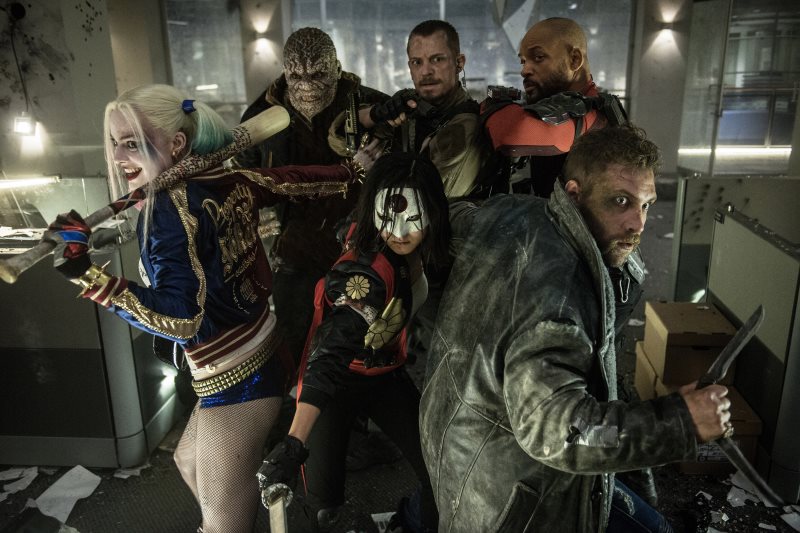 (L-R) Margot Robbie as Harley Quinn, Adewale Akinnuoye-Agbaje as Killer Croc, Karen Fukuhara as Katana, Joel Kinnaman as Rick Flag, Will Smith as Deadshot, and Jai Courtney as Boomerang in a still from Suicide Squad. Image: Warner Bros
Let alone the fact that the villainous Enchantress has to create soldiers for her army by kissing them on the mouth (boy, that's gonna take a while), the film couldn't be bothered to even give faces to the villain's minions. That tells you how inconsequential they really are, and can be dispatched of without any thought. It helps that they look and behave like zombies, charging headlong at their foes which in this case is the suicide squad. The main antagonist is no better served, and what starts off as an eerie ticking time-bomb ends up being just another generic all-too-powerful supernatural force who opens up a hole in the sky.
Margot Robbie's performance is the only shining light in an otherwise disastrous outing but the teenager's fantasy that is her appearance - multi-coloured ponytails, tiny T-shirt, and shorts that better resemble lingerie - along with a scene that brings men and women at an armed base to a halt as she changes into her clothes, is proof that the genre still needs growing up.
Midway through the movie, Smith's Deadshot says: "We're going to that swirling pile of trash in the sky, aren't we?" There is no better way to sum up Suicide Squad, which promised to offer a snarkier and nihilistic version of comic book films as evinced by the first trailer. It instead ends up continuing a poor run for the DC Comics-Warner Bros cinematic universe, from 2013's Man of Steel that ended with a nonsensical battle, followed by this March's over-cynical Batman v Superman: Dawn of Justice and now this. The world would probably be better off if some of those 10 future DC films that don't yet have titles, stay that way.