1983 suburban Indiana, a bunch of super-curious geeky kids on bicycles equipped with front lights, and a supernatural element that shows itself in motion blurs. Throw in a government conspiracy, parenting troubles, and high school romance, and you've scratched the surface of Netflix's latest mystery thriller, Stranger Things. The new show has been wholly created, and partly written and directed by the Duffer brothers, who earlier wrote and produced a couple of episodes of Wayward Pines.
The duo are heavily inspired by the early works of Steven Spielberg such as Close Encounters of the Third Kind and E.T., as can be seen by the shot compositions and story influences across the eight-episode first season run. Add to that the typography of the opening titles, borrowed straight off a Stephen King novel, and heavy synth music that would normally more be in place in a film like 1982's Tron, and you can tell the Duffers love their pop culture dearly.
Nostalgia can be a powerful pull for audiences when choosing their entertainment. That's what this week in real life has largely been about - Pokemon Go. It's not been a success because augmented reality (AR) gaming is a revelation, but because of the place these animated Japanese creatures hold in people's hearts. For many of the same reasons, the seventh episode of Star Wars did so well because it managed to play to perfection the notes hit by A New Hope upon release over three decades ago. The Force Awakens director JJ Abrams himself wrote a love letter to 80s when he mixed kids on bicycles and mysterious incidents in 2011's Super 8.
In the midst of all that is Stranger Things, playing on editing styles and off genre tropes that have become clichés that still have a meaningful impact if executed properly. The realisation of it is down to nuanced direction - the Duffers have already demonstrated capability with their work on Wayward Pines - and solid performers that won't play their roles in one-note. And in the latter, the brothers have struck gold.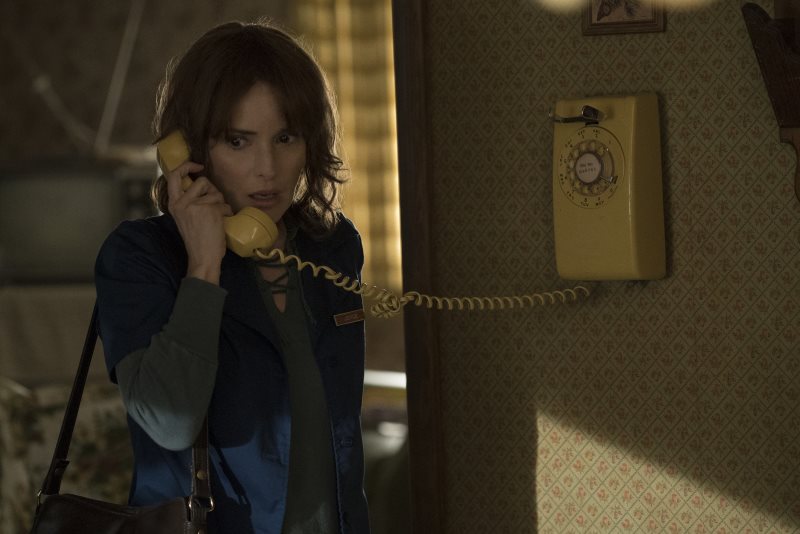 Winona Ryder as Joyce Byers in a still from Netflix's Stranger Things
Winona Ryder (Edward Scissorhands; Black Swan) plays Joyce Byers, the mother of a missing boy named Will who slowly descends into craziness - as it appears to the outside world - as she confronts a supernatural force. At one point during an episode, she sits huddled in a closet communicating with a bunch of Christmas lights. Played by a lesser actor than Ryder, it could have been turned into a gag but in her hands, it's gripping. Then, there's David Harbour as world-weary top cop in the small city of Hawkins, Chief Jim Hooper, who has been through his own personal hell back in the day and is pushed by the new case because of a connection.
Despite their presence, it's Will's three Dungeons & Dragons buddies that shine the brightest in what can at times be a very gloomy adventure. There's Finn Wolfhard as unwritten leader Mike Wheeler, pushing them towards risk, Caleb McLaughlin as the full-of-concern Lucas Sinclair, and Gaten Matarazzo as a hesitant Dustin Henderson, who turns out to be braver than he appears. With the fourth member of their tribe missing, the geeks begin their own investigation into the matter, with help from a strange crewcut-spotting girl called Eleven, played by Millie Bobby Brown.
Wolfhard and Brown are exceptional in their scenes together, bringing innocence and maturity as is required and some fleeting moments of what early affection at their age looks like. In one scene, the young Wheeler looks at an Eleven dressed to appear normal and says "Pretty," before adding a "good" seconds later. It counts for little in the bigger scheme of things, but it's delightful to watch nonetheless.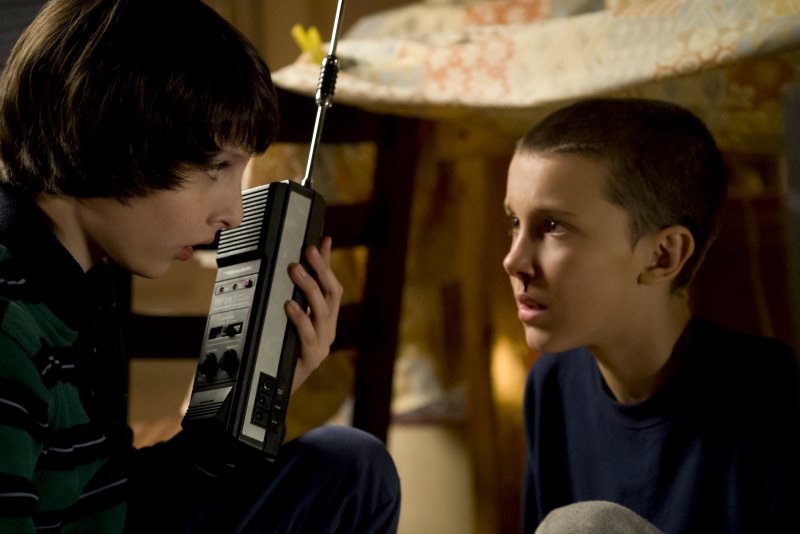 Finn Wolfhard as Mike Wheeler and Millie Bobby Brown as Eleven in a still from Netflix's Stranger Things
There are a bunch of elder kids too that are pulled into the world. Mike's sister Nancy (Natalia Dyer) has flourishes of Lindsay Weir from Freaks and Geeks to her - as she navigates her journey from the nerd club in the other direction - though her story unfolds in an ominous setting. Jonathan Byers (Charlie Heaton) is the elder brother of the missing Will, and as a loner photography enthusiast whose mother is spiralling out of control, he is forced to come of age and fight his own teenage awkwardness at the same time.
The show also benefits from a good sprinkling of 80s top hits, from the Clash's Should I Stay or Should I Go to David Bowie's Heroes. Rock classics from decades ago are a sure-fire way to induce nostalgia for viewers who have either lived through the time or feel connected to the era in some fashion.
In all manners of ways then, Stranger Things represents the quintessential film-making design that is known as remix culture. It's lifted, designed, shaped and reconstructed from great art that has come before it, and as easy as it would have been to dismiss the show as standing on the shoulders of giants, the series finds its own two feet by putting in a good shift courtesy the well-honed formula of 80s supernatural thrillers and blends it with today's booming age of television that allows for better storytelling owing to the more relaxed time constraints of the medium - not only does it allow writers a slow reveal over mysterious elements but they can also tap into a deeper development of a bigger cast, that would be impossible to fit into a 2-hour blockbuster.
There are some points of concern: one, it may not regularly reach the heights of what it's inspired and influenced by. For two, though eight episodes are a much better fit than the regular Netflix order of 13, it seems Stranger Things could have worked better as a mini-series - with most of the show's mysteries uncovered by the end of the finale, there's a lingering concern as to what the Duffer brothers can squeeze out for future seasons.
But as a binge-watchable nostalgia fix, look no further.
The full first season of Stranger Things is now available on Netflix around the world.