Early on in Star Trek Beyond - the third chapter since the film franchise was rebooted in 2009 - Chris Pine's Kirk and Zachary Quinto's Spock are travelling in a fancy futuristic elevator. Both of them wish to discuss an important career decision that the other does not know about, but it's not the right time for it - the Starship Enterprise is about to go boldly where no one has.
There's just one problem with that last bit - boldly going usually involves an unknown amount of risk. Star Trek Beyond finds Captain Kirk and the crew in the middle of their five-year mission, dealing with life in what is essentially a confined space that is both your home and workplace, while doing your best to spread the word of the Federation. Co-writers Simon Pegg - who also plays Scotty in the series - and Doug Jung wanted to explore the evolving relationship of crewmates, so they decided to do away with the habitat-workplace in an explosive fashion, something Pegg talked about earlier.
For the most part, that's a great decision. Stranded on an inhospitable alien world, Kirk finds himself with Chekov - played by Anton Yelchin, who passed away in an accident soon after the filming of the movie - whose youthful vigour provides a contrast to the ponderous weariness of the captain. Ever since the 2009 film, Pine's Kirk has struggled with himself to rationalise his high-ranking place on USS Enterprise, while reflecting on the shadow of his father.
Then there are Bones (Karl Urban) and Spock as another duo, whose pairing provides some of the best scenes in the new Star Trek adventure. Watching their interplay - from discussing a former partner, to bickering in the face of death - is downright joyous and gives the film an infusion of light-heartedness that was so desperately needed in the previous film in the series, Star Trek Into Darkness. It helps that both Urban and Quinto are completely in their element here, fully embracing the peculiarities of their characters that makes them so unlike each other but still managing to find common ground for the greater good.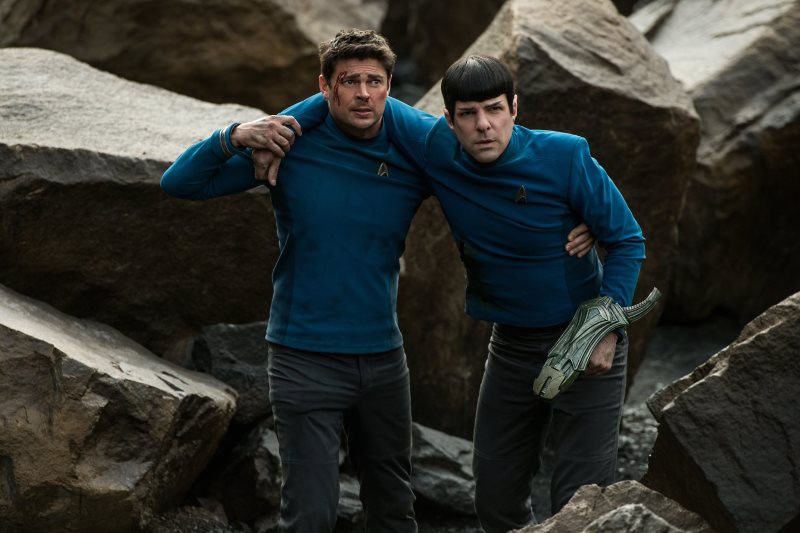 Karl Urban as Bones and Zachary Quinto as Spock in a still from Star Trek Beyond
(Also see: Star Trek Is Getting a Fourth Film)
Pegg's Scottish Scotty ends up making a new friend in franchise newcomer Sofia Boutella as Jaylah, who serves as a great new addition to the ensemble cast. Although her backstory is fairly routine, Star Trek Beyond still gives her enough to do in terms of action sequences and helping others. The only pairing that cries for better treatment is that of Uhura (Zoe Saldana) and Sulu (John Cho). The latter does get a significant reveal in the beginning - the character is confirmed to be gay - a fact that has put Pegg and George Takei (who played Sulu in the original series) at odds.
Peppered in between this are a whole variety of action set-pieces, which largely have Kirk in the thick of things. From zooming across the scene on a bike to a cliched fist-fight with antagonist Krall, Pine gets enough instances in the film to showcase his character's bravado and remind himself of the fun that can come by way of being a Starship captain.
An inventiveness in character exchanges, and a relaxed understanding of physics is what allowed director Justin Lin to reinvigorate the Fast and Furious franchise and put it on a path that got it its first billion-dollar instalment. He moved those films into another gear with his handling, and Lin brings that sense of fluidity (and a bit of dizziness) to spaceship battles in Star Trek Beyond. And while it may culminate in something that is typical of summer blockbusters, there's enough fun to be had on the way - especially one fiery sequence where an earlier insignificant throwaway line plays into a comical event.
Where the film fails to impress is with the design of its murderous villain, played by an unrecognisable Idris Elba as Krall. He does announce himself in style to the Enterprise crew, but his complaints about the Federation - which preaches a message of strength in unity - while relevant to our time, are too one-note to provide anything more than a mild annoyance.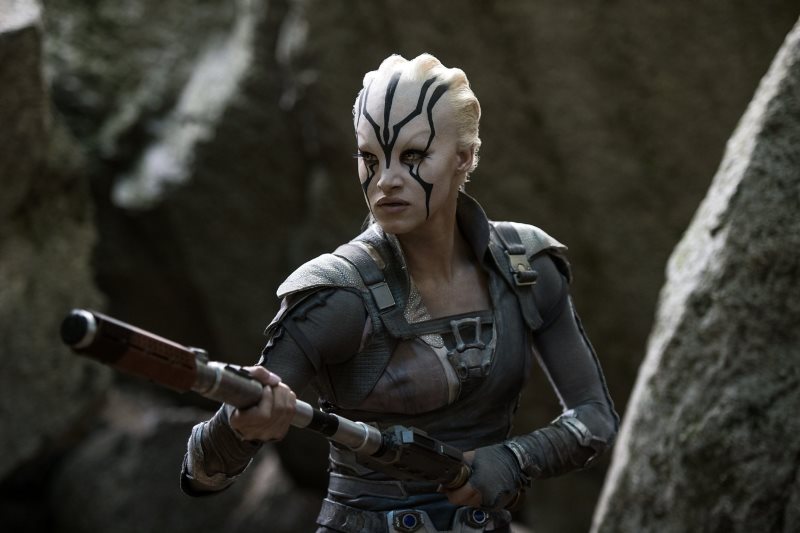 Sofia Boutella as Jaylah in a still from Star Trek Beyond
(Also see: Netflix to Stream New Star Trek Series Across World)
Whereas Benedict Cumberbatch's Khan threatened to overshadow Star Trek Into Darkness' protagonists and relegate sidekicks to cameo roles, Elba's muted presence is either a blessing in disguise, or restraint on part of the screenwriters. Talking about his writing experience, Pegg mentioned that Jung and he would watch episodes from the original TV series that started it all between writing sessions. And that shows in the film. It's like an elongated but still enjoyable two-hour episode - put simply, it's a 2016 version of the 1966 Star Trek that enamoured viewers and made Trekkies out of previous generations.
Even for movie-goers who operate without history and attachment, Star Trek Beyond is the kind of film 2016 summer releases haven't been. Either they have wallowed deeply in seriousness - Batman v Superman: Dawn of Justice, and X-Men: Apocalypse - or been too scared to disturb status quo and provide a sense of character progression - Captain America: Civil War. Star Trek Beyond also benefits from not having to sell you on further side-entries and spin-offs unlike other tent-pole fixtures, though at the same time it's drawing on a legacy that comes from its small-screen beginnings, courtesy of the TV show envisioned by Gene Roddenberry.
JJ Abrams - director on the previous two instalments and producer on all three - may have passed the baton to Justin Lin, but in much the same way as Abrams did with the new Star Wars, Lin's Star Trek too rides on nostalgia and exuberance to deliver a true to its roots outing in Star Trek's 50th year. May it live long and prosper.