Mission: Impossible released in 1996. Nearly 20 years later, the fifth film in the series, Mission: Impossible - Rogue Nation is about to release in India on Friday. Over the course of this film series, one thing has become utterly clear - the Impossible Mission Force's star agent Ethan Hunt is very clearly a superhuman in the mould of a Marvel hero. His arsenal of gadgets might make you think of Batman, but Hunt doesn't win because of brilliant deductions and willpower alone. The movies routinely have him carry out an endless series of actions that wouldn't just be beyond Batman, but could even give pause to Captain America.
Note: The rest of the piece talks about Mission: Impossible Rogue Nation. While the film doesn't have much of a story, potential 'action spoilers' ahead, if you care about things like that.
Unfortunately, the plot seems to take the nature of the superman too seriously, and as a result, loses track of the man. It is assumed that anyone who is watching Mission: Impossible movies at this point is either a fan who is invested in the characters already, or perhaps just doesn't care. If you're looking for spectacle, then you've certainly come to the right place, but Mission: Impossible Rogue Nation is such an unrelenting series of set-pieces that you don't seem to notice if anything has actually happened.
It's possible to make a great looking and highly enjoyable movie without too much dialogue, as Mad Max: Fury Road showed us. That film takes a two hour long action sequence and still pack in a strong story that tells you a lot about the characters, even if the total dialogues in the film don't cross the 30 minute mark. Mission: Impossible Rogue Nation has a lot more dialogue, but we end up knowing a lot less about its characters.
Still, despite its flaws, there's no denying that Mission: Impossible Rogue Nation is polished to perfection. Every action sequence seems planned to the minutest detail to show off every possible angle of the stunts in the best possible light; and there are a lot of action sequences. The opera-assassination scene is tense as it alternates between silent action and loud music, with the fate and role of the many players made unclear. There's a bike chase that is as exhilarating as it is absurd, and sights and sounds of Casablanca whizzing past on screen are stunning.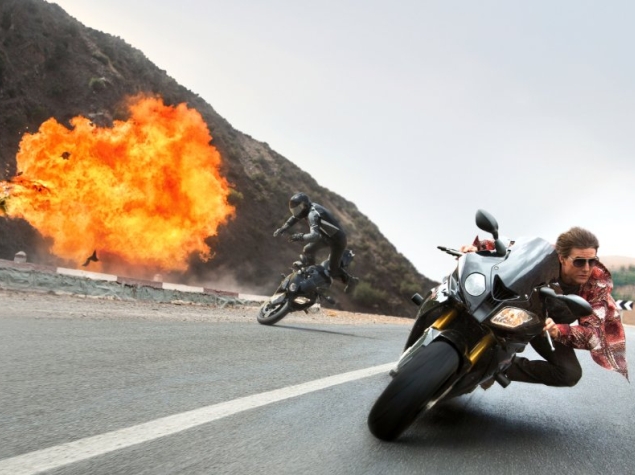 Rebecca Ferguson, who plays an agent called Ilsa Faust, is a spectacular badass who can kill people by breaking their necks with her thighs, even when wearing a ballgown. She's just as impressive in a deadly knife fight in the dark against a man known as the Bone Doctor. And Simon Pegg and Jeremy Renner both do their bit to bring a lot of moments of humour to the film.
Tom Cruise is always fun to watch as the unstoppable superhero who outruns a plane (it's a Tom Cruise movie, of course there's going to be a scene where he is flat out running) and rolls off a bike in a high speed chase without a scratch (obviously he rides a bike, it's a Tom Cruise movie!). Minor sarcasm aside, the films really are powered mostly by Cruise's intensity, but they're also getting extremely predictable.
Just like every Mission: Impossible film so far, here too, Cruise isn't sure if he can trust the femme fatale, as they have a series of misadventures while the real puppetmasters controlling their moves are the very men that they're trying to catch. When all seems lost, a brilliant plan saves the day, and it turns out that the two leads are now free to have a romantic liaison - which will of course be over by the time the next film in the series rolls around, to make space for a new love interest.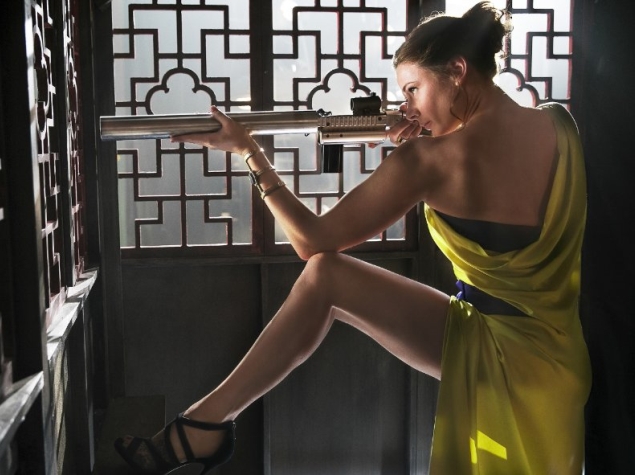 If you're a fan, then you're probably going to enjoy Rogue Nation - the film starts with a heady action sequence, and doesn't stop as one stunt follows another with staccato precision. There are some obscure references to jazz, and we see that Simon Pegg's character has a love for the opera and Halo (we get to see him playing Halo 5 - and see the game's case), but these are very fleeting moments that are largely an afterthought inside a huge blend of action and product placement.
One particularly weird moment is a lingering closeup of the Nokia logo on the back of a phone that Cruise's character uses to decoy some CIA operatives who are hunting him, but there's also the aforementioned Halo 5 box shot, and a long closeup of the Dell logo, and also a lot of lingering closeups of the logos on the cars and bikes that are used in the chase.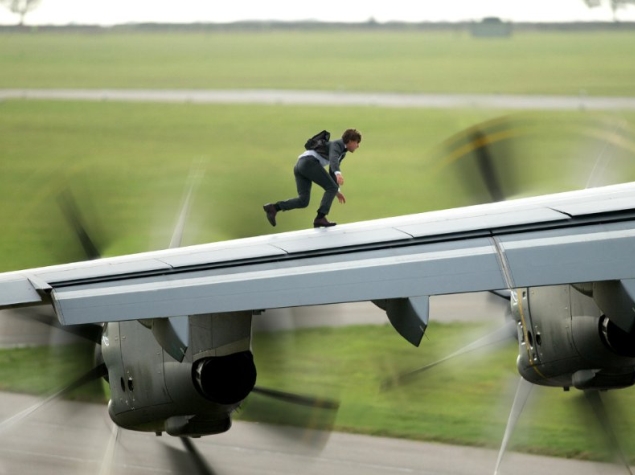 But there's so much action that's shot from so many different angles that it almost has a numbing effect. The film starts with Hunt showing superhuman speed to run and climb onto a plane as it's about to take off, and then superhuman strength as he jumps around on the outside of the airborne plane, and then jumps out of it with a crate full of bombs. There's a long action sequence where he's being beaten up by villains who've gotten him tied up, only he then kills them with his arms handcuffed behind his back.
And that's just the start of the movie. By the end of it, he's jumped from the sky into a whirlpool and held his breath for what feels like half an hour, survived a car crash that would make Thor shudder in pain, rolled off a bike accident with as much ease as Captain America, and punched, kicked, and otherwise singlehandedly disposed of what felt like over 100 generic "bad guys".
If that's all you're looking for, then this film is the superhero smackdown you need to watch. Just don't go in expecting anything beyond that.