The Internet is in the undeniable grasp of Illumination Studio's cheerful minions from Despicable Me. When the first Despicable Me film released in 2010, the little yellow minions stood out as the wacky comic relief in a film that was sharply written and full of humour. But Despicable Me - perhaps wisely - didn't really tell us too much about the individual minions. Sure, they had names - first names anyway - and they seemed to speak a language of sorts, but not much else was known about them except for their relentless cheerfulness.
Something about them resonated with people anyway, and when the second film released in 2013, it featured more minions, not just as small gags and handy underlings, but as a key plot element and the core of the movie in many ways. The result was a film that felt watered down in many ways, aiming for the lowest common denominator even amongst its primary audience of young children.
Dumbed down it may have been, but there was no denying its success. Despicable Me 2 was also one of the first films to come with stickers for Facebook Messenger. Soon enough, you started to find minion toys, minion notebooks, minion phone cases, and minion cakes, along with many other things including YouTube videos and gifs on Tumblr. There is just no denying that these little yellow creatures are a pop culture phenomenon.
Now, two years later, we have Minions, which takes away the charmingly inept heroic villain Gru, and shifts the focus entirely to the minions, and we learn whether or not the little yellow fellows can actually keep your attention for 90 minutes.
Spoiler alert: it's an uphill battle.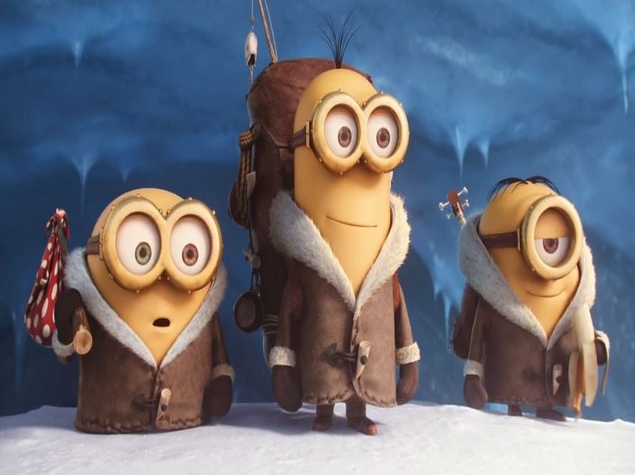 The film is funny - funnier than the second one in fact - and the minions are extremely cute. The animators do a good job of taking what are essentially a bunch of featureless yellow tubes and making them feel like individuals with their own unique expressions and mannerisms, but the fact is that these individual minions aren't really very interesting.
What made them appealing in earlier films in the series was how bizarre and unpredictable their behaviour seemed. They'd happily go around beating one another over the head with baseball bats, and then go buy a unicorn toy for the little girls that Gru adopted. They seemed perfectly capable of reason, and utterly unwilling to use it. Minions takes you backstage in a sense, and you see that underneath the very colourful facade is a disappointingly ordinary story.
The film deserves credit for an extremely enjoyable opening sequence, as we see the Minions emerging into the world, and seeking a master. The trailer already shows us some of this - we get to watch them take out Dracula and Napoleon through sheer incompetence - and the use of clever sight gags is done with the sharp wit we saw in the first film. There's also an excellent rock soundtrack that's unexpected and enjoyable - the use of Under Pressure in the trailer should have been a clue, in hindsight.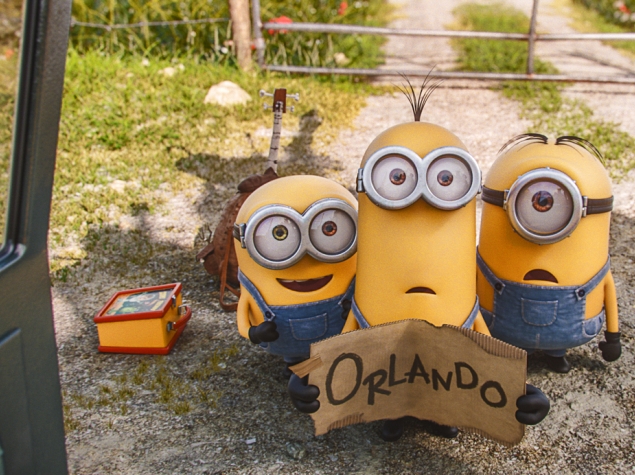 Eventually, the minions end up leaderless and hopeless. Three minons set off to find a real villain to serve, and eventually make it to New York. From there, they end up travelling to a pre-Disneyland Orlando, where they become the minions of the famous villain Scarlett Overkill. And then they're tasked with stealing the crown from Queen Elizabeth II.
That looks like a random collection of sentences with no connection to each other, and that's exactly what the film feels like in some parts.
Things get badly bogged down once the focus shifts to the individual minions, and their adventure as they try to serve Scarlett Overkill. There is a plot, but it feels very incidental, as if someone was coming up with it as they went along. The three minions - Kevin, Stuart, and Bob - whom the film focuses on, end up becoming heroes, and it is honestly a step backwards for these weirdly adorable creatures. There are still some highlights though, such as the changes in art style at different points, and the countless small gags that remind you of why we liked the minions in the first place.
Visually, the film looks is extremely appealing, and it's filled with sight gags and funny moments that will have kids (and kids at heart like us) in splits but at the end of the day, this film still feels like an unnecessary sequel; if you want to laugh at the minions while they sing badly, just load up some of their very many videos on YouTube.