Jurassic World is out now in theatres, and it's definitely the best movie in 2015 to feature enormous dinosaurs that kill people with gleeful abandon. That's a category of one, but it's also one of the best looking "giant monster" movies we've seen in a while. Unfortunately, while its structure is closer to the first Jurassic Park film than either of the two sequels, Jurassic World nonetheless feels more like a giant monster movie than anything else, one that trades story for spectacle.
Jurassic World is set 22 years after the first movie, and is set again in Isla Nublar, the island off the coast of South America. This time, the island has been successfully converted into the theme park that was envisioned in the first film, thanks to billionaire Simon Masrani (Irrfan Khan), one of the richest men in the world. Managed by Claire Daring (Bryce Dallas Howard) its various problems ironed out, and it is running successfully and drawing huge crowds of 20,000 people each day.
Until it isn't, because "nobody is excited to see dinosaurs anymore." Daring's response? People want to be thrilled, with newer, bigger, better dinosaurs.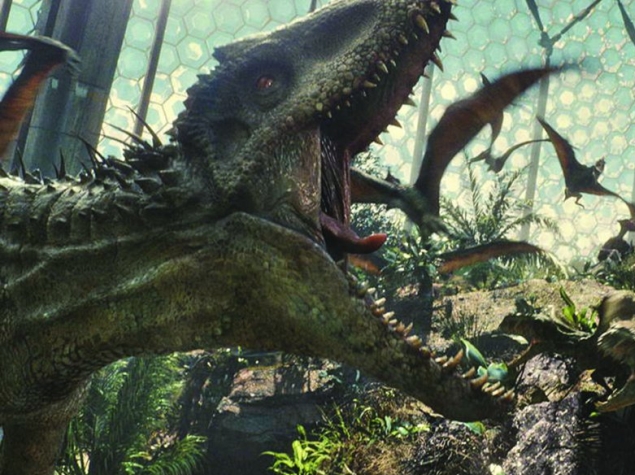 If you're going to read subtext into this - and you don't have to dig too deep to see it, really - then this is a statement about the original Jurassic Park, which released at a time when such spectacles were hard to find, and a remark about how audiences are much more jaded today, regularly treated to giant kaiju-battling robots, and city-sized monsters that eat nuclear reactors for breakfast.
Today's audience needs more than the dinosaurs we've known for decades, the film says with a wink. There's even a tip of the hat to Jaws, the Spielberg film which pretty much invented the summer blockbuster - when we first see the Mosasaur, it lunges up from the water to eat a great white shark. Bigger is better for a spoiled audience that has grown jaded, got it.
(Also see: A Look Back at Our Favourite Dinosaurs From Jurassic Park)
There are in fact several nods towards the first film. To name a few things from just the trailers (to avoid spoilers), there are people wearing Jurassic Park T-shirts (which were sold after the first film released; and are presented as merchandise from the original park here), and a shot where Daring holds a flare above her head to draw a dinosaur's attention is extremely reminiscent of Ian Malcom (Jeff Goldblum) doing the same in the first film. Here too, there are two children related to someone running the park, who come into harm's way as the dinosaurs inevitably escape and run amok on the island, to be rescued by the only two adults in the whole mess who seem to be capable of doing anything.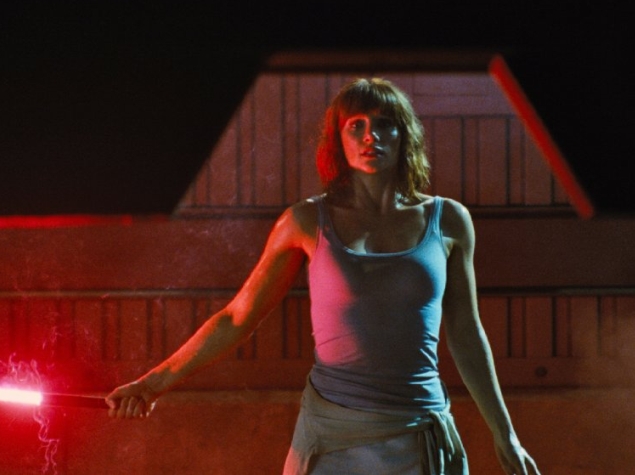 In many ways though, Jurassic World seems closer to the mindless action movies it seems to be criticising, than the original Jurassic Park. This becomes most evident when we meet Owen Grady (Chris Pratt). In Guardians of the Galaxy, Pratt played a charming, roguish hero with a quick sense of humour. In Jurassic World, he's playing a more standard action hero, and his humour is not nearly as endearing. For the most part, he's reduced to eye-rolls and comments about heels, which is a pity. Gardy is a former soldier, whose work at Jurassic World has been to train velociraptors.
In the first film, all our heroes were scientists who had almost zero action-movie moments. For the most part, they were running, helplessly, against a foe they could not possibly stand up to. Grady on the other hand, stands unflappable as he's surrounded by the velociraptors that he's trying to control.
And yes, those deadly killing machines from the first three films actually obey Grady, instead of ripping him to shreds; they do think about it a couple of times in the movie, but the real problem comes when someone wants to weaponise the dinosaurs to use them in troubled locations as shock troops. That goes about as well as can be expected, but that's not the only trouble that the park is facing.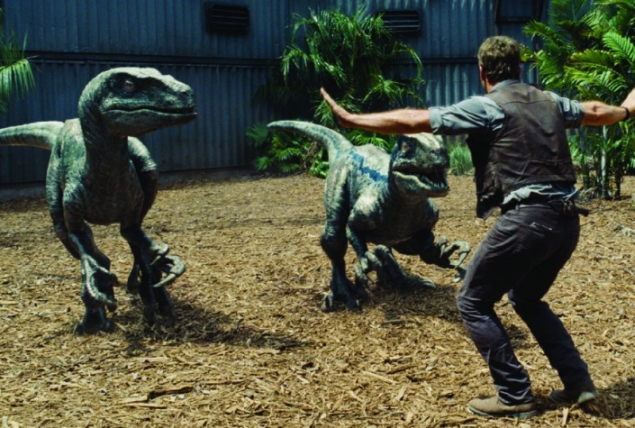 In its quest to have bigger, better attractions, Jurassic World creates a chimera breed called Indominus Rex; an albino the size of a Tyrannosaurus Rex, but smarter than a Velociraptor. There are security problems almost right away, as an Indominus gets loose, and the rest of the film is a race between the dinosaur, Grady and his team of raptors, accompanied by Daring, as they try to get to her two nephews, who are loose in the park.
Along the way, Daring is wearing heels the whole time. Why not take them off, or for that matter, if you're working in a park where you're going to be walking a lot every day, why not wear flats? Well, if the scriptwriters had allowed her to behave sensibly, then how could Grady roll his eyes and complain about her ridiculous shoes?
When Bryce Dallas Howard's Claire Daring chooses to run in heels, she's met with an eye-roll but it's not a knowing send-up to bad tropes if you follow them nonetheless. That's pretty much what goes wrong with this movie as a whole - it tries to be self-aware, and wants to gently send up action movies, but it also wants to be an action movie at the same time.
Despite this, we really enjoyed the movie. It's not a bad movie at all, just a little uncertain; it has many moments of great spectacle that will remind you not of the first movie, but the feeling you had when you watched the first movie. There are slow moments, and some very cheesy visuals, but that's something that Jurassic Park also suffered from, in parts. At the end of the day, Jurassic World is a much better sequel to Jurassic Park than either Lost World or Jurassic Park 3, and we're going to watch this movie in the theatre at least one more time this weekend.