On this third collaboration between docu-drama expert Paul Greengrass and actor Matt Damon in the series, the chase is never-ending and the film's pace is unrelenting. Our gritty and survivalist hero, Jason Bourne, is spending time off-grid at the Greece-Albania border, willing away his time by way of illegal bareknuckle boxing matches that end in his favour the moment he chooses to win. His CIA and black-ops training is being used to great effect, clearly.
Bourne's self-imposed exile is because of two reasons, as audiences familiar to the series would know: he can't trust anyone within the system, and his own memory gaps have been a source of constant difficulty. That's why he was more than happy to tour the globe with his girlfriend Marie, before she was killed during the opening scenes of The Bourne Supremacy. So even when one of his trusted old allies, Nicky Parsons (Julia Stiles), turns up at his doorstep with more information about his past, all he wants to do is to get away.
Unfortunately, Parsons has unwittingly brought the CIA with her, and Bourne is pulled back into the world that refuses to leave him behind, or allow him to move forward. The scenes that unfold in the city of Athens - set during Greece's anti-austerity riots (although actually shot in Tenerife, Spain) - are some of the most visually spectacular moments in Jason Bourne, seamlessly weaving together cinematographer Barry Ackroyd's handheld and aerial footage with a convincing recreation of a city-wide riot that feels awe-inspiring the longer it goes on.
That's only the first of three mammoth action set-pieces Jason Bourne has for audiences, and it still has time to cram in a ton of location-hopping in between all of that - from Athens, to Reykjavik, Virginia, Berlin, London, and finally to Las Vegas. The film not only revels in jumping continents but this time around, it also attempts to balance multiple plot threads that run parallel to Bourne.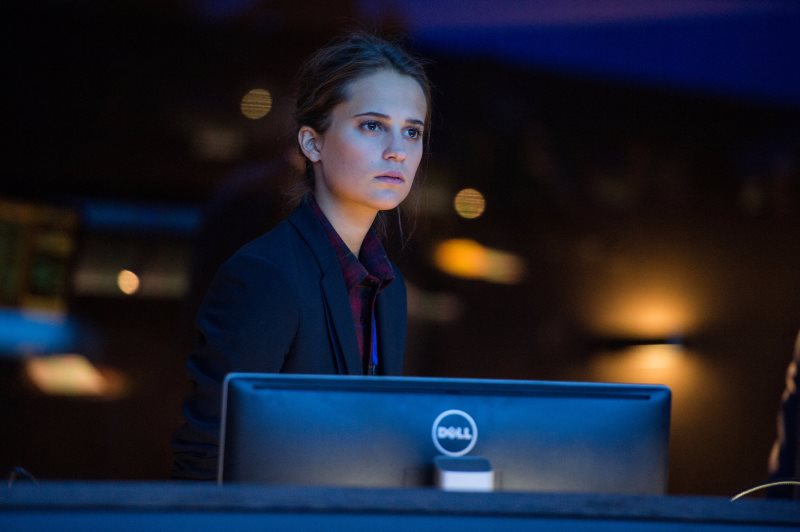 Alicia Vikander as Heather Lee in a still from "Jason Bourne". Image: Jasin Boland/ Universal Pictures
(Also see: James Bond Needs to Grow Up)
For one, there's Riz Ahmed (Nightcrawler) playing Aaron Kalloor in a Zuckerberg avatar as the founder of a social media giant called Deep Dream. Kalloor is having to fight the war between security and privacy, while trying to wrestle his company away from the CIA. Not only does his storyline play out without conviction, the film is unable to give weight to any of these ideologies. It's almost as if the debate doesn't matter, but since it's become part and parcel of the spy-world in the (almost) decade since The Bourne Ultimatum released, Greengrass felt compelled to include it in some manner.
The other millennial newcomer is Alicia Vikander's up and coming CIA insider, Heather Lee. Unlike her baby boomer boss, she's adaptable on the fly and understands that not everything is set in stone, not even an ex-spy on a hit list. Lee is still self-serving, as you have to be in the cutthroat world of espionage mixed with politics that is the CIA. It helps that Vikander gets more screen time allowing for an expanded character arc.
Overall, Jason Bourne's insistence on being culturally relevant - it name checks Edward Snowden, has its own version of Julian Assange and Facebook, plus hints at how readily available spy gadgets have become - and handling other threads drags its away from what the series has been about: Bourne, himself.
Jason Bourne is not a hero. He can maim or take a life with surgical precision, and as part of CIA's nefarious activities, he had 32 direct kills in his past life, before he failed one. For all intents and purposes, he was the archetypal weapon for the omniscient powers of the right-wing that operate in foreign borders with near impunity. But ever since the amnesiac turn in The Bourne Identity, as Bourne has pieced together the bits missing in his head, he has come to see his past in a new light. That has made him a left-wing hero fighting against the institution and authority which created him.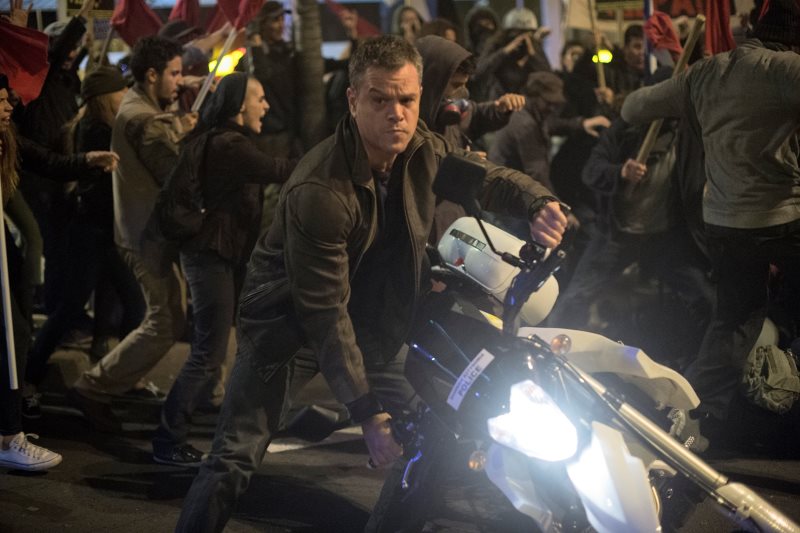 Matt Damon as Jason Bourne in a still from "Jason Bourne". Image: Universal Pictures
(Also see: Mission: Impossible - Rogue Nation Is Short on Plot, High on Heroics)
The Bourne films (with Damon) have been about him trying to regain a sense of himself and understand who he had become. The latest entry takes another jab at the topic, tracing his motivation to leave behind his identity for Treadstone, right to how it started.
But the film's refusal to take a breather never allows Bourne to really ponder those questions. Instead, Jason Bourne sends the character on a revenge mission that ultimately feels like the wrong choice. It does that via a villain so generic who doesn't deserve a name, his background Bourne-related distress story can only be a couple of lines, and he must be painted foolishly reckless for viewers to turn against him at once. At the third-act moment the film needs to hit pause on and explore its primary character of interest, it throws Bourne into a needless car chase.
The final problem for Jason Bourne is that it ends up taking itself too seriously. Even when Bourne was being chased by his former employers with a kill-on-sight signature from Identity to Ultimatum, Greengrass knew how to enjoy those stakes. But here, buried in PTSD flashbacks, cardboard characters and spite, the film broods and forgets to enjoy itself.
"I remember, I remember everything," Bourne says at the very beginning. But there's much that he still doesn't, and the next two hours attest to that. The memory lapse feels tired as a plot mechanic in Damon's fourth outing as the character, and should the franchise choose to continue, it must give Bourne something new to take on - there are a lot of wrongs in the world that aren't in his head - or pivot cleverly away from a Bourne-centric era (we're looking at you, The Bourne Legacy). Perhaps Vikander's Lee could be convinced to go rogue?