The first thing that any comic book fan will want to know is - should I watch Guardians of the Galaxy? The answer is a resounding yes! This isn't a perfect movie, not by any stretch of the imagination, but it does so many things right that you will walk out of the cinema feeling thoroughly entertained.
Some people have written that the villains of the movie are underwhelming and that is admittedly true, but Ronan the Accuser, played with great verve by Lee Pace, makes most of the screen time he is given, and there is a lot going on in the film, so slightly flat bad guys won't get in the way of having fun.
The movie lets you enjoy the spectacle, and it still has a sense of humour. It's not as acid tongued as Tony Stark, but it doesn't have the goofy, good-natured tone of Thor or Captain America either - there are a couple of jokes that do feel forced, but whether it's Zoe Saldana's Gamora shouting about pelvic sorcery or Chris Pratt's "Star-Lord" saying, "if I turn on a black light, this place will look like a Jackson Pollock painting", the movie will make you laugh. It is tongue in cheek, dark, and highly funny, which is something that we should have expected from director James Gunn, whose last work was 2010's Super.
If you haven't seen Super yet, we highly recommend you give it a watch - just be warned that it's not a superhero movie but a deconstruction, and the humour is incredibly graphic, as is the violence, so viewer discretion is strongly recommended.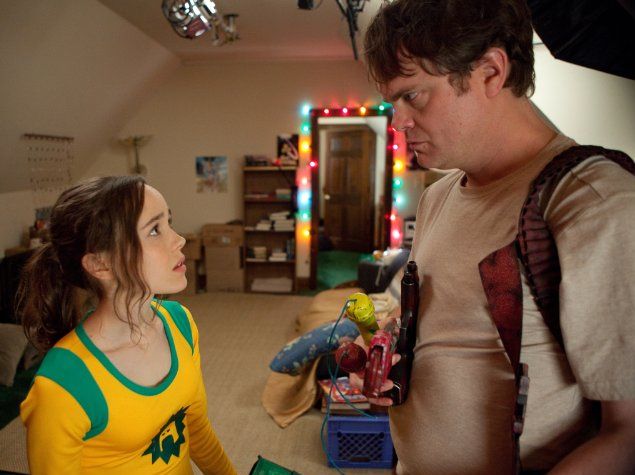 Having watched Super though, you've got to wonder how Marvel - a Disney company - agreed to let Gunn be the man behind the wheel for their latest film. But Gunn shows here that he is perfectly capable of working within the boundaries set by the big corporation while still bringing his own style to the movie.
The Marvel Cinematic Universe has, since the first Iron Man movie six years ago in 2008, been a near unstoppable juggernaut. The success of Iron Man was a pleasant surprise for almost everyone, and Robert Downey Jr (deservedly) got a lot of the credit for that. Then Marvel stepped up and showed that they were capable of delivering hits in quick succession, first with Iron Man 2 in 2010, then Thor and Captain America both in the summer of 2011, finally bringing all the threads together for the first Avengers film in 2012.
Since then, we've had one more film from each of the three established franchises, in Iron Man 3, Thor: Dark World, and Captain America: Winter Soldier, with Marvel outlining plans for films for years to come.
Movies focused around a single character can be easier to make since you don't need to waste so much time setting up the motivations of multiple heroes, and by the time the first Avengers movie was launched, all the characters were well established, which definitely helped it to be a better movie.
At least, that was the conventional wisdom at the time. And that's why a lot of people felt that Guardians of the Galaxy was going to be the film that derailed the hype train, and showed people that Marvel is fallible after all. It's a team movie, with a large cast of characters whose backstories are not well known, and on top of that, it seemed plain weird at first.
When the first Guardians poster was revealed at Comic Con in 2012, people thought it was crazy that this was the next big "team" movie Marvel was making. Seriously, look at that picture: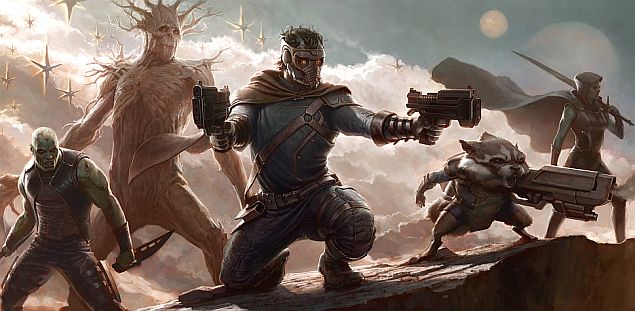 Peter Quill barely looks human, Groot and Rocky Raccoon are prominently displayed, and Gamora and Drax look weird as hell too. Getting into detailed backstories for these characters would have derailed any single movie, and Guardians of the Galaxy settles for a few exposition dumps to keep the story ticking along instead.
Despite this, the movie works, thanks to how charming each of these characters are, and without spoiling things, let's just say that Groot might well have the best line of the entire movie. Vin Diesel and Bradley Cooper did the voice-work for Groot and Rocky Raccoon respectively, and both the characters are highly memorable.
But it's Chris Pratt who steals this movie as he is genuinely likeable in the lead role of Peter Quill, a boy abducted from Earth just after his mother's death. Quill grows up in space and becomes a member of the mercenary crew that kidnapped him, and the way he's portrayed in this movie is clearly inspired by characters such as Han Solo from Star Wars, or Malcolm Reynolds from Firefly.
The whole rag-tag bunch of misfits take on a deadly enemy with limitless resources trope also hits many of the same notes as those two works, but that's not necessarily a bad thing, since you're talking about two universes that are hugely beloved to geeks like us.
In the end, it's the performances that really sell the Guardians of the Galaxy. With links being made for (possibly) Avengers 3 in this movie, it's safe to say that we haven't seen the last of these characters, and hopefully, in the inevitable direct sequel, we'll see the villains get a little more screen time as well, now that the heroes are well established.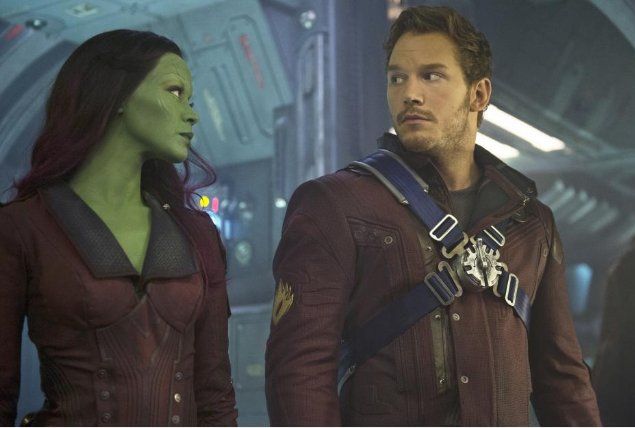 But what's perhaps more exciting about Guardians of the Galaxy is also how it opens up possibilities for future movies from Marvel. With Guardians of the Galaxy, the scope of the canon has been expanded beyond the Earth based Avengers, and now has room for a lot of the Galactic storylines. It's still hard to see them pulling off something like Planet Hulk just yet, but the Kree-Skrull war, for example, is a storyline with a lot of potential, and it has ramifications for the Avengers as well.
The antecedents of characters like Captain Marvel (Mar-Vell) also get established now, and this could also lead to a fresh direction for the movies. At the same time, Marvel's ongoing TV series, Agents of SHIELD, will be picking up for its second season now, and without a major movie to dance around - the timing of events on the show were affected by both Thor: Dark World and Captain America: Winter Soldier, particularly the latter - fans are hoping that the show will have tighter storytelling, as seen in the post-Winter Soldier episodes.
We've already seen the Kree on the show - as an ingredient in the serum that brought Coulson back from the dead, and then later the possibly half-alien Skye as well. There's a fan theory that Skye is part Kree as well, and with the movie having introduced the aliens to the audience, we can hope to see some developments on that front.
All in all, Guardians of the Galaxy can be seen as a success - not just as a standalone movie, as we said right at the start - but also as a way for Marvel to really expand the scope of the Cinematic Universe. We're going to see some of the really weird stuff from the comics coming up soon, and that's a good thing. After all, if we can get Rocket Raccoon, then maybe we're ready for a Squirrel Girl film too!