Note: Spoilers ahead for Game of Thrones season 7, episode 5, 'Eastwatch'.
The biggest moment of this week's Game of Thrones wasn't a dragon setting the Lords of a great house on fire, or a group of ragtag men deciding to take on a seemingly impossible task. Instead, it occurred while a character was simply reading an old book.
That person in question was Gilly, who was browsing the works of High Septon Maynard. As she practised her reading, she read aloud some observations the High Septon had recorded, including the number of steps in the Citadel, the number of windows in the now-obsolete Great Sept of Baelor, and his own bowel movements.
Soon after, Gilly comes across a word she doesn't understand: annulment. "What does annulment mean?" she asks Sam, in what seems like an innocent question. An impatient Sam explains that it's the legal ending of a marriage. Gilly then continues reading, and says that he issued an annulment for a 'Prince Ragger', and re-married him to someone else at the same time in a secret ceremony in Dorne.
By now, Sam has reached his breaking point. His frustration isn't caused by Gilly's reading, but rather what has transpired since his arrival, with the Maesters continually refusing to fully accept the dangers posed by the White Walkers. Sam gets up and walks away, and owing to that, we don't get to learn any more about what Gilly was reading.
That's clearly intentional, but fans who've been paying attention can make a fairly educated guess about what who Gilly is talking about. "Prince Ragger" is most likely a mispronunciation on Gilly's part, who's still learning to read properly. "Ragger" sounds a lot like Rhaegar, the son of Mad King Aerys, who was a prince himself.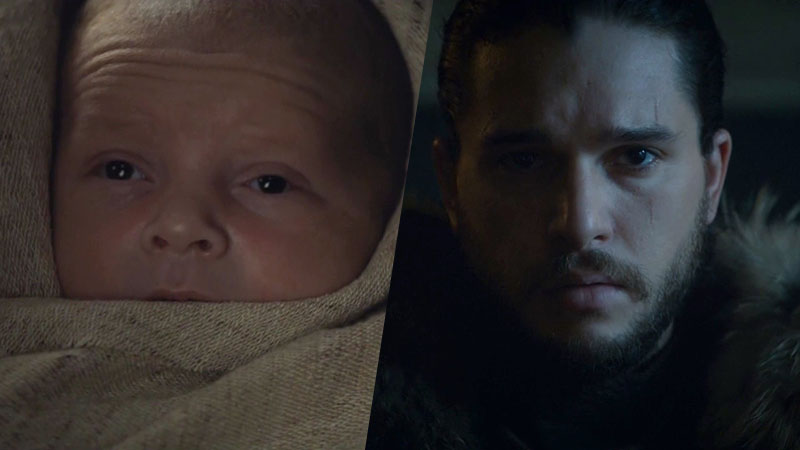 Game of Thrones Season 7 on Hotstar: Your Burning Questions Answered
Plus, lending more credence to the fact is the bit about getting married in Dorne. That's where we saw Lyanna Stark as part of last season's flashback, thanks to Bran becoming the Three-Eyed Raven. The show has already confirmed that Lyanna gave birth to a son, who would grow up to be Jon Snow, after she made her brother Ned promise to keep him safe.
But until now, the tale had always been that Rhaegar had kidnapped Lyanna, and taken her to the Tower of Joy. This new bit of information in "Eastwatch" turns it on his head, and suggests that Rhaegar ended his marriage with his earlier wife - Princess Elia of House Martell - and remarried in "a secret ceremony" in Dorne to Lyanna, to keep the news from spreading.
There are a couple of problems here, though. While the Targaryens have been flexible with their marriages, even going so far to marry their own brothers and sisters, Mad King Aerys operated under the Faith of the Seven, which is much stricter with its policies, not allowing people to end marriages. We don't know Rhaegar managed to go around those restrictions, so only time will tell.
If the marriage is accepted, this means that Jon isn't a bastard at all, but rather a true-born Targaryen in his own right. (It also explains the connection he had with Drogon in the same episode.) The rules of succession dictate that a man's son comes before his sister in the line to the throne, which means that Jon has a stronger claim to the Iron Throne than his aunt, Daenerys.
That also explains why the Kingsguard was present at the Tower of Joy instead of guarding Queen Rhaella, who was pregnant with Daenerys at that time. They were protecting what they knew to be the new king. Ned Stark and his men managed to fight their way through, but he couldn't get himself to kill an infant, and so he brought him to Winterfell as a "bastard son" of his.
Between Bran's knowledge of Jon's true parentage, and the book that contains official record of Rhaegar's second marriage, this will send huge ripples across Westeros if and when someone can put two and two together. Since the death of her brother Viserys, Daenerys has been operating under the notion of being the last Targaryen, and supporting her claim to the Iron Throne on being so.
But that's clearly not true on two levels. Not only is there another Targaryen in the fold, but Jon Snow also has the stronger claim when all's said and done. Of course, official rules mean little in Westeros when someone's in the way to power (Cersei) or has three dragons on her side (Daenerys).
It's possible that the Dragon Queen could be moved by the fact that she still has family left. For Jon, it'll shake his identity to the core: he's neither a bastard, nor Ned Stark's son, as he has always thought. Hopefully Sam and Gilly packed that book before they left Oldtown.