Last week's Game of Thrones episode was one of the season's weak points - a wounded and stitched-up Arya holding her own seemed unconvincing at best. That meant the season's penultimate showing had a lot more riding on it, not to forget how monumental the ninth episode is for the show. While HBO had decided not to give away any synopsis for the episode, there was enough to glean from the title - "Battle of the Bastards" - itself. We knew we would be getting a face-off between fan favourite back-from-the-dead Jon Snow and the current Warden of the North by decree and sadist-in-chief Ramsay Bolton.
Editor's note: spoilers below for the ninth episode of Game of Thrones' sixth season.
But the episode took off in Meereen, with the slave masters of the neighbouring cities continuing their assault since last week. Inside the giant pyramid, Queen Daenerys frowned at the man she had left in-charge, Tyrion. She was clearly unhappy with the state of affairs Tyrion had brought them to, despite his best efforts. Poor Tyrion, he was so jovial just recently. To be fair, Grey Worm had warned him about this. ("They will use you, that is what they do," they being the masters.)
The Targaryen woman's plan is simple: to burn every last one of them. When Tyrion interjects to note the similarities with the Mad King's wishes at King's Landing a decade and half earlier, she pauses. Tyrion has an alternate plan, he says, but just then the window comes crashing in and forces Daenerys' hand in turn. With Missandei, Grey Worm and his loyal men in tow, they meet up with the city's slave masters with the continued assault visible behind them.
The three nobles state the surrender terms for them, putting the former slaves - Missandei and the Unsullied - back into the cycle and slaughtering the dragons. Daenerys says they are here to discuss the masters' surrender terms, but that only makes them chuckle. "Your rein is over," one of them barks at the Queen of Meereen-on-fire. "My rein has just begun," Daenerys retorts, and with a screech Drogon comes swooping in and perches beside his mother. She climbs on and flies off leaving the others scrambling for safety as the huge dragon makes a low take-off. Drogon must have missed the safety memo that was sent out.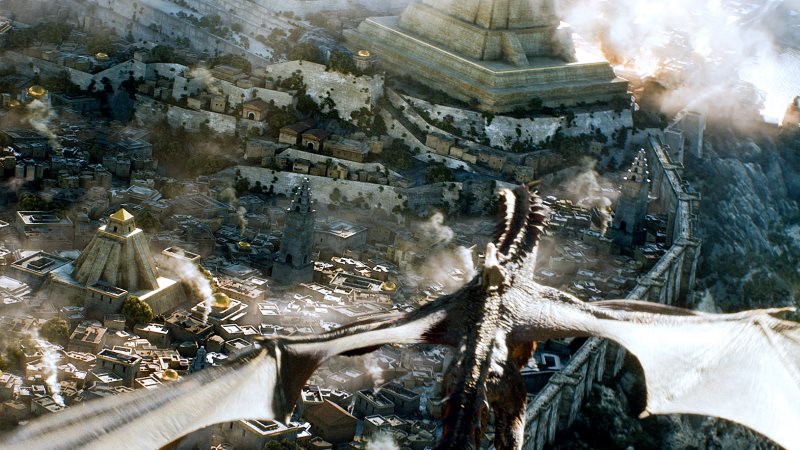 (Also see: Game of Thrones S06E08: 'No One' Recap)
As she motions her giant ride towards the enemy ships, the other two dragons whom Tyrion freed burst out of the pyramid by creating a back door. They have gotten a bit bigger and healthier, so at least something Tyrion did paid off. Together, the mother and her dragons attack one of the ships - wrecking it completely - and ruining troop morale across the board.
Meanwhile back on the hill, the balance of power and confidence has shifted. Since their peace pact has been violated, Tyrion proposes one of them has to die. When the richer ones among them oust a comparatively poor compatriot, Grey Worm stands up to them and slits the throats of the other two in one swift motion. Did they really believe that would work out for them?
Over to Winterfell as host Ramsay comes to parley with the Stark party. Jon offers a one-to-one battle, so as to save the thousands of men who will die in the battle. Ramsay, as you would expect, denies because he has the numbers. Smalljon Umber then throws Shaggydog's head as their ace in the hole, hoping the Starks will surrender to save their kin. A new and strong Sansa says no and rides away.
Later, Jon and the others discuss battle plans while avoiding the only woman in the room. When everyone has left, Sansa argues her case - she wants to wait for more men. But this is what we have, Jon says for a second time. Ramsay is the one who sets up traps, you can't be clever with him, she adds. She doesn't bring up the letter she wrote to Littlefinger though, not knowing if and when to expect a response in troop support.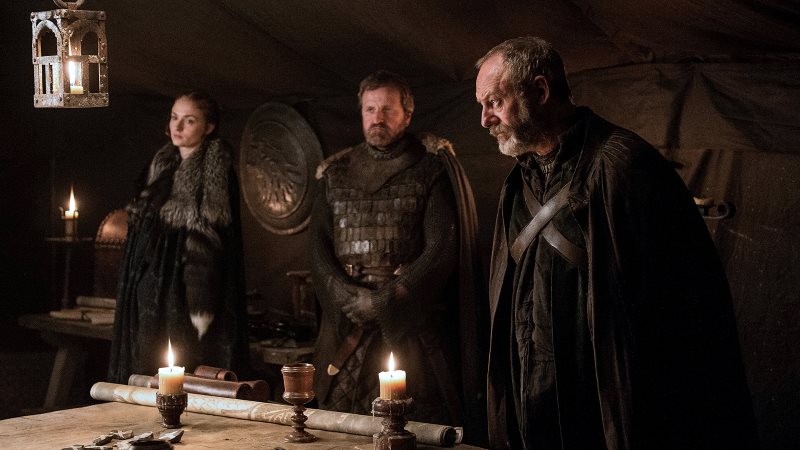 (Also see: Game of Thrones Season 6 Finale Is Its Longest Episode Yet)
Then, Tormund and Davos discuss their dead kings and how they failed them. Jon is not a king, the former remarks. Tormund is going to drink himself to sleep, and asks if he wants to join. Davos says no, he can't sleep the night before battle and prefers to walk and walk.
Jon sees Melisandre too, for counsel or what is actually a request. Don't bring me back, he tells her. I don't have any power, the Red Woman says, I serve the Lord of Light and he gave me you. And if the Lord commands her to bring him back again, she would have to, she adds.
Davos wanders outside camp as he said he would, and comes across an old pyre - which if you don't remember - belongs to Shireen Baratheon. Stannis had sent the Onion Knight back to Castle Black last season as a ruse so he wouldn't be able to interfere in his mad plans. And now, rummaging through the remains, Davos finds a Baratheon stag. He wants to confront Melisandre we suppose, but it's not the right time.
Before the battle ensues, we jump back to Meereen where Daenerys and Tyrion listen to Yara and Theon's proposal. It's one of the rare moments in Game of Thrones as the women are stronger on both fronts. Tyrion isn't happy with Theon who joked about his dwarf nature back in the first season, and Daenerys wonders why she shouldn't wait for their uncle Euron since the two Greyjoys only have 100 ships to offer. Euron will only offers his ships if she accepts his marriage proposal, Yara says, while she's just asking for their independence.
All four of them have had fathers who were a bit on the wonky side (Happy Father's Day?), and Daenerys is interested in building a better world on her own terms, not under another man. Especially after how her own brother Viserys treated her during his short life.
She accepts Yara's conditions, but has one of her own: the Ironborn need to leave their old way of life (reaving, roving, raiding and raping) behind. The Greyjoy woman is a bit hesitant at first, but then accepts. Game of Thrones has a new alliance, all female-led too.
(Also see: Game of Thrones S06E07: 'The Broken Man' Recap)
Back to Winterfell as the two armies line up in the morning. Ramsay walks through his troop lines, dragging someone by rope. It turns out to be Rickon Stark, and Jon is visibly concerned. But just then, Ramsay cuts Rickon loose and asks him to run towards his brother. The youngest Stark is perplexed at why he is being let go, but then as the arrows start to fly out of Lord Bolton's bow, he picks up the pace. Jon too gets on his horse and sprints towards the advancing Rickon, while Ramsay misses a couple just for fun. He eventually does land one, straight through the boy's heart just as Jon is about to pick him up.
Jon is devastated, and angry. That is exactly what Ramsay wanted, and Sansa did warn him. Abandoning the whole dig trenches and wait for them to charge approach, Jon charges at the Bolton army all by himself. The archers let loose and bring down his horse, almost getting him in the process. He then steadies himself to face the approaching cavalry and just as he is about to engage, the Stark-allied cavalry arrives to save his head.
Ramsay continues to command from afar, and repeatedly tells the archers to launch into the mix-up knowing full too well that there's bound to be friendly fire. With a massive number of bodies piled onto the ground, he then tells his pikemen to move into the battle square. The men move forward in formation, pikes at the ready to prohibit any thoughts of charging from the remaining enemies.
The pikemen have them surrounded on three sides with piles of dead men on the fourth preventing a retreat. As they proceed with the crush, moving slowly inwards with their weapons, the unorganised and untrained free folk are at a loss. They try their best to stand ground and cut through the long shields of the Bolton squad, but do next to little damage. Eventually, they have no option but to try and climb over the bodies but Smalljon Umber and his men are waiting on the other side, ready to chop and send them back into the heap.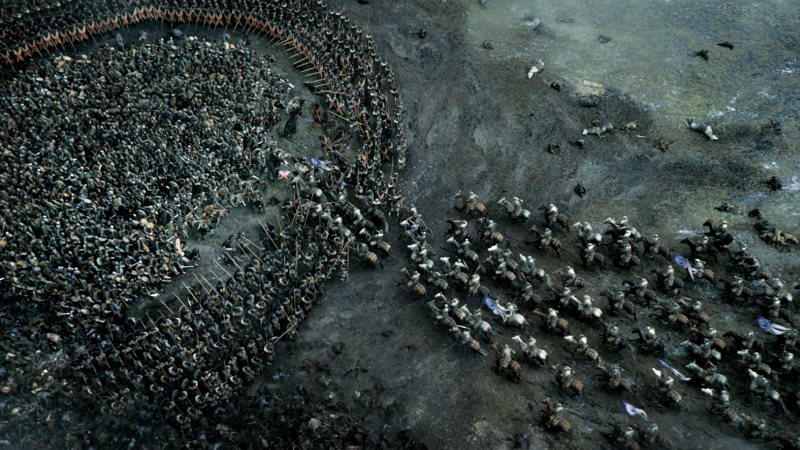 (Also see: Game of Thrones S06E06: 'Blood of My Blood' Recap)
And as the free folk continue to panic, they end up running over their own including Jon himself who struggles for breath as he's caught in traffic. He does eventually manage to steady himself, just in time with his face all blue. But they are still caught in a trap with the Bolton army squeezing them on all fronts.
A horn sounds to announce the Knights of the Vale, with their sigil of a falcon and a crescent moon, riding in to save the day. The look on Ramsay's face is priceless for anyone who despises him (don't we all?), as he realises what's about to happen to his pikemen. Littlefinger and Sansa are there as well, looking upon their advancing men. The all-cavalry forces of the Vale puncture right through the unguarded side of pikemen, as they are facing the wrong way in respect to anyone outside the square.
With his army gone for good, Ramsay rushes back into the castle and orders the gates closed. Wun Wun, Tormund and Jon - all bloody and bruised - rush towards Winterfell as well. The giant arrives first and proceeds to use his hands as a battering ram, even while taking arrows from half a dozen crossbowmen. It's not enough to stop him clearly - he manages to break the gate open and barge into the compound - but he does collapse immediately afterwards. Jon, Tormund and their men follow and dispatch their Bolton counterparts with ease. Ramsay lands a killing blow too, putting an arrow straight through Wun Wun's right eye.
Surrounded and in a losing situation, Ramsay jokes about wanting to go back on refusing the one-to-one battle offer. A super-angry and tired Jon obliges, blocking all three of the arrows aimed at his face while walking towards him and then smacks the shield right in his face. He proceeds to climb on top of Ramsay, and delivers punch after punch, pommelling his face in the process.
But after he spots Sansa looking at him, Jon stops. He gets up, looks at his battered face for the last time, and leaves.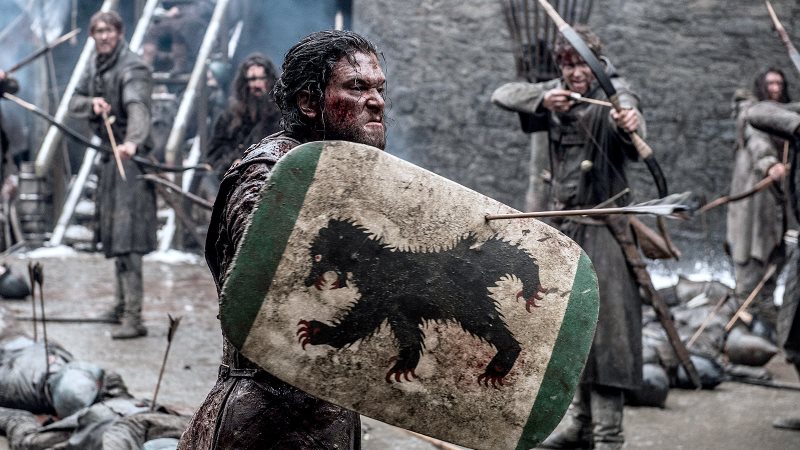 (Also see: Game of Thrones Season 6: Hodor, Bran Stark and the White Walkers)
On the walls, the Bolton banners are replaced by the Starks'. How long has it been since the direwolf sigil adorned Winterfell, eh? Inside, Davos considers confronting Melisandre holding the memento he picked up from the ashes. Jon and Sansa look at Rickon's body, before it will be put into the crypt beneath the castle. As Jon walks away, Sansa calls out to him and demands to know where Ramsay is.
Cut to a half-dead Ramsay tied to a chair, who still hasn't lost his wry smile and weird sense of humour, when he sees his former wife. Sansa is past all of it though, as she tells him what his future contains. "All memory of you will disappear," she finishes. Enter Ramsay's own hounds who step into the picture, weighing if he's prey or predator.
They would never harm me, Ramsay says, they are loyal beasts. Sure, Sansa concedes, but now they are starving since you haven't fed them in seven days. One of the hounds climbs onto his lap, smells and licks the blood of his face. Sensing he's powerless, the beast proceeds to tear into his face and is accompanied soon by the others. Being fed to your own hounds is probably a just way to die for Ramsay, and also the most enjoyable for viewers who have loathed the character since the beginning.
Sansa watches for a while, then calmly turns around and walks away, even giving off a faint smile. She's had her revenge and the Starks are back home, but the cost and fallout - what with having to rely on Littlefinger - will be a struggle in itself.