With just three episodes left in the season - or rather two, considering how the finale is mostly used for setting up the next season - Game of Thrones needed to start tying in the dozens of threads. That meant some untimely reunions, timely returns and a continued avoidance of sun-baked Dorne. Seriously though, are we alone in caring about how the showrunners seem to have botched that particular storyline? Book fans will relate.
Editor's note: spoilers below for the eighth episode of Game of Thrones' sixth season.
Lady Crane, whom Arya was supposed to kill earlier this season, is performing in a re-enactment of the Purple Wedding for what we assume is the hundredth time. But this time it's a bit different. On account of Arya's advice that "Cersei would want vengeance", she modifies her performance and channels a scripted anger towards Sansa and Tyrion, whom the real Cersei too believes to be the conspirators in Joffrey's poisoning.
Backstage, as Crane takes off her wig, she notices something off in her green room. Peering behind the hanging gowns she finds Arya, who is profusely bleeding. The actress takes her back to her place, and tends to her wounds. After a bit of chat about her medical and cooking abilities, Arya reluctantly consumes milk of the poppy so she can sleep in peace.
Back in Westeros, Arya's ex-captor - Sandor 'The Hound' Clegane - comes across four men fooling about. Wasting no time, he chops down all four of them, very violently. Before killing the last of them though, he does enquire about the one with the yellow cloak (Lem Lemoncloak, as he is known).
(Also see: Game of Thrones Season 6 Finale Is Its Longest Episode Yet)
In Meereen, Tyrion and Varys go on another stroll across the city market - one that is much less deserted than before. Tyrion seems visibly content with his work, but less so with a departing Varys, who is returning to Westeros. He had not only found a trusted advisor, and as you can tell from his face, maybe even a friend. And Tyrion has very few of them indeed. The work is important though, Varys notes. They are going to need friends in Westeros if Daenerys wishes to conquer the continent.
Jumping continents again to King's Landing, Cersei is having a sip of the wine when Qyburn enters to deliver a message. Some members of the Faith Militant are here to see her, after being permitted entry into the Red Keep by the Faith-loving King. She goes down to greet them with the elder Clegane (the Mountain) and Qyburn at her side. Lancel Lannister, a prominent member of the Faith, says the High Septon commands her to see him at the Great Sept of Baelor, but she vehemently refuses and says that he can come to the Red Keep instead.
The situation escalates, and the Mountain steps in to strangle a man and then rip his face off. The other black-robed members are rightfully horrified at the sight, and can't do much beyond listen to Cersei's remarks.
Brienne and Podrick, who had set out from Castle Black on Sansa's wish to recruit the Tully army, make it to Riverrun and find it under siege, something the audience already knows. The Lady of Tarth spots Jaime on a white horse, and wishes to speak with him, as she tells the approaching Lannister men.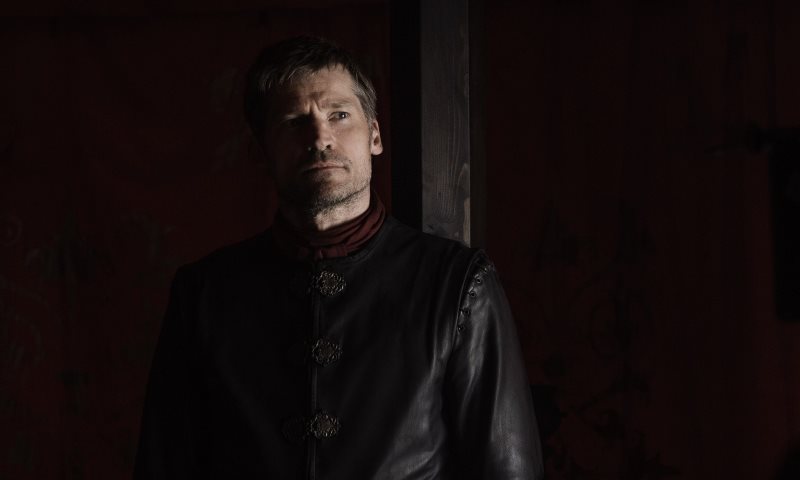 (Also see: Game of Thrones S06E07: 'The Broken Man' Recap)
While the two speak, Bronn surprises Podrick from behind (that strangulation from the preview was just a joke, then) and then proceeds to give him fighting tips. Inside the tent, Brienne negotiates a truce: if she can make the Blackfish surrender, Jaime - on his word - will let them pass to the North unharmed. She has until nightfall, the man with the golden hand says. It won't be easy, the Blackfish is more stubborn than you are, he tells Brienne.
As expected, she is unable to convince the Tully general to lay down his arms. He does eventually read the letter Brienne keeps waving at his face, and remarks how Sansa is exactly like his sister Catelyn (Ned's wife, who died at the Red Wedding three seasons ago). But he can't fight for someone else's home and leave his own behind. "If Jaime wants the castle, he can bloody well take it the way everyone does," the Blackfish says.
Back at King's Landing, all the nobles have gathered in the Great Hall inside the Red Keep for a special announcement. Cersei wasn't informed apparently, and she's taken offense to that. Add that to your endless list of complaints, Queen Mother. This is the least of your worries. Or is it, though? King Tommen's announcement - or The Crown, as he regularly states - has to do with his mother and his Queen's brother, Loras Tyrell. Their trial will be held on the first day of the Festival of the Mother, Tommen declares.
Also under the new decree, the practice of trial by combat is forbidden across the Seven Kingdoms. Henceforth, all such trials - including Cersei's and Loras' - will be held in the old way, in front of the Seven Septons as it used to in the early days. (Oh Tommen what have you done to the Clegane bowl hype, the Internet hates you now.)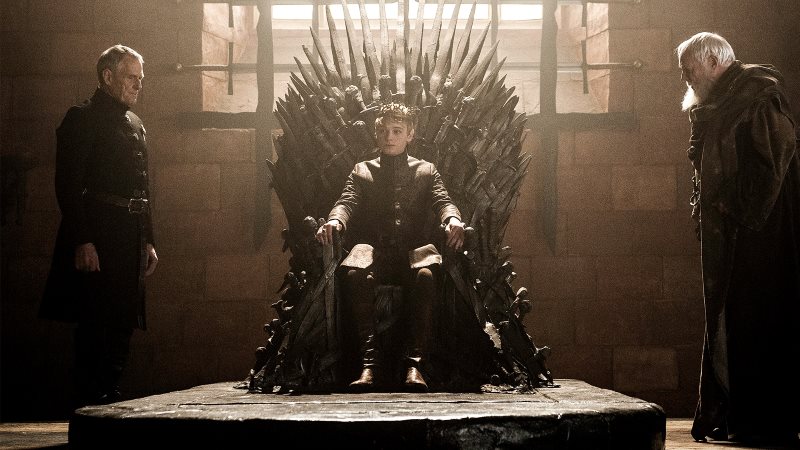 (Also see: Game of Thrones S06E06: 'Blood of My Blood' Recap)
It's time to jump continents again, as Tyrion tries to get Missandei and Grey Worm to drink again. He wants to share his happiness, and give the two a bit of life they have missed out on owing to their slave masters. They reluctantly accept the glasses with wine, Grey Worm more than the other one, and Tyrion forces them to drink saying the one who doesn't is disrespectful of their Queen.
The Lannister dwarf - aka "the most famous dwarf in the world" - wants them to tell jokes too. Seeing their relative inexperience, he goes first with one about Stark, Martell, and Lannister lords. It lands flat, and he concedes it works better on Westeros. Missandei tries after, and ends up making a joke that would work great in her own community of translators. The very serious Grey Worm, wishing to offset Tyrion's observations about him, turns out to be the sarcastic of the lot. Missandei, possibly a bit tipsy at this point, bursts into uncontrollable laughter.
Just then, warning sounds alert them to a problem. The three run out onto the balcony to find the slave masters have come with ships to attack Meereen.
Before we can see what happens, it's time to check in with Jaime Lannister again. Edmure Tully, still a captive but better fed and dressed, berates the Kingslayer for his actions and asks him how he can sleep at night. The two then talk about their sisters - Catelyn and Cersei, respectively - and Jaime eventually arrives on his point: everything he does is for her, she's the only one who matters. He's willing to slaughter every last Tully to return to her, he says, even if that means catapulting Edmure's infant son into the castle.
The Tully heir understands Jaime's convinction, and upon being let into Riverrun despite Blackfish's wishes, surrenders immediately. The Lannister forces simply walk into the castle, and put up their banners around the castle. And as Brienne and Podrick escape via a boat, Brynden the Blackfish stays to fight, and dies.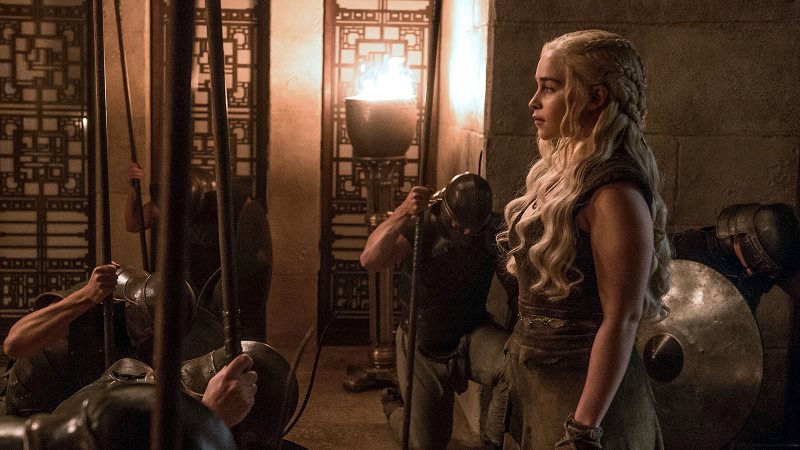 (Also see: Game of Thrones Season 6: Hodor, Bran Stark and the White Walkers)
Back in Meereen, Tyrion admits defeat and asks Grey Worm what they should do. The pyramid is the only thing they can defend, the Unsullied says. Just then, they hear sounds above them and prepare to fight the intruders. But that turns out to be Daenerys, who has returned on Drogon's back. We suppose the Dothraki will be a while.
Over in Westeros, The Hound runs into the actual Brotherhood Without Banners. Beric Dondarrion and Thoros of Myr - who haven't been seen since the third season - are planning to hang three of their own, after the whole desertion and acting out on their own thing. Clegane manages to argue his case for two of the three, but he can't chop them down like he wants. Instead, he has to push the wooden block on which they rest, giving them a clean death by way of hanging.
He then sits with the Brotherhood and eats, moaning on about how he prefers chicken. It seems the Red God men have realised the futility of their fight against the King's men, and are focusing instead on the big bad - the White Walkers. You can help more than you harmed, Beric tells Clegane. "It's not too late for you," he adds, echoing the words of Brother Ray from the previous episode. The show is clearly invested in the Hound's story arc, going so far to involve the Brotherhood, but it doesn't seem to be building towards Clegane bowl or Lady Stoneheart, like the fans had hoped for.
In Braavos, Arya wakes up from her gentle sleep. After Lady Crane reaches for a potion bottle, she turns around to find a strange man staring at her. Hearing sounds, Arya wakes up to find Crane dead and the Waif standing there, who came disguised as a different individual. Injured and unequipped, the Stark girl knows she can't handle her and jumps off the balcony. Thank goodness Lady Crane didn't live a couple of floors higher.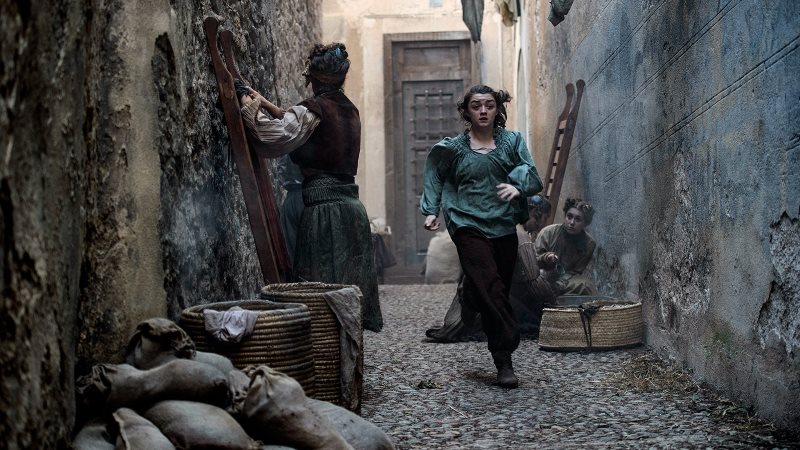 The Waif chases Arya across town. At one point, she thinks she's lost Arya but then finds her in the market. Arya is forced to jump across a stream, and lands badly as she rolls down the stairs on and on. With her stitches open, she somehow scrambles into the tunnels below and into a corner room. The Waif thinks this is it, and asks Arya how she wants it to end - on her feet or her knees. Instead, Arya has an ace in the hole - her sword, Needle. Drawing it out, she strikes out the lit candle.
Later in the House of Black and White, Jaqen H'ghar notices blood in different places and follows it into the Hall of Faces to find the Waif's bloody devoid-of-eyes face stuck upon the wall. Arya confronts him, and confirms if he did indeed put out a hit on her. Jaqen says yes, and then congratulates her on truly becoming no one.
This doesn't make sense though. Wasn't the whole point of the order of the Faceless Men to not kill randomly and be a master assassin only for the targets assigned to you? Anyway, Arya Stark is having none of it - she's going home to Winterfell, she says, and promptly marches off.
Cue the dramatic music and hype - the ninth episode is coming. Also, winter.