Happy moments - especially moments of reunion - are very rare in the Known World so it was quite strange that Game of Thrones delivered those more than once in a single night.
Editor's note: spoilers below for fourth episode of Game of Thrones' sixth season.
Like every previous episode in this season, we begin at Castle Black with Jon Snow packing his things and a concerned Edd pressuring him to stay. "Help us fight the things we saw at Hardhome," he pleads. But Jon's having none of it. He fought for what he thought was right, and his brothers of the Night's Watch killed him for it. Just then, the blowing of the horn signals incoming people - and look who it is: Sansa Stark and Podrick Payne led by Brienne of Tarth.
Both Sansa and Jon can't quite believe they are seeing what they are seeing (so can't the viewers), and hence slowly make their way into a tight embrace. It is possibly the first Stark reunion since that ill-fated first episode, and it's a touching moment. Inside, a bit later, the two half-siblings catch up over food and drink, reuniting over old funny stories amidst the darkness of their present. Sansa wants him to head south and take Winterfell from Ramsay Bolton, but Jon's spirit is defeated.
"I'm tired of fighting," an exasperated Jon Snow remarks, and lists the things he has had to face. Sansa has fought in her own manner too - from the Lannisters to the Boltons - but instead of narrating the past, she is completely focused on the future. "If you don't take back the North, we'll never be safe," she says. "I want you to help me, but I'll do it myself if I have to."
It's time then to give a scene to Ser Davos and Melisandre, who are basically hanging around the park until they get a chance to play. "I'll do as Jon Snow commands," the Red Woman tells the Onion Knight. There's some talk about him being the Prince That Was Promised, but when Davos notes she called Stannis the same a long while ago, Melisandre walks away. Davos follows, and grabs her by the arm. Before he can press her any further, Brienne marches up to the two Stannis devotees and proudly remarks she dealt the killing blow to their king.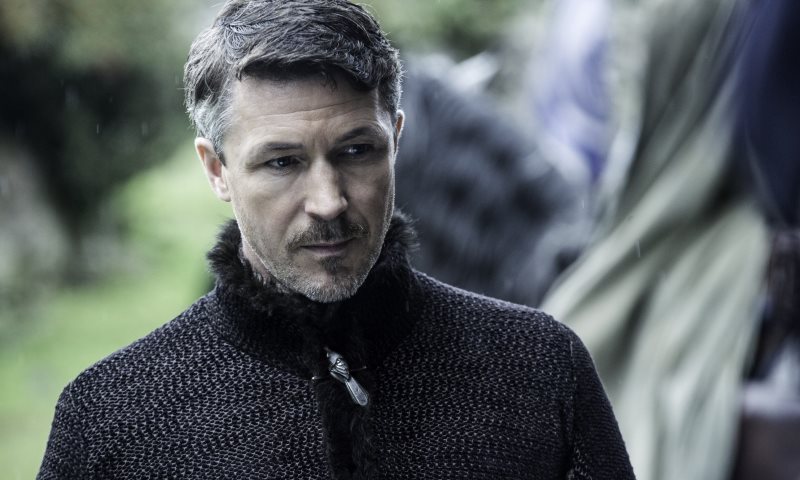 (Also see: How to Watch Game of Thrones Season 6 Online)
Somewhere near the Vale, we finally get to meet Littlefinger aka Petyr Baelish aka the most devious man of all. He spins the truth of Sansa being given to House Bolton in marriage, into how she was taken from him on their way to the Fingers. And now that he's received news of her escape - which definitely wasn't part of his plan - he manages to concoct a new plan: one where Lord Royce will take the Vale's armies and help Sansa fight the Boltons. Meanwhile, the Lord of the Eyrie - Robin Arryn - is more than happy with his new falcon as he lets Littlefinger do all the talking (and ruling).
A continent away in Meereen, Tyrion is ready to meet with the slave masters of the other cities in Slaver's Bay. He will propose a diplomatic end to their conflict, one that doesn't sit well with Missandei or Grey Worm, both of whom know what it's like to be a slave. When Tyrion says that he too knows what it's like to suffer under the institution, Missandei rightly asks: "How many days were you a slave?"
But Tyrion does have the right idea. Instead of bludgeoning their way through, which to be honest has quite rightly failed, Tyrion charms them. It's interesting to note that he always begins his sentences with a version of "Here is what the Queen proposes" which is clever on his part. He gives the slave masters seven years to get rid of the practice, and promises they will be compensated along the way - monetarily and sexually.
Missandei and Grey Worm are seething but Tyrion knows what he is doing, or does he? After the two reluctantly follow his lead in front of Meereen's former slaves - out of love for their queen and not for loyalty under his rule - they make a strong case for the intelligence and cunning nature of the slave masters. "You will not use them," the leader of the Unsullied remarks. "They will use you. That is what they do."
In search of their Queen, Jorah and Daario have finally reached Vaes Dothrak. The only city of the Dothraki is a place where no one carries weapons, and so Jorah demands Daario surrender all of his killing tools. Daario learns of Jorah's greyscale after the other outstretches his hand, and Daario says he would rather do the deed without having to come into contact with the sick Jorah. You just know then that Daario is not going to give up his favourite blade.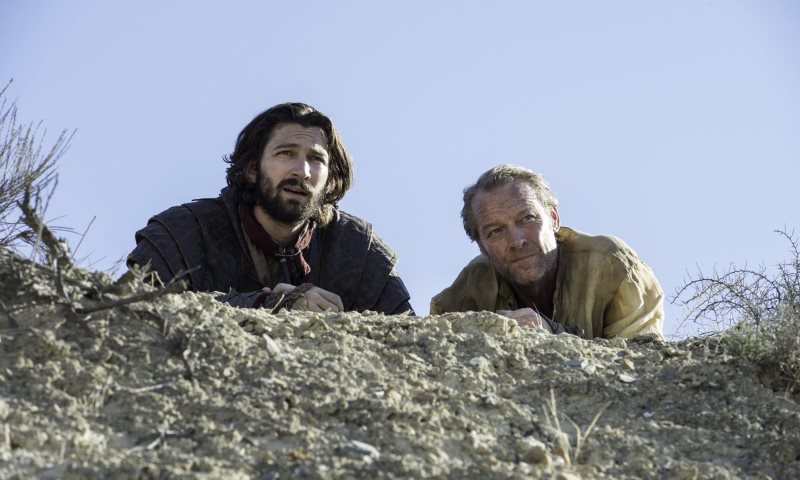 (Also see: Game of Thrones Spoilers? Who Cares, Now That Book Snobs Aren't the Ones Sharing Them.)
Inside the widow temple, the dosh khaleen chatter about the other widows and Daenerys' future. She eventually excuses herself with wanting to "make water", but then confesses to a fellow widow khaleesi when they are outside that she just needed some fresh air. Jorah and Daario pounce at the opportunity to rescue their Queen, but she says there is another way. "We can do more than that, and you're going to help me," the Mother of Dragons adds.
It's time to visit the capital of the Seven Kingdoms, where the Queen - Margaery Tyrell/ Baratheon - lies in the dungeon under the Great Sept of Baelor. The High Sparrow invites her into the light - which temporarily blinds her - and then tells a story from his past when he lived excessively: in both drink and women. And how one fine day, he got up and left without even putting his shoes on. (The fact that he was a passionate cobbler by profession is somehow supposed to add to that.) He then allows her to meet her brother Loras Tyrell, a fellow convict, in the secret hope that they will confess. But a much stronger Margaery consoles Loras, asking him not to break, as she silently wonders what the way out is.
In a different world, the answer would be her husband and King Tommen, but as you see him receive counsel from Grand Maester Pycelle and then Cersei, one can only pray. It has taken him this long to realise that his mother doesn't like her daughter-in-law. Oh come on, Tommen!
Over in a diminished small council meeting, Cersei and Jaime barge in without the muscle this time and armed with a newer agenda. The two are in power now, with Margaery's walk of atonement on the line. That is enough to make Olenna timid, as the Lannisters ask her to bring in the Tyrell army and wipe out the Faith Militant and High Sparrow, with Kevan standing down. They are hoping to rescue the Tyrell siblings and possibly Lancel too, although if there's anything Game of Thrones has taught us, then it's to expect that he will go down fighting.
(Also see: Game of Thrones Season 6: Who Is Melisandre and What Are Her Powers?)
The Iron Islands get a small scene too, after the big king-killing moment two episodes ago. The man-reborn, Theon Greyjoy, returns home after all. His reunion with his sister Yara isn't as sweet as the one at Castle Black, due to Reek's betrayal of the Ironborn, but his sister warms up to him when he gives his support for her being the next ruler. He's a man after all, and his presence can count for something at the Kingsmoot.
Back to the mainland, as the new Lord of Winterfell - Ramsay Bolton - summons one of his new prisoners, Osha (Rickon Stark's wildling caretaker, remember?), hoping to get some secrets out of her. But she goes straight for the seduction and stab strategy, which was never going to work on someone like Ramsay. Instead, Osha is the one that ends up stabbed in the neck and bleeds out on the floor. Did you really think the show would get rid of the worst character on television in such an easy fashion?
Back to Castle Black then, where Jon, Sansa, Brienne, Tormund, Edd and Podrick are eating at the same table. A message comes in from Winterfell, with Ramsay demanding the return of his bride among other things. Now that he has leverage in Rickon, Jon and Sansa have no choice but to respond. Jon asks how many capable men Tormund has, and the imbalance of numbers doesn't give him confidence. But Sansa presses him on the issue, and under the table's gaze Jon reluctantly nods.
Unlike the three episodes before this, we don't finish at Castle Black and head instead back to Vaes Dothrak where Daenerys is putting her plan into action. With the khals of all the khalasars gathered for her induction in the widow temple, she takes initiative even as they insult her. She lobbies with a powerful return, and berates them for the small-ness of their ambitions. "None of you are fit to lead the Dothraki," she says in their language. "But I am. So I will."
Khal Moro and the others burst into laughter, and speak of all the ways they are going to molest her. But Daenerys never intended them to serve under her, and she calmly sets the temple on fire. And with the exits blocked - thanks to Jorah and Daario - the khals have nowhere to escape as they succumb to the flames. As the fire becomes bigger, it attracts all of the Dothraki. And as the doors collapse and give way, the Mother of Dragons emerges untouched and unscathed, just as she did in the first season, albeit in a more dramatic fashion.
The Dothraki, including Jorah and Daario, kneel before her. Daenerys, of House Targaryen, is ready to take on the world with fire and blood.