Editor's note: spoilers below for third episode of Game of Thrones' sixth season.
So, Jon Snow then is officially back. But a mixture of shock, confusion and scare surround his face as his eyes meet Ser Davos', struggling to grapple with the situation he's been put in: brought back from the dead. "I shouldn't be here," he remarks. With her faith seemingly restored, Melisandre kneels before Jon's crouched and cold figure to talk about the Prince that was promised - Azor Ahai reborn - but it's all a bit too soon.
It only serves to push Jon away more, into the deep recesses of his mind. She asks him what he saw after being stabbed to death, and he gives her the same reply as Beric Dondarrion - nothing. Davos feels Jon getting uncomfortable, and ushers Melisandre out. The two emerge a moment later, Jon looking more like the Lord Commander he was what with the cloak on.
Tormund tells him that the people think he's a God, having made the return journey. He then hugs Edd who is more interested in deciphering if he's still the same man. And when Jon makes a joke, he says: "That's funny. You sure you are still in there?"
Meanwhile, Jon Snow's other best friend - Samwell Tarly - is on his way to Oldtown but he has news for Gilly and little Sam. Since he believes they won't be safe at the Citadel, Sam will be dropping them off at his home in the Reach, at Horn Hill. His father may have kicked him out to the Night's Watch, but his mother and sister are kind, he says. Gilly clearly isn't happy, and says she can take Oldtown, the place of no women, if she could survive Castle Black. She's got a point there, Sam. But the show wants us to know the members of House Tarly, so it's unlikely Gilly will have it her way.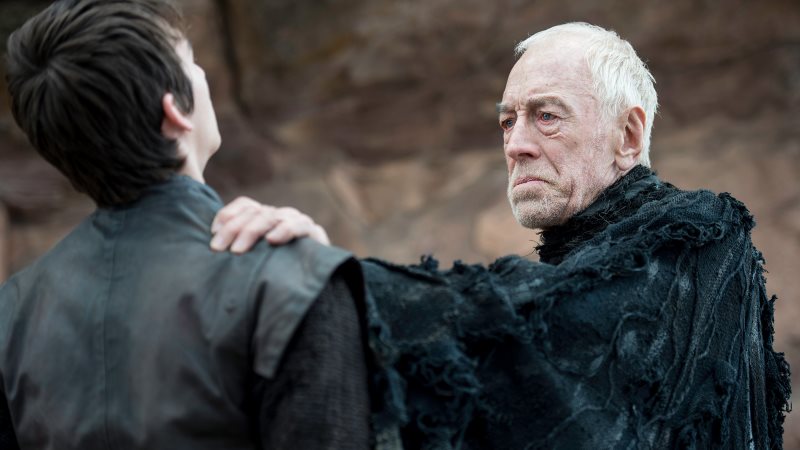 (Also see: Game of Thrones Spoilers? Who Cares, Now That Book Snobs Aren't the Ones Sharing Them)
Bran's newest flashback took us into Dorne of the past, where two of the Targaryen Kingsguard - Ser Arthur Dayne and Lord Commander of the Kingsguard Ser Gerold Hightower - stand guard outside the Tower of Joy, as named by Prince Rhaegar. Coming to face with them are Ned Stark, Howland Reed and their companions. Despite outnumbering them, Dayne is able to make short work of the Northmen even after Hightower falls to Stark's sword. Dayne then squares off Stark, who doesn't prove to be a match for the Knight of the Kingsguard. Bran wonders how his father managed to survive, what with him being at Dayne's mercy, as Reed gets back up from his injury to stab him in the back. Bran is disgusted at the way Reed gains advantage on Ser Arthur Dayne, as if he can't stomach his father - who proceeds to chop off the fallen knight's head - and his friend taking the non-honourable route to winning a fight.
It doesn't deter Bran from wanting to know who is exactly inside the tower though. But as Ned Stark is about to head inside with Bran following, the Three-Eyed Raven stands in his path and pulls him back into the present. The eldest Stark boy alive is aghast, and when the old man recites his stay-too-long-and-you-will-drown statement, fans of the show and Bran (possibly in his head) groan together. The Tower of Joy scene holds the clues for Jon Snow's past, according to one theory, and it's almost like the Three-Eyed Raven is an embodiment of the screenwriters.
There is a small concern here, though. Ser Oswell Whent, a sworn brother of the Targaryen Kingsguard, was said to have been killed alongside Dayne and Hightower both in the books and the show, but he's missing in the flashback. It remains to be seen if he is inside the tower, or that story was a fabrication.
Over to Vaes Dothrak then, for now, as Daenerys - the widow of Khal Drogo - is herded into the home of the dosh khaleen. As much as she likes to assert authority and remind everyone that she's the Mother of Dragons, she is as powerless as the sand the Dothraki walk on, amongst their kind. According to the leader of the widow temple, a Khal's widow isn't supposed to go out into the world after her husband's death, so her actions will now be weighed at the United Nations' meeting of all khalasars.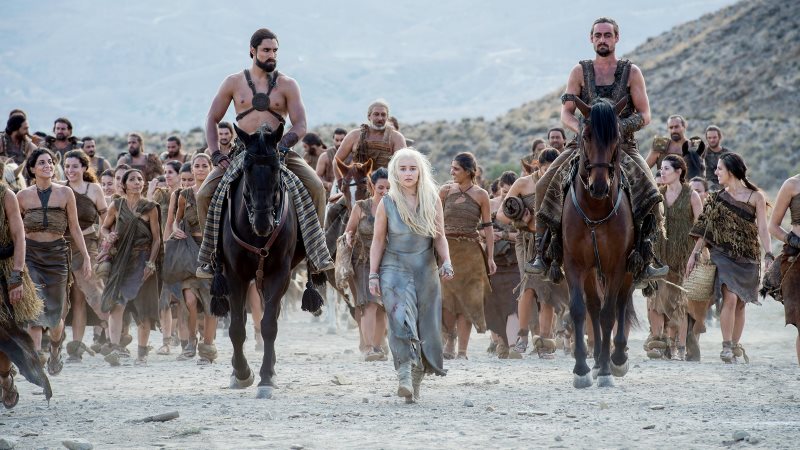 (Also see: Game of Thrones Season 6: Who Is Melisandre and What Are Her Powers?)
The world she left behind, Meereen, is making for more engaging storytelling - especially when you get to see Varys' methods of persuasion and governance. Here he is working his magic on a woman who helped the Sons of the Harpy, by way of offering passage away from the city, and coin for her son and the future. While Varys is busy, Tyrion sits in the council room with Missandei and Grey Worm, trying to find ways to hold a conversation. He asks them to think of topics, such as what they would discuss if he wasn't in the room. The two exchange looks, and Grey Worm - being the soldier that he is - mentions patrol and what happens on said patrols. Tyrion, not wanting to give up, suggests they play a drinking game, but Missandei and Grey Worm don't drink, she says. Just as he tries to navigate the rules of "Never have I ever" with two participants who don't partake in his favourite activity, Varys enters to relieve him of his boredom-induced pain.
It seems the showrunners finally understood how grim Westeros and Essos had become, and this scene with Tyrion provided more laughs than the last two episodes did put together.
Back at Tyrion's previous home, his brother and sister meet with Qyburn, who has managed to convert Varys' deserted little birds into his very own. Cersei demands of Qyburn that she wants to know anything and everything that is being said about her, from the North to the South.
The two Lannisters then decide to barge into the small council, with the reanimated Ser Gregor Clegane in tow. But their uncle Kevan and Olena Tyrell - who makes a couple of jabs regarding who the real Queen is and Cersei's infidelity - are having none of it and promptly walk out, quickly followed by Mace Tyrell and Grand Maester Pycelle. It just goes to show that a show of force isn't a solution for all your problems, and the Lannisters - who are without any friends in King's Landing - have an uphill climb in front of them.
Meanwhile, Tommen meets High Sparrow which serves as another lesson in the extent of the King's gullible nature. The way the religious leader so sweetly sways Tommen away from what was a bold entrance and a bold ask - that her mother be allowed to pay her respects to Myrcella - is wonderful to see. The King of all the Seven Kingdoms has no power over him, as he is gently taught a lesson through words, not something you get to see often on Game of Thrones.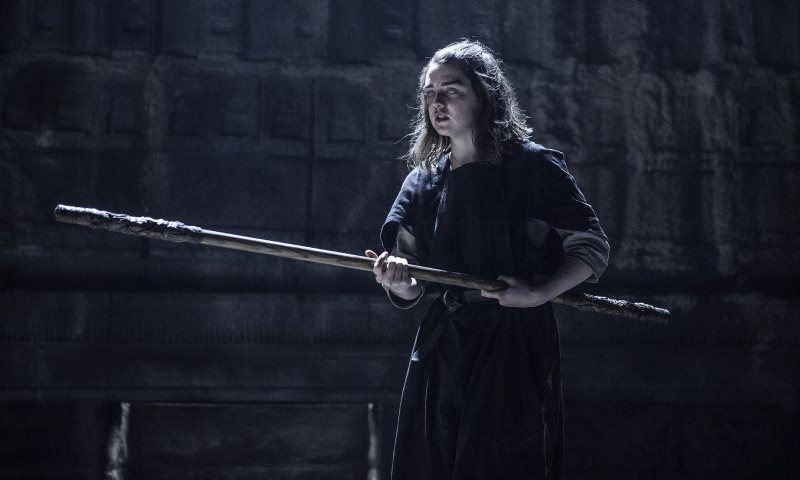 (Also see: How to Watch Game of Thrones Season 6 Online)
Over in Braavos, Arya's training moves into the House of Black and White as we intercut between her duelling with The Waif and being interrogated by her. She's clearly getting better - on both fronts - blocking attacks and distancing herself from the past: "Arya Stark" and "she" the words used by her. But she still fears having to drink an unknown liquid handed to her. "If a girl is truly no one, she has nothing to fear," Jaqen H'ghar notes. And as she slowly sips from the cup, she gently closes and opens her eyes to reveal her eyesight has been restored. Jaqen H'ghar thinks the Phase I of her training is complete, and we are all the better for that.
We jump to Arya's home in Winterfell, where Ramsay Bolton is trying to win the Northmen to his cause. Things aren't going as smoothly as he would like them to be, but then helps come along in the form of a gift: Osha and Rickon Stark, along with the head of direwolf Shaggydog. That's the third direwolf we have lost, and a fourth in Nymeria whose whereabouts are unknown. Also, how many of the Starks have to suffer at the hands of the Boltons, eh? Let's hope his half-brother comes to his rescue, because this isn't going to end well.
And just like the first two episodes of this season, we come full circle to return to Castle Black as Jon Snow stands executioner for the four most important traitors including Alliser Thorne and Olly. You can clearly tell from Jon's face that he wouldn't rather go through with this, but death has instilled doubt into his way of thinking. With Melisandre, Ser Davos, the wildlings and the remainder of the Night's Watch overlooking, Jon slashes the rope with his sword. He then turns and hands over the Lord Commander cloak to Edd, putting him in charge.
Edd is bemused as Jon walks away and says: "My watch is ended." The Night's Watch Oath clearly states your duty lasts until your death, so technically, the 998th Lord Commander is free to walk away from his former job.
And there are only ten episodes in a season, so we could really use picking up some pace. Just seven more days to find out what Jon Snow plans to do with his second life.
Update: A previous version of this article stated that Ser Oswell Whent was present alongside Ser Arthur Dayne outside the Tower of Joy. But as has now been clarified, that character was actually Ser Gerold Hightower.