After checking in with everyone from season five in the sixth season premiere, Game of Thrones could now move on to set up future storylines, and surprises. This episode did a bit of both, with a number of big events taking place in episode two, 'Home', including the departure of two of the Seven Kingdoms' rulers. It also brought back two storylines, one that has been missing far longer than the other. What went missing in their place were Dorne and the Dothraki Sea.
And despite everything we saw, the biggest moment of the night rested with Melisandre yet again. We'll come back to that later, though.
Editor's note: spoilers below for second episode of Game of Thrones' sixth season.
After being missing since the end of season four in 2014, Brandon Stark - the eldest surviving Stark son - returned to the screen, just as we left him at the roots of the weirwood tree with the Three-Eyed Raven. It is assumed that Bran has been learning from him, in mind and body (something has to explain the physical change in actor Isaac Hempstead-Wright) and his latest time-travelling adventure takes him back to the days when his father was Bran's season-one age.
It also marks the first on-screen appearance of Lyanna Stark's character, who was later betrothed to Robert Baratheon and whose abduction was the cause of the rebellion that led to the fall of Rhaegar Targaryen. And while fans and Bran alike would love to see more of her, Ned, Benjen and Hodor - who was called Wyllis when he was young, we learn - he is pulled out of the memory by the Three-Eyed Raven, who warns him that "if you stay loo long, you will drown". Bran complains that he wasn't drowning, he was home, but the wise old man is having none of it.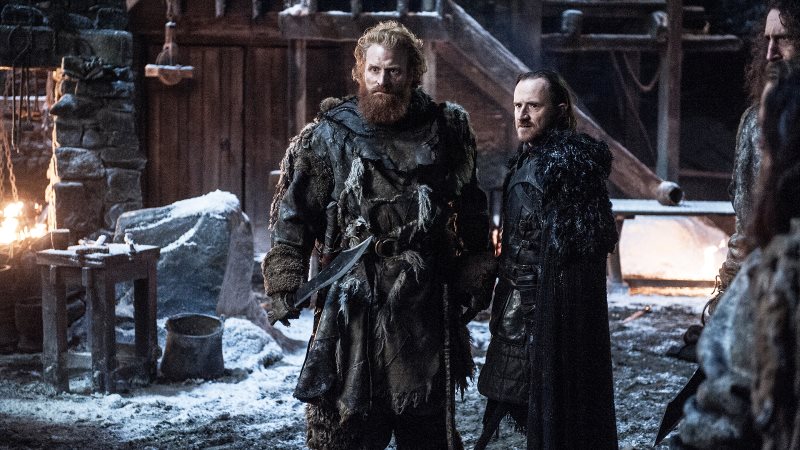 (Also see: Game of Thrones Season 6: Jon Snow's Fate and Everything Else We Know)
Meanwhile at Castle Black, time is up for Jon Snow's body-guards (the pun only seemed natural) and Snow-hater Alliser Thorne commands his men to break open the door. And just in time serving as a rebuttal to anyone who ever doubted Dolorous Edd, he comes through on his task of recruiting the Wildlings, streaming through the gates led by Wun Wun, the giant for the win.
Bursting with pride and honour (when has that ever helped anyone on Game of Thrones?), Thorne attempts to stand his ground as his men surrender around him. As should be expected, he is quickly disarmed. He ought to be glad he wasn't repeatedly stabbed right then and there. Also, good riddance Olly the traitor.
Tormund, the new leader of the Wildlings, after taking a look at Jon Snow's rotting body says we should put it on a pyre. No hold on, can we not wait for the 400-year-old Melisandre to get ready, you guys?
Moving south to King's Landing, we find the reanimated Mountain aka Ser Robert Strong roaming the alleys of Flea Bottom and knocking in heads of commoners who spread false rumours about Cersei Lannister. If he plans to do away with anyone who speaks ill of the Queen Mother, the full-helmeted guy will end up cleaning out the streets of King's Landing in no time.
Elsewhere, King Tommen and father Jaime are paying respects to Myrcella at her funeral in the Great Sept. And after the High Sparrow enters in his usual rags, Jaime sends the King away by remarking "Go and see your mother, Tommen". Will Tommen ever learn to be a real king? More importantly, it's great to see that Jaime hasn't lost his willingness to fight, even after learning the massive shortcomings of his non-dominant hand in season five. But soon, the High Sparrow reveals who is really in charge of the situation, and King's Landing.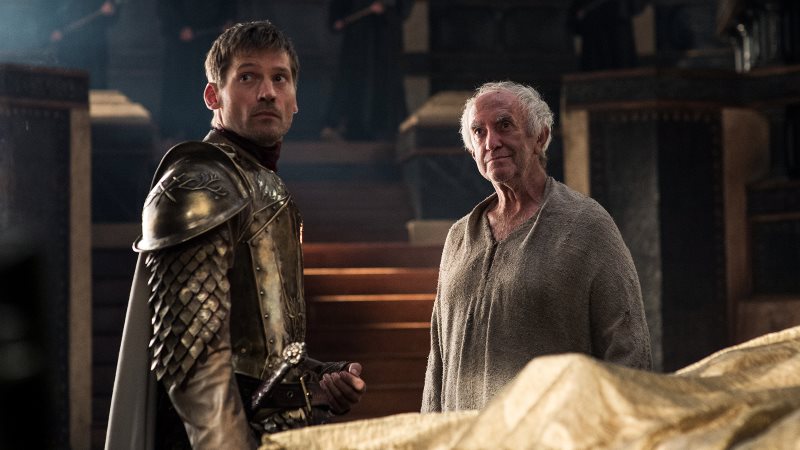 "We can overthrow an empire," he remarks referring to the black-robed allies that appear from the shadows. It just goes to show how foolish the game of thrones can be, as there is an obvious shift in the power dynamic at King's Landing. The city is supposed to rule the Seven Kingdoms from the Iron Throne, but it can't even rule itself. The real power now resides with the Faith Militant, who have done as they please - first with Cersei and then Queen Margaery - and continue to do so. Jaime Lannister mentions the sins he has committed and demands why they are being selectively prosecuted. But in the game being played by the High Sparrow, he has no quarrel with whom he essentially considers a pawn.
Over at Meereen, his brother Tyrion Lannister is having wild ideas of his own, as he decides to pay the remaining two shackled dragons a visit in a bid to get them off their hunger strike that they have resolved themselves to since their mother took off on Drogon, their black brother. And as the audience contemplates how this could all go sideways in a flash, Tyrion gently walks into the catacombs with equal amounts of patience and fear. But it seems if you have a touching anecdote connected to dragons and your childhood, you might be spared, as Rhaegal and Viserion choose not to roast the little guy. That, or you're a Targaryen - as the episode added fuel to the fire of the fan-theory that Tyrion might be part of the dragon family.
And in a continually-disappointing fashion, the Braavos subplot was thrown another breadcrumb as Jaqen H'Ghar comes to get Arya after she survives her torture at the hands of the Waif. He does put her through a gruelling set of questions, each more enticing than the one before. But the writers thought we had had enough of Arya being beaten up, and need the remaining episodes to do some justice to her storyline.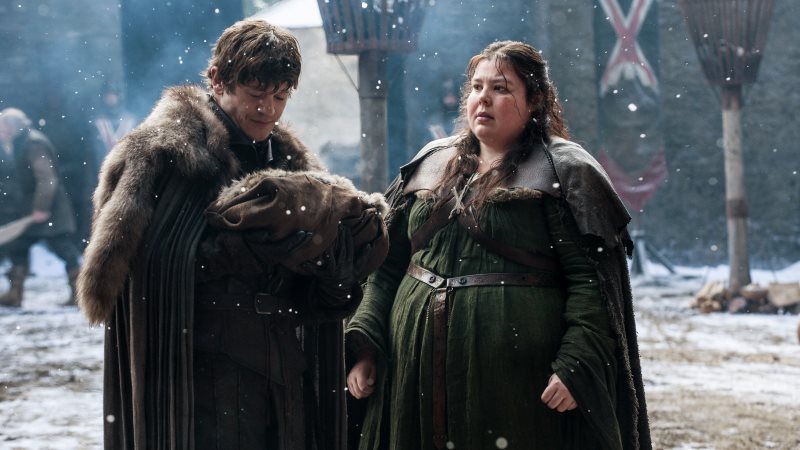 Over in Arya's actual home Winterfell (if it still can be called that), Fat Walda has given birth, and it prompts Ramsay to take decisive - and possibly career-ending - action. He ends up giving credence to the title of being the worst character on television, as he fatally stabs his father - Roose Bolton - and then feeds stepmother and the new born half-brother to the dogs, quite literally. "I prefer being an only child," he says.
Outside Winterfell, Theon says he can't come with them and will instead head home, for the Iron Islands. We pivot to his home, seeing the faces of Balon and Yara Greyjoy - Theon's father and sister - two years after we saw them. Balon has lost wars, and the plot - but he's relentless and wishes to pursue further battles. Yara is displeased, but it is Balon's long forgotten brother Euron Greyjoy (a new addition to the show) who takes his own quarrel to a finite end, throwing him overboard as Balon tries to stab him.
In the books, Melisandre's leeches in the fire had a much more immediate effect, swiping away the three named kings at the time - Robb Stark, Joffrey Baratheon and Euron Greyjoy - in one way or another, in what mostly seemed coincidental at best. The show chose to avoid the Ironborn storyline for a long while, and it's going to take a lot more for viewers to start caring again for Yara and Theon Greyjoy as they unite against uncle Euron.
It's the events at The Wall to which we return that have captivated audiences since the end of season five, and for equally good measure. For all his dogged pursuit of a better world and charitable purposes, Jon Snow paid dearly. Ser Davos and fans of the show have looked to a broken Melisandre for help, who seems to have given up on life. For what it's worth, Ser Davos still believes in her. I'm not devout, he says, and so "I'm not asking the Lord of Light for help, I'm asking the woman who showed me that miracles exist". All Melisandre can do is cry, with her belief and conviction in R'hllor that she displayed in the last four seasons drained out of her.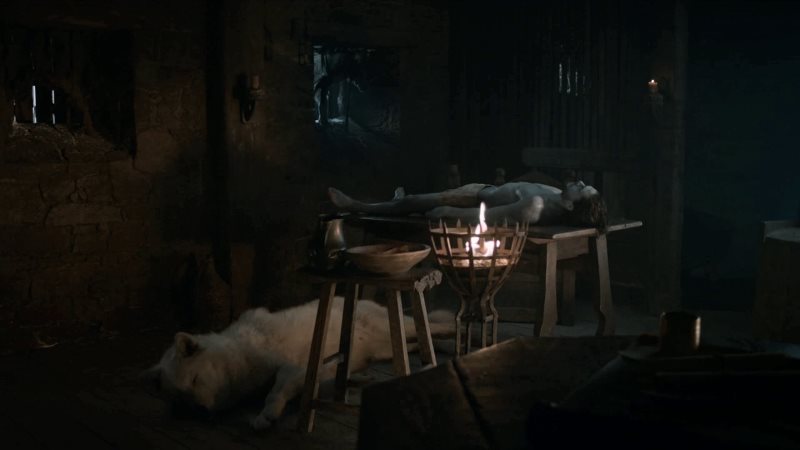 (Also see: Game of Thrones Season 6: Who Is Melisandre and What Are Her Powers?)
Davos convinces her to try, nevertheless. She runs through the ritual, feeding some of Jon's hair to the fire and works through all her spells to help revive the former Lord Commander. Ghost rests under the table, oblivious to what is being practiced on his owner and master. But nothing happens, and Jon's loyal following of Tormund, Edd and Davos eventually depart the room, followed by Melisandre herself.
And as sure as television has the habit of juicing every last bit of drama out of a situation, the writers and the director do just that here. The camera slowly zooms into the direwolf Ghost who wakes up wondering if the party is over, and Jon Snow opens his eyes gasping for air.
The moment every Game of Thrones viewer has waited and prayed for is here, but you'll have to wait another week to find out if he's still the Jon Snow that you knew him as. The 998th Lord Commander of the Night's Watch is back home, in the world of the living, but what will he live for?