It can be tough to deliver a satisfying first episode for a new drama season, what with having to get everyone back on track with what's going on and provide new material that pushes things forward. And it becomes even tougher - especially for a show as awaited as Game of Thrones - when you're tracking storylines across half a dozen different locations as HBO's fantasy epic does on a regular basis.
Editor's note: spoilers below for first episode of Game of Thrones' sixth season.
The first episode of season six - The Red Woman - begins where we left off at end of season five, with the question surrounding a character's death troubling audiences for the last ten months: is Jon Snow dead? (After all, it's the first prompt on Google.com after you type the word "is".) The answer is a resounding yes, as the camera finds Snow lying on the same bloody patch of snow. Motionless, blood no longer flowing and with a face as pale as a ghost.
Speaking of Ghost, the direwolf's plaintive howls are the only sounds to be heard around Castle Black as we pull in. They eventually end up alerting Ser Davos who rushes out, and finds the obvious along with the word "Traitor" inscribed on a wooden plank. It seems a bit foolish on his killers' part to leave his body be, and not clean up after themselves. But it soon becomes clear. As Davos collapses to Snow's side, Edd and his buddies show up to help him transfer him into the Onion Knight's chambers.
When Melisandre walks in to see the now-former Lord Commander of the Knight's Watch in the direst of states, you can feel the despair on her face. The woman has been through a lot recently, starting with Stannis Baratheon's might crumbling all around her towards the end of season five. She eventually ran away from her king's camp to The Wall, and her faith in the flames - as she mentions Jon fighting at Winterfell - is visibly disturbed. She saw something in Snow - and communicated as much to him during the last season - but when she sees him dead in front of her, her conviction in her Lord of Light and her own belief are shaken to the core.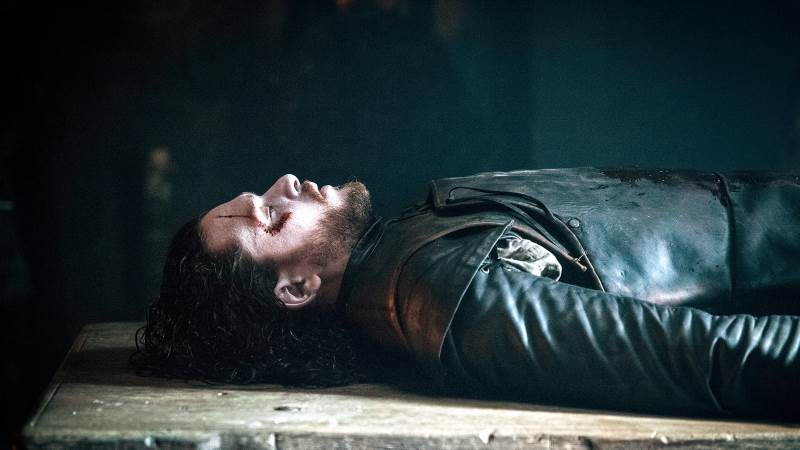 (Also see: How to Legally Watch Game of Thrones S06E01 Right Now)
Meanwhile, Alliser Thorne - Jon's most vocal critic - and his loyal subordinates readily accept that they were behind the mutiny to oust Snow. Although there are a few who call them murderers out loud, the general consensus is that it was the right thing to do. As for Thorne himself, he remarks how loyalty is the most important virtue of the Night's Watch - which seems a tad ironic when you have just stabbed your Lord Commander - and while labelling what they did "treason", he says it was the only choice Snow left them by allowing the Wildlings to enter through the gates and into their land.
Over at Winterfell, Ramsay Bolton is mourning the death of his lover, Myranda (who died after Reek threw her off the castle walls and regained a bit of Theon in the process). And with Sansa Stark and the empty-shell-of-a-man Theon on the run, Ramsay's insecurity and frustration with not having a heir of his own in addition to the looming possibility of a boy offspring that could be birthed by Fat Walda - wife to Roose Bolton - is on the up.
And right when expected, we cut to Sansa and Theon fleeing through the white forests, as they wade through icy waters to get away from Bolton's men. But despite all their efforts, they get captured by the new occupants of Winterfell. Just when you think it's all over for the pair - with the guard telling Theon he awaits the next body part to be chopped off - Brienne of Tarth gets to have her day. Riding on horseback with her squire Podrick Payne alongside, she chops down the captors but not without providing viewers a few scares.
Podrick is considerably the weaker of the two in battle, which serves as a great time for Theon to show there is a man left in him as he drives a sword through the back of a guard looming over the squire on the snow-laden floor. These are the type of moments that feel a little too convenient. But it also brings much needed relief at the same time. Brienne, after having repeatedly failed to serve the Starks as she vowed to, finally gets to have her moment with Sansa. Game of Thrones has a habit of filling its audiences with horror and shock on repeat, so it's a rare touching moment for the show. A shaking Sansa, who could use a hug much more than a knight sworn to protect her, does quite well in the circumstances to compose herself and run through the ritual.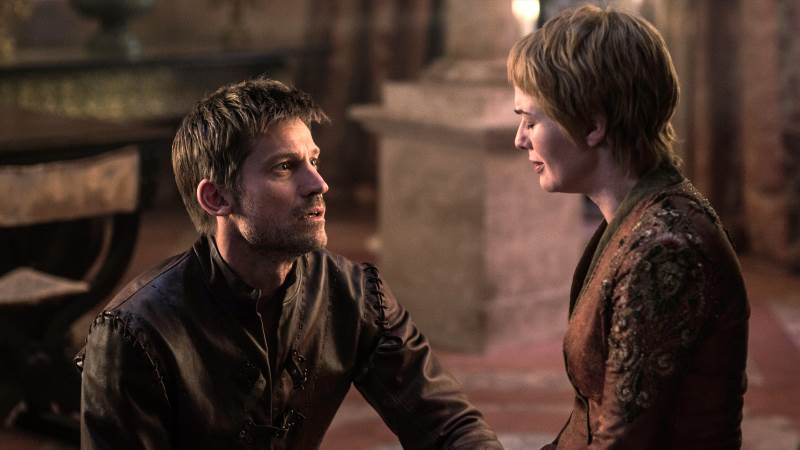 At King's Landing, we find a clothed Cersei shining a smile as bright as the Sun when she is given news of a ship arriving from Dorne. But it's not her brother that's gotten her beaming, but rather the return of her daughter Myrcella. There's even a spring in her step as she runs to see her. With the viewer knowing more than the Queen Mother in this case - which doesn't happen often with all of Cersei's plots - courtesy of the final episode from season five, it's painful to realise what's about to happen. After the torrid time she has had at the hands of the High Sparrow, which to some extent was of her own making, the episode's director in combination with Lena Headey's impressive acting almost makes you feel sorry for a character so despicable.
Back in her chambers, a forlorn Cersei ponders the events that unfold after a person's death and how it's cruel that it should happen to her beautiful Myrcella. "I thought if I could make something so good, so pure, then maybe I'm not a monster," she remarks to Jaime, crouched in front. She was put through the wringer towards the end of the fifth season, and and her time of tribulation - especially after the gruelling walk of shame she went through - has changed her slightly. As she tries hopelessly for redemption and salvation in pursuit of getting her daughter back, it's as if a part of her genuinely feels guilty for everything she has done. Out loud though, Cersei brings up the witch's prophecy that she heard when she was a teenager. Jaime, being a warrior and her only counsel for the time being, tells her that prophecies don't mean anything and that they'll have their vengeance. For the time being, Tommen is still alive and Margaery Tyrell - whom Cersei thought of as the "younger and more beautiful" Queen is currently locked away, so it could be worse for the Lannisters.
Over in Dorne, things get heated up swiftly as the Sand Snakes at the behest of late Oberyn's paramour Ellaria Sand, bring down House Martell from within. Ellaria takes out Prince Doran after her eldest Tyene stabs Areo Hotah in the spine. Soon after, Obara and Nymeria pay a last visit to Trystane, effectively ending both ends of the promised alliance between House Lannister and House Martell.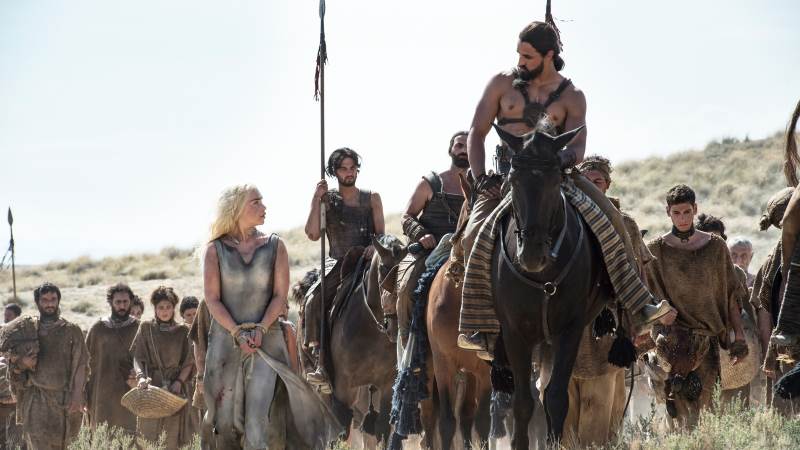 (Also see: Hotstar Launches Rs. 199 Premium Subscriptions, Offers Same Day TV Broadcasts of US TV Shows)
Time to jump to Meereen, where new rulers Tyrion Lannister and Varys survey the desolate and divided city by taking a stroll in their kingdom, something the Khaleesi wouldn't dare. It's essential, as Tyrion succinctly puts it: "You can't rule from the top of an 800-foot pyramid." But the walk doesn't prove fruitful, as the two are alerted of the massive fire that is consuming all of the city's ships which puts an end to any hopes of sailing to King's Landing anytime soon, the Imp notes.
Far away near the Dothraki Sea, Daario Naharis, and Jorah Mormont look for Meereen's queen. She is meanwhile being dragged by a Dothraki horde who has no knowledge of her stature. And it doesn't seem they would care much for it even if they did, as they present her to their leader, Khal Moro without a second thought. The Khal takes a liking to her immediately and it's not until the Mother of Dragons reveals she was wife to the late Khal Drogo that is she left alone and her wrists untied. But her troubles aren't over. As a widow of a khal, she will be put in the Dothraki capital - Vaes Dothrak - and will live there until she dies.
A blind Arya barely gets any time in the first episode, as she is put through the paces by the Waif in the streets of Braavos. It's a bit reminiscent of Daredevil before he became attuned to working with his other senses, something Arya will need to learn if she wishes to survive.
Having finished checking in with everyone, we end up back at The Wall. Davos and the others are given an ultimatum by the Night's Watch, headed by acting Lord Commander Thorne, to hand over Snow's body or face the worst. Davos is intelligent and wise enough to realise they will be chopped down even if they do the former, and is hoping Melisandre can conjure up some magic.
That's where the episode title - The Red Woman - comes to justify itself as we learn of the terrible secret she's been harbouring since her introduction back in season two. After taking off her clothes, she unclasps the necklace with the ruby around her neck and puts it down on the table. The camera turns to reveal a wrinkly old woman with flaky skin, in complete contrast with Carice van Houten's usual self. It seems the necklace holds the power to everything she does, including making her seem young and beautiful.
Melisandre's age is something that's been hinted at multiple times in the books and through interviews, and the final moments of season six's first episode not only deliver concrete proof but also push the element of magic into the limelight for Game of Thrones. If she does indeed go through the process of reviving Jon Snow, considering her real age and the power seemingly left in her, it might just be the last thing The Red Woman does on the show.